Several of the country's largest and most influential corporations pose a "high risk" of canceling a contract or client or of boycotting, divesting or denying services for purely ideological reasons, according to a new report.
The 1792 Exchange, a nonprofit committed to protecting other nonprofits, small businesses, individuals and philanthropic organizations from "woke capitalism," released the report to spotlight companies that are undermining free speech and free enterprise by prioritizing ideology in their business practices — often with the financial backing of unbeknownst Americans who invested to make a profit, not to pursue a political cause.
The report was also designed to highlight "reliable and respectful" vendors that are less likely to cancel a contract or deny services based on views or beliefs.
"We want to equip and protect small businesses and nonprofits and families as they're making decisions," said Paul Fitzpatrick, president of the 1792 Exchange. "This report is one data point, not intended to provide investment advice or evaluate the quality of services. We want people to do their own homework. But we also want them to be informed — and for employees to understand what employers are doing, to be empowered and knowledgeable to act in their own interests."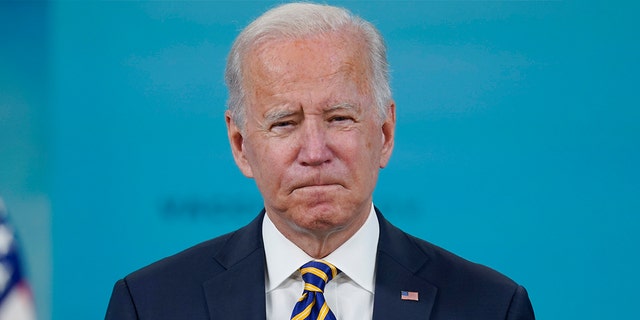 President Joe Biden delivers an update on the COVID-19 response and vaccination program at the White House on Oct. 14, 2021.
(AP Photo / Evan Vucci)
BIDEN WARNED ON 'HEAVY-HANDED' ESG POLICIES HITTING COMPANIES, FAMILIES
Fitzpatrick cited a hypothetical example of an organization that relies on credit card processing from a big corporation to conduct business: "Imagine you donate to a certain cause or are seen wearing a certain hat at a political rally, and then you have your services denied at a big corporation," he said. "The idea is to equip those who are vulnerable."
The 1792 Exchange's report assessed more than 1,000 companies, evaluating their policies, practices and other relevant criteria to determine the likelihood of them targeting a group or individual based on ideology.
The findings were generally positive as about 58% of the companies examined were rated "lower risk," meaning they "have not terminated business relationships because of ideological disputes and generally respect or allow differing viewpoints, despite some potential advocacy efforts or support for ideological policies."
"We should send business to those companies and thank them," said Fitzpatrick, who noted the figures will change as corporations cancel clients that didn't before and others change their policies for the better.
Meanwhile, some 30% of companies were rated "medium risk," meaning they "have generally demonstrated willingness to advance ideological agendas and lack policies preventing corporate discrimination against those who disagree."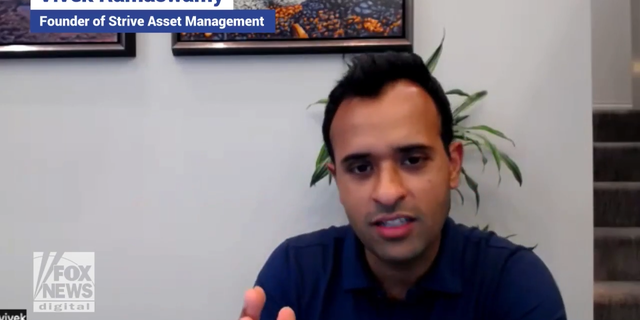 Vivek Ramaswamy discusses Yale and Harvard's decision to pull out of U.S. News & World Report law school rankings.
(Screenshot / Fox News Digital / File)
'WOKE' WORKPLACES ARE SACRIFICING 'DIVERSITY OF THOUGHT' AS EMPLOYEES PUSH BACK: RAMASWAMY
About 12% of companies were rated "high risk," meaning they "canceled business relationships based on viewpoint and/or has been weaponized to discriminate against people and businesses who do not share their political views."
Some of the nation's most prominent companies were deemed high risk, especially those in the banking and tech industries, such as:
Bank of America
Etsy
Salesforce
JPMorgan Chase
PayPal
YouTube
Amazon
GoDaddy
GoFundMe
Mailchimp
Some of these companies have made headlines recently for allegedly targeting groups over their political beliefs.
In October, for example, former U.S. Ambassador-at-Large for International Religious Freedom Sam Brownback said the JPMorgan Chase Bank account of the nonprofit National Committee for Religious Freedom (NCRF), which he founded, was closed without explanation. He added that the bank demanded a list of its donors as a condition to have the account reinstated.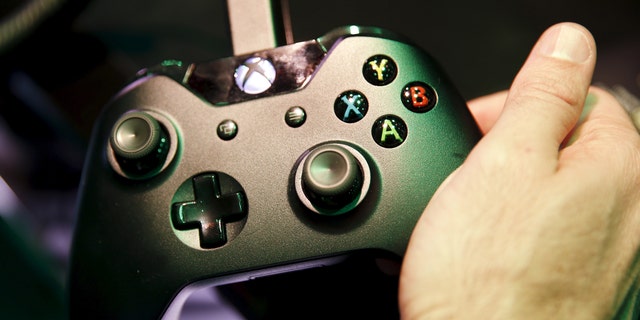 A Microsoft Xbox controller is seen at the Electronic Entertainment Expo in Los Angeles, June 17, 2015.
(Reuters)
XBOX BECOMES FIRST 'CARBON AWARE' CONSOLE, BUT NOT EVERYONE IS HAPPY: 'WOKE BRIGADE IS AFTER VIDEO GAMES'
"I can tell you confidently we have never and would never close an account due to one's political or religious affiliation — full stop — and did not in this case," a JPMorgan spokesperson told Fox News Digital. "I can't discuss confidential client relationship information publicly, but I can tell you that we communicated with the former client many months ago, in writing, and they are aware of why we closed the account."
NCRF had a different take on what happened, saying the bank offered multiple explanations that didn't make sense — none of which, the organization claims, preclude the possibility that it was due to the NCRF's mission of supporting religious freedom.
"Chase Bank has given four different explanations for why they closed the National Committee for Religious Freedom bank account, and none of them are very credible," Brownback told Fox News Digital. "We have asked to speak with the decision maker but have been refused. We would welcome a legitimate explanation from Chase, but they have declined to do so. That leaves us to wonder what they don't want to admit."
One month before the alleged JPMorgan episode, Seth Dillon, CEO of the satirical news site Babylon Bee, announced that its internal email service Front — another company rated high risk by the 1792 Exchange — withdrew its services and canceled the Bee without explanation.
Front told Fox News Digital that it doesn't publicly comment on any of its current or former customers due to confidentiality restrictions.
"It's concerning to see some of the major companies that are noticeably high risk that are practicing viewpoint discrimination for ideological reasons," said Fitzpatrick.
Another company rated high risk was the pharmaceutical giant Pfizer, which recently came under fire for creating a prestigious fellowship that explicitly excludes Whites and Asians from applying.
The Breakthrough Fellow Program, which Pfizer describes as a "bold move" to "create a workplace for all," offers college students multiple internships, a fully funded graduate program and years of employment at the company. However, only "Black/African American, Latino/Hispanic, and Native American" students can apply, according to the fellowship's requirements.
The Frequently Asked Questions section of the program describes Pfizer as an "equal opportunity employer."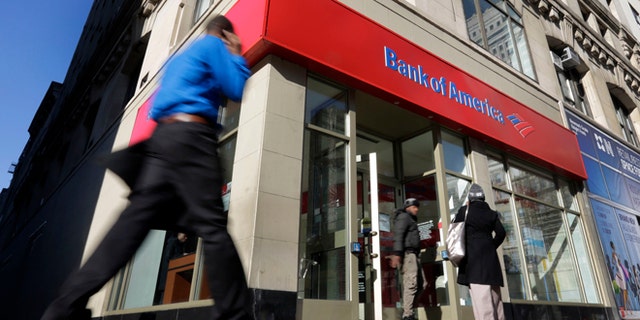 People walk past a Bank of America branch in New York.
(AP Photo / Richard Drew / File)
REPUBLICAN STATES TAKE DRASTIC MEASURE IN LATEST SALVO AGAINST ESG MOVEMENT
Pfizer was sued for allegedly discriminating against Asian and White applicants, but the judge tossed the lawsuit last month.
Pfizer didn't respond to a request for comment.
Several other corporations have increasingly prioritized diversity, equity and inclusion (DEI) efforts in recent years.
Google, for example, set caps on the number of White and Asian students that universities can nominate for a fellowship program. Uber and other food delivery services waived delivery fees for Black-owned restaurants in 2021. They eventually settled a discrimination claim with the Arizona attorney general's office.
Many corporations are violating their fiduciary responsibilities to their shareholders by sacrificing the main financial objectives of the company for a "woke agenda" and, more importantly, not doing what the shareholders want, according to critics.
"Companies are violating their fiduciary duty when they make decisions that divide employees and alienate customers, that undermine sales, brand and reputation — in the long-term it's going to harm profits and shareholders," said Fitzpatrick. "This isn't about Republican or Democrat CEOs. This is about corporations being politicized and weaponized to advance agendas that people couldn't push through courts or the legislature."
Fitzpatrick explained that such decisions by companies put Americans' retirement security in jeopardy, noting that about three-fourths of all assets in the U.S. stock market are tied to retirement in some shape or form.
He said that the "Big Three" asset managers — BlackRock, Vanguard and State Street — dominate corporate America by owning a significant percentage of many of the most influential companies and playing kingmaker in the apportionment of corporate board seats.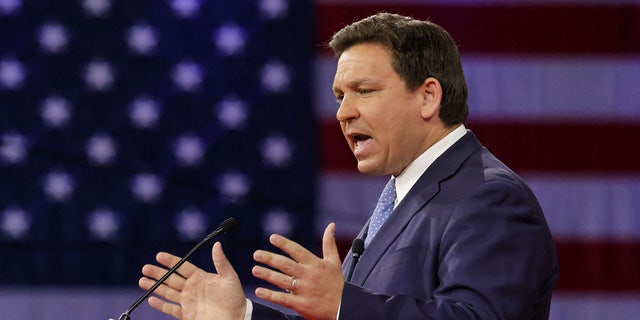 Gov. Ron DeSantis delivers remarks at the 2022 CPAC conference in Orlando, Florida, on Feb. 24, 2022.
(Joe Burbank / Orlando Sentinel / Tribune News Service via Getty Images)
FLORIDA DIVESTING $2 BILLION FROM BLACKROCK OVER FIRM'S ESG PUSH
In 2021, BlackRock, which was rated high risk, helped elect three climate-focused candidates to ExxonMobil's 12-member board, describing its vote as an effort to push Exxon to fight climate change — a central focus of woke corporations. BlackRock is a major shareholder in the oil giant.
"Through their management of passive investments, the Big Three collectively hold the largest voting blocs for nearly the entire S&P 500," wrote Dan Morenoff, executive director of the American Civil Rights Project, in a recent Wall Street Journal op-ed.
BlackRock CEO Larry Fink has been one of corporate America's biggest promoters of "stakeholder capitalism," the idea that companies should serve not only their shareholders but also other interests and society at large.
BlackRock declined to comment for this story, but a spokesperson pointed Fox News Digital to a letter to CEOs penned last year by Fink.
"Stakeholder capitalism is not about politics. It is not a social or ideological agenda. It is not 'woke,'" wrote Fink. "It is capitalism, driven by mutually beneficial relationships between you and the employees, customers, suppliers, and communities your company relies on to prosper … Make no mistake, the fair pursuit of profit is still what animates markets; and long-term profitability is the measure by which markets will ultimately determine your company's success."
A key part of stakeholder capitalism is environmental, social and governance (ESG) investing, which is based on the concept that investors should use these three broad categories when evaluating where to put their money, prioritizing progressive values and "social responsibility" when making financial decisions.
The theory underpinning ESG is that corporations should deemphasize their traditional responsibility to maximize value for shareholders and instead make new commitments to alternative stakeholder groups, serving other interests and society at large.
Larry Fink, CEO of BlackRock
(Reuters / Lucas Jackson / File)
BLACKROCK NOT CHANGING STANCE ON ESG INVESTING, DESPITE CRITICISM
Many investors now use ESG as a rating system to measure a company's advancement of policies designed to address climate change, increase corporate board demographic diversity and support a progressive "social justice" agenda, among other initiatives.
ESG has become increasingly influential in recent years, evolving into a $35 trillion industry, with that much in global assets being invested using ESG principles.
By 2025, global ESG assets are expected to exceed $53 trillion, representing more than one-third of the $140.5 trillion in projected total assets under management.
However, critics of what they describe as "corporate wokeness" have been mobilizing against the march of ESG advocates.
"We think that banks should be non-political. Banks should not be a political party," Rep. Andy Barr, R-Ky., chair of the House Financial Services subcommittee responsible for financial institutions and monetary policy, told the Financial Times. "Banks should serve creditworthy borrowers and focus on earnings and profitability for their shareholders."
CLICK HERE TO GET THE FOX NEWS APP
At the state level, Florida, Texas and a few other GOP-led states have begun implementing measures to push back on ESG policies, such as divesting from BlackRock. However, the anti-ESG charge is largely being led by conservative and pro-free enterprise groups.
"We want companies to make a lot of money and also be good corporate citizens, treating everyone with respect, not polluting," said Fitzpatrick. "But they shouldn't be seen as part of a wing of either party. It should be very concerning for Americans how their investment dollars are being used. We're trying to be helpful steering corporations back to neutral."