FIRST ON FOX: Susan B. Anthony Pro-Life America, one of the largest pro-life groups in the United States, is shedding light on why a controversial ballot measure that Democrats framed as an abortion referendum failed in Ohio last week and previewing its plans to fight against a vote in November that would enshrine abortion into the Buckeye State's constitution.
In a letter to Congress obtained by Fox News Digital, SBA Vice President for State Affairs Stephen Billy proposed two main reasons for why State Issue 1 failed in Ohio last week, which included a dark money campaign from the left and messaging that did not appeal to all pro-life voters.
"Failure of the YES campaign to launch prior to early voting on July 11," Billy wrote. "Leading up to early voting, progressive organizations funded by liberal dark money launched a multimillion- dollar ad campaign that deceptively argued that Issue 1 would take away power from voters and end majority rule in Ohio."
"Without any response from the YES campaign, voters were saturated with democracy-oriented (not pro-abortion) messages against Issue 1. In fact, the NO campaign only ran an abortion-focused ad for a short time and closed the campaign with a significant ad buy centered on majority rule."
WHAT OHIO'S VOTE ON CONSTITUTIONAL AMENDMENT MEANS FOR REPUBLICANS ON ABORTION IN 2024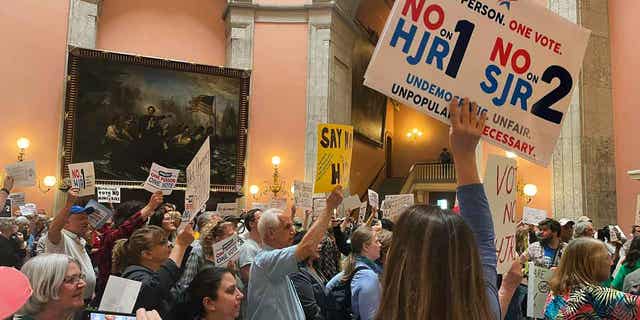 Supporters and opponents of a GOP-backed measure that would make it harder to amend the Ohio constitution packed the statehouse rotunda Wednesday, May 10, 2023. (AP Photo/Samantha Hendrickson, File)
Billy continued, "This was not a proxy vote on abortion for all voters. While it was an abortion vote for many voters, others considered different issues. Some voters were persuaded by the constitutional and democracy concerns that saturated the airwaves leading up to early voting. Others cast their vote in the context of policies such as support for legalizing marijuana, raising the minimum wage, or amending state gun laws."
Fox News Digital also obtained an internal SBA memo that outlined a post-mortem of the Special Issue 1 election that discussed the dark money groups involved on the victorious YES side, conservative voters defecting because they believe in certain changes to the constitution that don't involve abortion, inadequate support from the business community, and a slow ramp up of funding and support for an effective advertising campaign.
Ohio State Issue 1, which would have raised the threshold to change the constitution from 50% plus one vote to 60% with a yes vote, failed by 14 points last week. Democrats had framed the issue as a way for Republicans to ensure that a November ballot measure to enshrine abortion access into the state constitution would be defeated and claimed that Republicans were attacking democracy and the idea of "one person one vote."
OUT-OF-STATE DEMOCRATS CHEER DEFEAT OF OHIO RESOLUTION BACKED BY LOCAL GOP
Republicans argued that a 60% threshold was in line with other parts of the country and that Democrats would attempt to circumvent the state legislature and use dark money groups to implement a progressive agenda into the constitution on not just abortion, but on gun rights, parental rights and other issues.
Shortly after State Issue 1 was voted down, progressives submitted a petition that would strip police officers in the state of qualified immunity protections.
"There's a clear effort by the ACLU and their progressive allies and backed by millions of dollars of liberal dark money, including the Arabella network that want to take away the rights of parents and enshrine abortion on demand until the moment of birth, and it's not going to stop with that," Billy told Fox News Digital.
"They have their sights set on destroying the conservative states and using these ballot initiatives that can be manipulated by their money to take away the rights of people in the states across the country."
Mike Hartley, Protect Women Ohio campaign manager and longtime GOP strategist, spoke to Fox News Digital about what went wrong with State Issue 1 and said that the opposition "did a very good job of defining the issue" as a conversation about "majority rule" and echoed Billy's observation about the NO vote organizations dominating the airwaves for the first few weeks of early voting.
"Some folks are going to say it was about abortion," Hartley said. "It was about everything, and they did a very good job of defining the issue as majority rule."
Pro-life advocates told Fox News Digital that, going forward, the outlook for November's vote is a positive one due to the fact that it will be a "yes" or "no" vote on abortion and only that will unify groups that were perhaps fractured by their support of changing the constitution on a wide variety of issues last week.
FOX NEWS POLL: TWO-THIRDS SAY ABORTION PILL SHOULD BE LEGAL
"This election will be very different from what we are going to see in November," Amy Natoce, press secretary for Protect Women Ohio, told Fox News Digital. "Typically with issue campaigns, we don't see things break down exactly along partisan lines. It's not the same as a candidate driven election when you go into the voting booth and there's an R or a D, next to somebody's name. You don't necessarily see that striking partisan breakdown, but I think we can expect much more of a partisan breakdown in November than we did in August."
Natoce also said that Republicans have a "real opportunity in November" to "peel off" Democrat and Independent votes "because of how extreme and radical this November amendment is."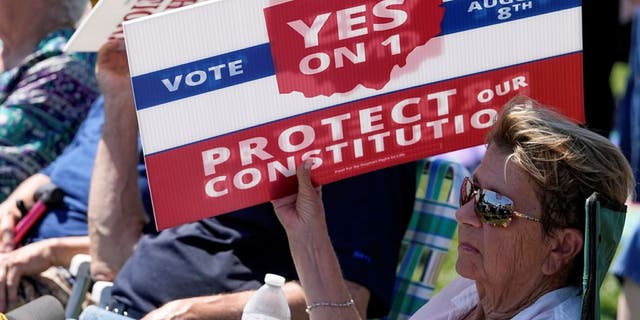 An attendee uses a sign to shield the sun during a "rosary rally" on Sunday, Aug. 6, 2023, in Norwood, Ohio. (AP Photo/Darron Cummings)
"Pro-choice voters are typically pro-choice in that they believe in some exceptions for abortion or at least some guardrails whether that be, cutting off abortion at 12 weeks or 15 weeks or whatever that number might be, "Natoce said. "But once they learn that this amendment allows for abortion on demand through all nine months when a preborn child is capable of feeling pain and once they know that this amendment takes away parental consent and notification requirements. That's a bridge too far. So we have a real opportunity to not only turn out our base, but to peel off some of those more moderate, unaffiliated, lean Democrat voters."
Billy wrote in the letter to Congress that "the lessons learned from this defeat are clear, and evident from other state fights."
"We must define the issues at stake early and often with a simple message. So far, in all state ballot battles, our side has failed to take this approach, allowing the Left and abortion industry and their allies to define the effort. This is NOT the situation with the upcoming November fight to protect parental rights and unborn lives in Ohio."
In his letter to Congress, Billy also specifically addressed public officials who might be intimidated to speak out about abortion or not sure how to best combat messaging from progressives.
CLICK HERE TO GET THE FOX NEWS APP
"Pro-abortion special interests will not stop weaponizing false information to mischaracterize the positions of pro-life elected officials," Billy wrote. "This was underscored by the results of the Issue 1 ballot initiative. The only antidote is an early forceful, informed, and compassionate response. The proabortion side knows that the issue of abortion can drive its base. By focusing on abortion, they hope to sideline elected officials who are hesitant to lean in and fight back.
"Someone will define your position on life. The conversation cannot be avoided, nor should it be. The contrast is clear. Radical abortion-until-birth policies are pending in Congress, and states like California and New York continue to be sanctuary states for carrying out painful late-term abortions. Countless unborn lives depend on courageous leaders to speak out for them and their moms. The Dobbs decision unleashed the opportunity for lawmakers to boldly place limits on abortion. Without a federal minimum standard, abortions will end the lives of over 600,000 babies per year."