A judge will hold an emergency hearing Wednesday regarding Democratic presidential candidate Robert F. Kennedy, Jr.'s lawsuit alleging that YouTube censored his campaign.
The campaign announced that federal Magistrate Judge Nathanael Cousins has set a hearing on Kennedy's request for a temporary restraining order barring Google from censoring his speech on YouTube during his 2024 presidential bid. It is scheduled to take place at 11 a.m. local time Wednesday at the federal courthouse in San Jose, California.
Kennedy filed a complaint in the U.S. District Court Northern District of California against Google, LLC and its wholly owned subsidiary YouTube, LLC, last week.
The lawsuit alleges that Google worked with the federal government to develop and enforce "misinformation" policies to censor the government's political opponents, including Kennedy, who is running against President Biden in the Democratic primary. The complaint asserts that such actions violate the First Amendment when, as in this case, "they result from a public-private partnership that relies on government sources and when the private party, Google, shares the government's censorship goals."
RFK JR. WARNS GOVERNMENT CENSORSHIP COULD OPEN DOOR TO 'ATROCITY' DAYS AFTER FACE-OFF WITH HOUSE DEMOCRATS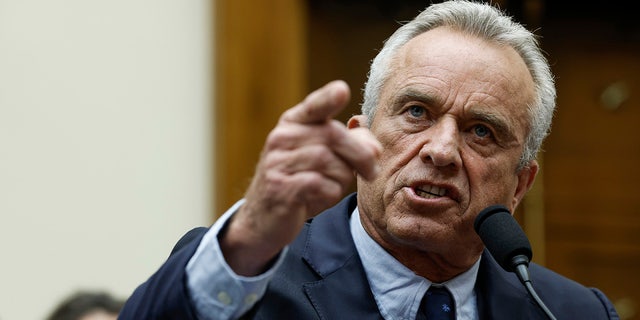 Democratic presidential candidate Robert F. Kennedy, Jr. speaks during a House hearing on the weaponization of the federal government on Capitol Hill on July 20, 2023. (Anna Moneymaker/Getty Images)
"Mr. Kennedy often speaks at length about topics people would like to ignore, including the negative health effects of toxic chemicals and potential safety concerns about the COVID-19 shots (as well as other vaccines that have been developed since Congress gave the pharmaceutical industry immunity from product liability claims)," the complaint says.
"YouTube often removes videos of Mr. Kennedy's comments from its public platform. It usually relies on its 'medical misinformation' policies to justify the action," the lawsuit continues. "It has relied on the policies several times to censor interviews and speeches given by Mr. Kennedy during the 2024 presidential campaign, including a speech he gave at Saint Anselm College in New Hampshire, the state that hosts America's first primary. On information and belief, it did so based on statements from the Biden administration about what information to censor. It will continue to do so throughout the presidential campaign, especially as the primary elections get closer."
Robert F. Kennedy, Jr. speaks at the Des Moines Register SoapBox during the Iowa State Fair on Aug. 12, 2023. (Alex Wong/Getty Images)
RFK JR'S CAMPAIGN RENEWS SECRET SERVICE PROTECTION DEMAND AFTER FBI KILLED MAN WHO ALLEGEDLY THREATENED BIDEN
"We are grateful that Judge Cousins recognized the importance of this matter and set an early hearing on Mr. Kennedy's request," Scott Street, the attorney leading the litigation, said in a statement. "Google will not suffer any harm from being ordered not to censor Mr. Kennedy during his campaign. But society will suffer if the censorship continues."
"YouTube has become an important platform for political discourse in America, a digital town square that voters trust as a place to get news and opinions about the issues of the day, a place where people can communicate about matters of public concern," Kennedy's campaign said in a press release Monday announcing the Wednesday hearing.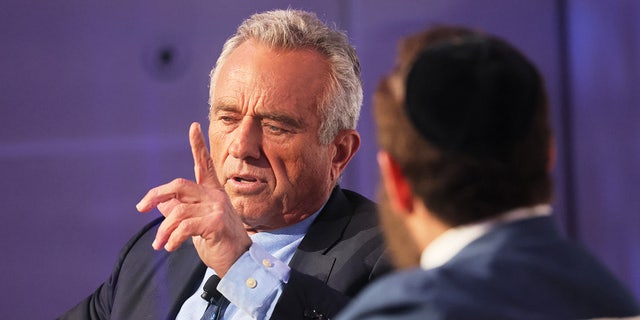 Robert F. Kennedy, Jr. joined Rabbi Shmuley Boteach to discuss fighting antisemitism at the World Values Network's presidential candidate series on July 25, 2023, in New York. (Michael M. Santiago/Getty Images)
"Nonetheless, Google has censored countless Americans for views that run counter to the narratives of the U.S. government. Kennedy is just the most high-profile victim of this censorship campaign," the release said. "This degree of censorship of a major presidential candidate is unprecedented in American history."
CLICK HERE TO GET THE FOX NEWS APP
The campaign contends similar cases have been filed across America, including a case brought by two state attorneys general that was argued in the Fifth Circuit Court of Appeals last week.
Kennedy's case is unique because, unlike the Fifth Circuit case, he seeks an order against Google itself, not government officials, according to his campaign.
Google denies wrongdoing and has rejected Kennedy's allegations.
"YouTube applies its Community Guidelines independently, transparently, and consistently, regardless of political viewpoint," Google spokesperson José Castañeda said in a statement to Fox News Digital on Tuesday. "These claims are meritless, and we look forward to refuting them,"