close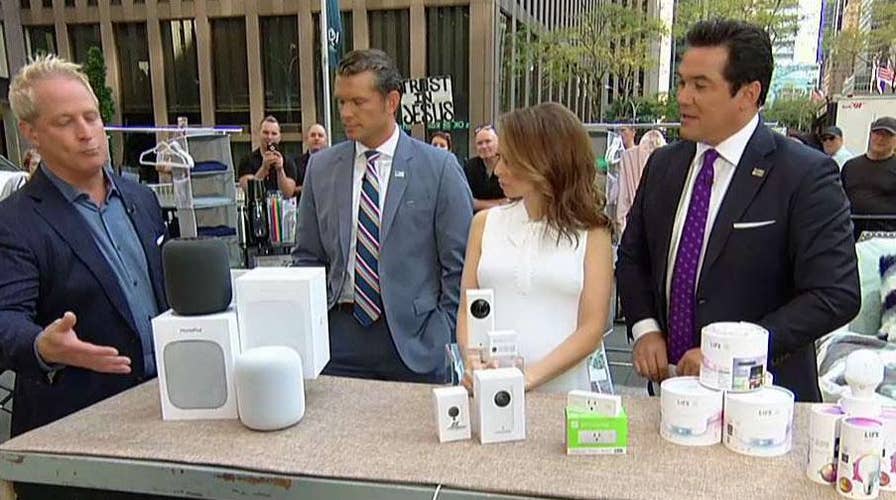 Video
How to create a 'smart' dorm room
Kurt Knutsson shows you all the latest tech gadgets you need to have a successful school year.
You've shared a home for a lifetime and felt secure knowing that child of yours was just a bedroom away. Now, you're shipping your teenager off to begin a new chapter in an unfamiliar place, possibly hundreds of miles away — all without you.
Dropping a child off at college for the first time can be an emotional transition. And in that overwhelming run-up to the eventual goodbye, overbuying and over-packing are easy mistakes to make as parents hope to inoculate their teens against every collegiate scenario.
"Sometimes we don't know what to do with emotions," so parents channel them into packing and shopping to feel productive, said Beth Miller, a coordinator for residence life at University of Wisconsin-Madison who has been involved in campus life for the past 17 years. "But sometimes parents are purchasing things based on emotion and not necessarily based on need."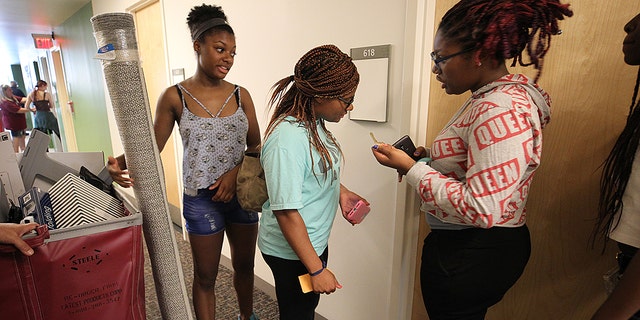 Over packing is very common among first year college students.  (Suzanne Kreiter/The Boston Globe via Getty Images)
10 TIPS TO SURVIVE TAKING YOUR FIRST CHILD TO COLLEGE
It's natural to want to send your child with all the dorm supplies necessary to start college off right, and overbuying is "an expression of love," says Mary Dell Harrington, co-founder of Grown & Flown, a website for parents of high school and college students.
"But their success doesn't have anything to do with the perfect comforter," she says. "It has to do with them actually doing the work and making friends and having a feeling of belonging. Those aren't things we can impact at all as their parents. What we can do is help with the comforter shopping."
Here are packing tips to keep in mind when getting your child ready for school.
Check the college website
Connect with roommates ahead of time
You don't need everything quite yet
Don't buy new versions of things you already have
Label, label, label
Coordinate move-in times with roommates
Everything doesn't have to be perfect on day one
WHAT TO DO IF YOU HAVE THE ROOMMATE FROM HELL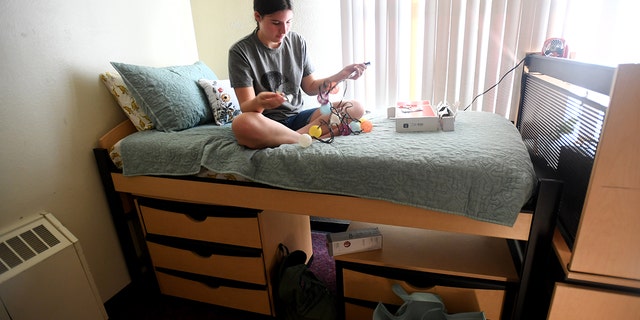 Usually, students arrive at school a few days before classes start, so there will be plenty of time for them to slowly unpack.  (Brittany Murray/MediaNews Group/Long Beach Press-Telegram via Getty Images)
1. Check the college website 
Before the first set of twin XL sheets is even selected, the first stop on the road to buying just the right amount should be the college website.
Many universities list the items and amenities that come with each room. Some include dimensions for the room, the under-the-bed space and the best size carpet for the space. They also list prohibited items (possibly certain appliances) and have a packing list.
Check whether the room comes with a trash can or lamp. Is there a convenient printing center or does the student need a printer? Will your student walk down the hall, or across the quad, to do laundry? Some campuses allow twinkle lights, others don't. "Each one of these things will determine what your purchases will likely be," Harrington said.
Your child won't need — or have room for — everything on the college packing list, Harrington says. "These are all the millions of things your kid might possibly need," Harrington says. "Like an alarm clock: Maybe your kid is accustomed to using their phone as an alarm clock."
MOLD IN DORMS: WHAT SHOULD COLLEGES DO TO PROTECT STUDENTS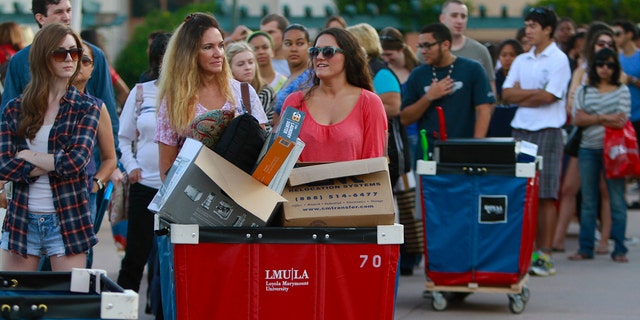 Colleges often post move-in lists ahead of time, so students and parents know all the essentials to bring, and what might not be needed.  ( Mark Boster/Los Angeles Times via Getty Images)
Checking the list ahead of time can save you lots of money on unnecessary items.
When shopping, focus on your child's needs for their specific dorm room, Harrington advises. Get the basics and a few extras, and then plan on running to the store after move-in to pick up a few helpful items, like a hook for that wet towel or a fan if it's hot. Of course, students can order online as well.
Get your child involved. "Have students lead the way," Miller says. "Ask them what they think they will need."
It's also helpful to join Facebook groups, where you can ask questions and figure out what items others are bringing.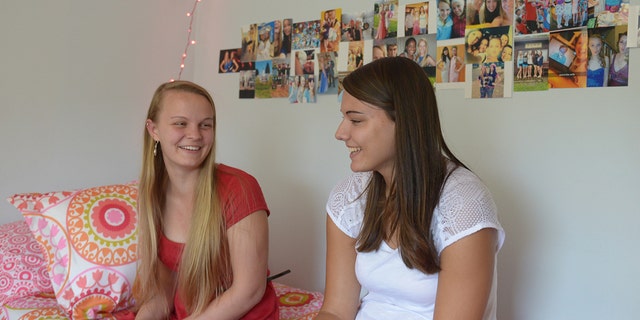 Coordinating items with roommates saves money and avoids having multiples of the same item.  (Susan L. Angstadt/MediaNews Group/Reading Eagle via Getty Images)
2. Connect with roommates ahead of time 
To save precious dorm space, roommates should talk about what they're bringing to avoid duplication, and check what supplies a dorm may provide, like vacuum cleaners and microwaves.
3. You don't need everything quite yet 
Rather than thinking about what the student will need for the school year, Miller recommends bringing enough for the first two weeks. That means students don't necessarily need their warmest coat if the cold isn't due to arrive before a family weekend or trip home. And don't forget to bring a few things that make college feel like home, like photos or posters.
Students should skip anything on the list that they haven't used at home, with exceptions, Miller says. Those include items that will help with a roommate issue, like earplugs and an eye mask. Or, for students who need to walk down the hall to the bathroom, a shower caddy, shower shoes and something to cover up with are recommended.
4. Don't buy new versions of things you already have 
To save money, Harrington recommends that families shop their closets first.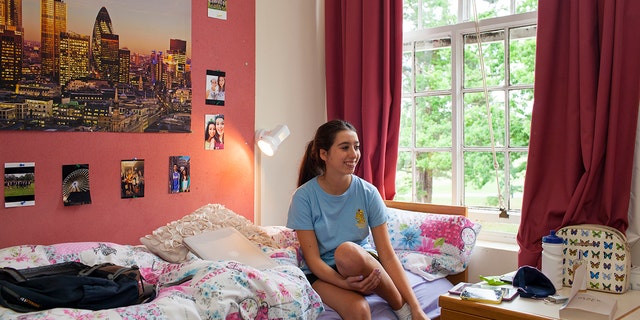 While it's a lot of fun to buy new things, also make sure your child packs things they already have from home, instead of buying duplicates.  ( Peter Dench/Getty Images Reportage)
DR. KENT INGLE: APPLYING TO COLLEGE-7 TIPS TO HELP PARENTS, STUDENTS MAKE THE RIGHT CHOICE
"They don't have to send their kid with all new stuff to college," she said. "It does get wrecked, and it's hard for kids to keep things orderly and clean in a dorm room because it's such tight quarters."
The days leading up to college move-in day are exciting ones, and shopping sprees can often get out of hand. Remember, that there are things that can be brought from home, and don't need to be bought again.
5. Label, label, label 
The actual day of move-in can get stressful, especially when you are sharing a room with others who also have friends and family with them.
When packing up, try to keep things labeled in crates for easy carrying and extra organization. Plus, labeled crates makes things easier for everyone who is helping with move-in.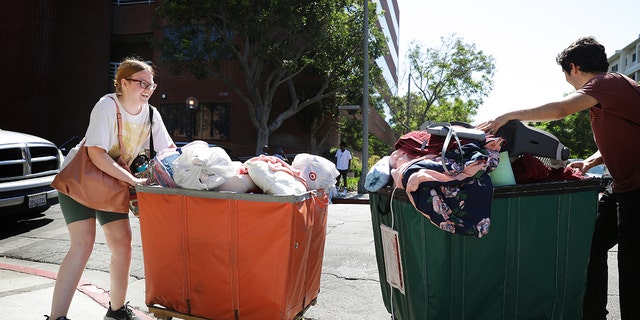 Keep everything labeled and as organized as possible when moving in to avoid unnecessary clutter.  (Christina House / Los Angeles Times via Getty Images)
PARENTS NEED TO LET GO AT THE COLLEGE DROP-OFF SO KIDS CAN THRIVE, EXPERTS SAY
Another organization tip is to keep clothes that will be hung on the hangers instead of taking them off just to put them in a suitcase and rehang upon arrival. Keep the clothes on the hanger and cover them up with a trash bag while traveling. Then, when you arrive, you can just remove the trash bag and add clothes into the closet.
6. Coordinate move-in times with roommates 
Oftentimes, college dorms are pretty tiny and there isn't a lot of room for extra guests. If your child has multiple roommates living with them, it's a good idea to set up different times for each to move in so each roommate has time to set up their own things without everyone getting in each other's way.
This is especially important when students bring a moving crew with them, like parents, siblings, cousins and friends. This can quickly add up to a lot of people in a room, making the move-in process more stressful than it needs to be.
7. Everything doesn't have to be perfect on day one 
Remember, the room doesn't have to be perfect on day one. And parents, so full of hope and excitement for their child on move-in day, have many ways to tell their children they love and care about them without spending another dime or making another trip to the car. There will be plenty of time through the year to add to the dorm room decorating.
CLICK HERE TO GET THE FOX NEWS APP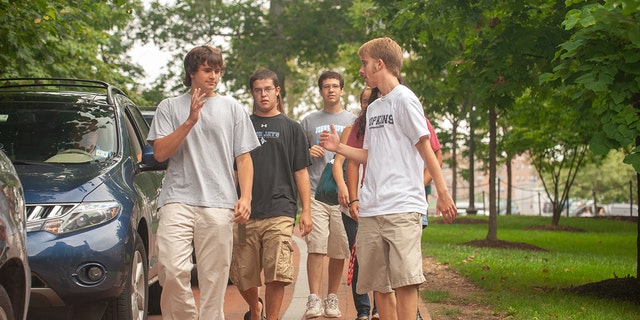 Don't worry about the dorm room looking absolutely perfect on day one. Take time walking around campus and participating in any move-in day festivities.  (JHU Sheridan Libraries/Gado/Getty Images)
"Show it through a hug, show it through a text message, show it through an email or a letter that you leave them on their desk," Miller said. "You can show them all of that without the physical and financial burden of over-purchasing and over-packing."
The Associated Press contributed to this report
Ashlyn Messier is a writer for Fox News Digital.