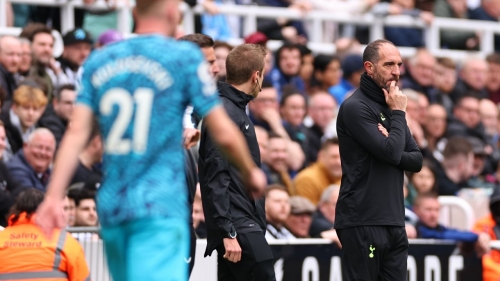 Cristian Stellini was fired from his role as caretaker manager after the defeat to Newcastle.
Robbie Jay Barratt/AMA/Getty Images

CNN
—
Four years ago, on a warm Spanish summer's evening in Madrid, Tottenham Hostpur was just 90 minutes away from reaching the pinnacle of European football.
Win or lose against Liverpool in the 2019 Champions League final, Spurs could be excited about the future of their club.
In the Premier League, then in Europe, the team had shown it could compete with the very best, but after falling short again on all fronts, it was clear additional investment in the playing squad was needed to push the team over the top.
However, significant investment never came and what should have signaled the start of an exciting future, instead became the beginning of the end.
Since that Champions League final defeat to Liverpool, Tottenham has been on a downward trajectory that none of Mauricio Pochettino, Jose Mourinho, Nuno Espirito Santo or Antonio Conte have been able to halt.
"Tottenham find themselves in a situation where, looking back now and at the time of the Champions League final, obviously not winning it, they were at a point in which they needed to rebuild, replenish the squad," Ricky Sacks of the Last Word on Spurs podcast told CNN.
"And ultimately, give Mauricio Pochettino the tools to go again and get Tottenham to further Champions League finals and further semifinals and obviously competing at the top end of the league, which is what he was doing.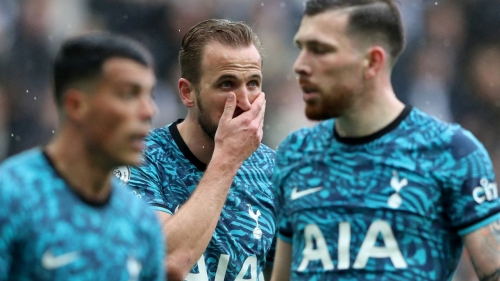 Tottenham was 5-0 down after 21 minutes against Newcastle.
Scott Heppell/Reuters
"I think the general feeling was that everybody felt Mauricio was still the right man and provided he was given the tools, Spurs would carry on and be amongst the top of the league and compete in the latter stages of Europe.
"But unfortunately, Mauricio wasn't given those tools and the first time that he had a wobble, Tottenham decided to make the managerial change and arguably one of the biggest, I would say, managerial changes in the last decade."
'Biggest mess I've known'

It's been an underwhelming few seasons, but Spurs undoubtedly reached its nadir on Sunday with a hideous 6-1 loss to Newcastle.
With Newcastle leading 5-0 after just 21 minutes and Tottenham's players looking bereft, it felt as though four seasons of mismanagement and poor transfer business had been leading to this moment.
So abysmal was the performance that Spurs' players announced they would reimburse the traveling fans the cost of their match tickets, before the club decided to sack its interim head coach, Cristian Stellini.
One of those things happening is rare enough in football; both happening after one game is unheard of.
"As a squad, we understand your frustration, your anger," the players said in a joint statement. "It wasn't good enough. We know words aren't enough in situations like this, but believe us, a defeat like this hurts.
"We appreciate your support, home and away, and with this in mind we would like to reimburse fans with the cost of their match tickets from St James' Park.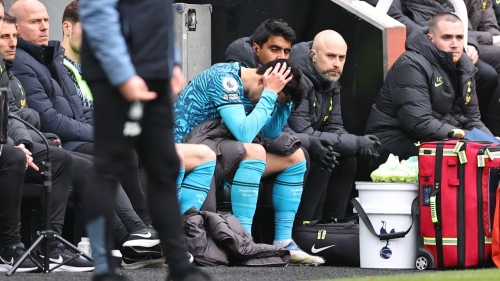 Tottenham players offered to reimburse their fans after the Newcastle defeat.
Robbie Jay Barratt/AMA/Getty Images
"We know this does not change what happened on Sunday and we will give everything to put things right against Manchester United on Thursday evening when, again, your support will mean everything to us.
"Together – and only together – can we move things forward."
Sacks says anyone that has followed Tottenham closely since the Champions League final "would not be surprised" by the result and performance the team put in against Newcastle.
"We all felt, despite what the table tells you about how close the clubs are, the complete difference between the two clubs," Sacks says.
"The feeling about the ownership amongst Tottenham in comparison to Newcastle, the feeling of unity between the fans compared to Newcastle, there's a complete polar opposite feeling among both football clubs and that was what played out against Newcastle.
"From Premier League to non-league teams, to concede five goals in 21 minutes not only tells you there's something massively wrong with the team, but there is something massively wrong with the structure on and off the pitch.
"Unfortunately, the mismanagement of Tottenham off the pitch has now transcended to on the pitch to a point where Tottenham are in the biggest mess I've known in my lifetime."
Bleak future?

All of this begs the question: What exactly do Spurs do next?
The team faces a huge match against Manchester United on Thursday – another club with a disgruntled fan base – and while the result will likely have little impact on the final league standings, another performance anything like the one against Newcastle could lead to a fan revolt.
Beyond that, though, the club's future is less clear.
The move to the new stadium, which cost well over one billion dollars by the time it opened in 2019, was supposed to herald the start of a new era that featured Tottenham competing against the biggest clubs in Europe.
The state of the art arena, arguably unmatched by any sports venue in the world, was supposed to help lure some of football's biggest stars, but next season's squad could likely be unrecognizable as Harry Kane, Tottenham's captain, talisman and the only real superstar in the squad, looks likelier than ever to leave this summer.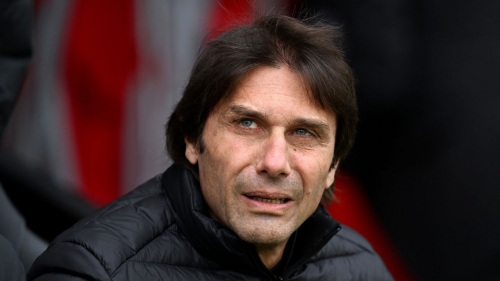 Antonio Conte was the latest Spurs manager to be sacked.
Mike Hewitt/Getty Images
The 29-year-old – one of the most prolific strikers in the world over the past decade – will have no shortage of suitors and chairman Daniel Levy has the tall task of convincing Kane that he can win silverware in North London.
Sacks says he is now unsure whether Kane will still be at the club next season and believes Tottenham made a huge mistake in not bringing Pochettino back, with the Argentine reportedly set to manage Chelsea next season.
"The fans are impatient now with how we've been treated both by the board and, ultimately, players have let us down over the last four or five years," he adds. "The fans are desperate and craving to win and be successful, but most of all they're craving to have their football club back and Tottenham at the moment feel lost in a sense of identity, culture, direction, strategy.
"I honestly don't know the man that's going to come who can solve that and more so, who could persuade Harry Kane to want to renew his contract under these circumstances.
"I think every Tottenham fan looking at the situation now would find it very hard to try to persuade Harry, who's a legend at the club and hopefully one day will get his statue, to renew his contract.
"It's very hard to expect Harry to do that when he sees a man that he respected so much in Pochettino going to join one of Tottenham's biggest rivals in Chelsea and the fact Tottenham didn't have a conversation with him about the potential managerial vacancy."
Kane and strike partner Son Heung-min will command hefty transfer fees to contribute towards a rebuild, but it's difficult to envisage a path that quickly leads Tottenham back to the top of English football, much less European football.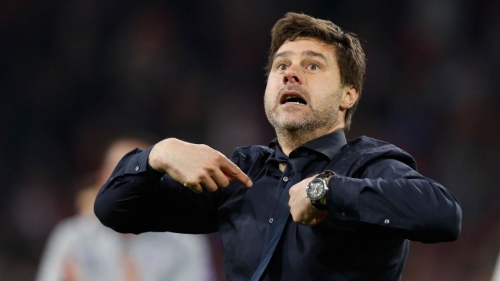 Former Spurs boss Mauricio Pochettino is reportedly set to join Chelsea.
ADRIAN DENNIS/AFP/AFP/Getty Images
Building a competitive squad is hard enough, but the Spurs hierarchy also has the unenviable task of picking the right manager at the fourth time of asking since Pochettino's departure.
The losing culture at the club – described colloquially as "Spursy" and as "the history of Tottenham" by Giorgio Chiellini – is something Pochettino and Conte both publicly addressed and failed to change.
Every step the club makes this summer will be integral to ensuring it can rebuild a competitive team, a task made all the more complicated should the team fail to qualify for next season's Champions League.
However, Sacks finds it hard to picture a future that includes Tottenham being successful with the current hierarchy, which recently included Fabio Paratici resigning as managing director after losing his appeal against against a 30-month ban from the sport.
"Tottenham find themselves in complete and utter disarray, with uncertainty in almost every single department at the club, from the manager to the sporting director, who was banned recently, to the players on the pitch – who is actually good enough at this club?" he says.
"From the very, very top downwards, the lack of a clear direction is massively harming the club."