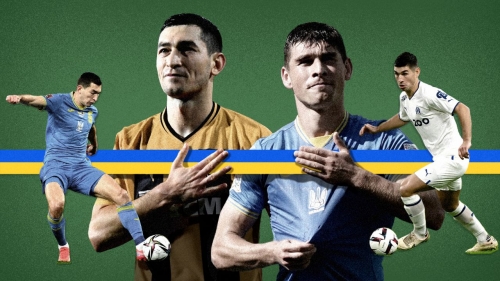 Taras Stepanenko and Ruslan Malinovskyi spoke to CNN Sport about their life and careers since the war.
CNN/Getty Images

CNN
—
Ukrainian soccer player Taras Stepanenko still remembers the intense fear he felt as he heard the sound of gunfire and explosions during the initial days of Russia's full scale invasion of Ukraine.
The 33-year-old was hiding in a basement in Kyiv with his family as Russian troops approached the city.
"You're just a footballer, you have three kids and a wife and you don't know what to do. You don't know what to do if Russian troops come to your house," Stepanenko told CNN Sport.
"It's very difficult for me, as a man who wanted to support his family. I was scared about my family, I really didn't know what to do in that specific situation."
Stepanenko had been at his family home when he learned about Russia's invasion of Ukraine in the early morning of February 24, 2022.
That date is seared into Stepanenko's memory as the day that his life, and the lives of millions across Ukraine, changed forever.
Amid all the chaos and confusion, Stepanenko decided that his family would be safer hiding in the basement of their home.
They spent three days sheltering, unsure of what their fate would be, before eventually escaping the nation's capital.
The family moved south to get away from the fighting before eventually leaving the country and moving to Moldova, then Romania, before finally settling in Spain.
"I really felt relieved when we moved from Kyiv," Stepanenko said as he spoke to CNN in London ahead of Ukraine's Euro 2024 qualifier against England in March.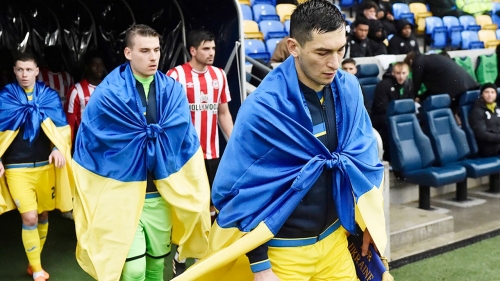 Midfielder Taras Stepanenko leads Ukraine out against Brentford B on March 23.
Courtey UAF/ Pavlo Kubanov
Escaping Ukraine

It's been over a year since the start of the war, which shows no sign of ending.
The devastation has only truly been revealed in the aftermath of Russia's retreat from areas north of the capital city of Kyiv and parts of southern and eastern Ukraine. The names of towns like Bucha and Irpin have become synonymous with Russian atrocities and alleged war crimes.
The fighting still continues, with parts of eastern and southern Ukraine suffering nearly nonstop assaults from Russian forces.
Against that backdrop, Stepanenko is grateful to have escaped, courtesy of special conditions granted to him as a father of three children and also as a professional athlete.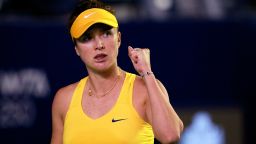 MONTERREY, MEXICO – MARCH 01: Elina Svitolina of Ukraine celebrates a point during a match between Anastasia Potapova of Russia and Elina Svitolina of Ukraine as part of Day 4 of the GNP Seguros WTA Monterrey Open 2022 at Estadio GNP Seguros on March 1, 2022 in Monterrey, Mexico. (Photo by Gonzalo Gonzalez/Jam Media/Getty Images)
Jam Media/Getty Images
Ukrainian tennis player Elina Svitolina on a 'mission' to help war-torn country
But the imposing midfielder, who has played 72 times for his country, doesn't take that privilege for granted and knows he's been more fortunate than most.
It's why he's now dedicated his life and career to raising awareness of Ukraine's fight – the softly spoken Stepanenko sees it as his national duty to do so and says he's spoken to countless journalists from across the world.
His determination to speak on behalf of his compatriots and keep Ukraine in the news agenda is also partly driven by a call from Ukrainian President Volodymyr Zelensky for the country's athletes to represent Ukraine on the global stage, urging them to keep raising awareness of the issues facing their compatriots back home.
"All people in Ukraine have a duty for the country, guys my age are soldiers and volunteers, they help in hospitals or are teachers," Stepanenko tells CNN.
"I'm a footballer, so what can I do for my country? The best I can do is represent my country as a player […] and send the message to European countries and tell our story through football," adds Stepanenko, who speaks so calmly about the devastating topic of war.
A career amid conflict

In addition to representing his country, Stepanenko is proud to play for Shakhtar Donetsk, which is one of Ukraine's biggest clubs.
He joined the club in 2010 and has since played over 200 times, winning eight league titles. But playing for the team means Stepanenko has lived a peripatetic existence.
When Russia forcefully annexed Crimea in 2014 and fighting between pro-Russian separatists and the Ukrainian army broke out in eastern Ukraine, Shakhtar was forced out of its home in the Donbas region. The club has been on the move ever since.
Without a permanent home, the demand on the club's squad has been relentless, with travel and logistics taking a heavy toll on players, staff and supporters alike.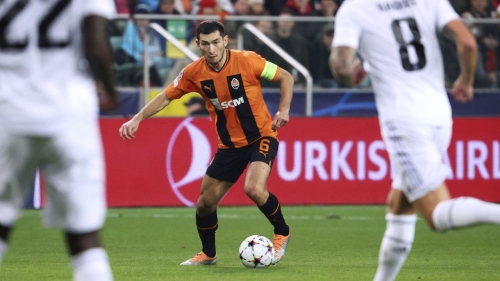 Stepanenko playing for Shakhtar Donetsk against Real Madrid on October 11, 2022.
Michal Dyjuk/AP
"I'm more motivated to play football, not just as a footballer, but as someone who has a duty for his country," he added, when asked how he's been able to focus on sport.
"Every match I take part in, for Shakhtar or the national team, I always say to the younger guys […] that it's our duty to do our best to represent our country.
"To give the message that the Ukrainian people are strong. They are fighting on every field: sports, politics and the battlefield."
Ruslan Malinovskyi's message

Whether playing for their clubs or the national team, it impossible for Ukraine's players to escape the war.
Many start each morning by checking social media, news channels and air-raid apps which tell them about the most recent strikes to hit the country.
That's been the unenviable reality for Ukrainian midfielder Ruslan Malinovskyi for over a year.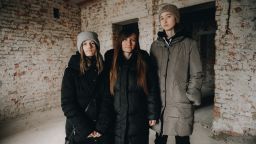 Dan Balashov
Their houses were destroyed in the war. Now boxer Oleksandr Usyk is helping Ukrainian families move back home
The 29-year-old was playing for Italian club Atalanta when he heard about Russia's invasion and was preparing to play a Europa League match against Greek side Olympiacos that evening.
The midfielder spent the day on the phone to friends and family, ensuring his loved ones were safe. Then while struggling to come to terms with the new reality, Malinovskyi says he was asked by the coaching staff whether he could play. His answer was never in doubt.
"Of course, I said yes," Malinovskyi, who is now on loan at French club Marseille, tells CNN Sport.
Despite his mind being occupied by the escalating violence back home, Malinovskyi not only played against Olympiacos but scored two goals in the 3-0 win – his second an astonishing effort from long distance.
When celebrating his first goal, Malinovskyi lifted up his jersey to reveal a message on his undershirt which read: "No War In Ukraine."
It was a moment that reverberated around the world.
"Every day, I think about how it's possible in 2022 and 2023 that war is still possible. Some other country trying to take some part of another country," he says.
"I want to say thank you to all the countries who support Ukraine, and we do our best to make peace in the world. That's how it should be."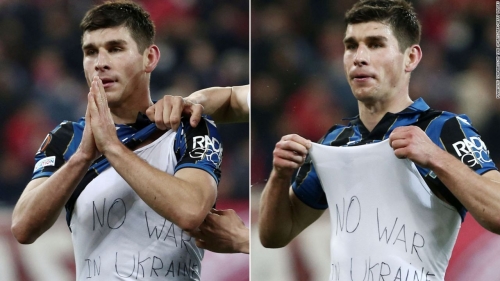 Ukrainian midfielder Malinovskyi celebrates a goal with a shirt reading "No War In Ukraine" on February 24, 2022.
Panayotis Tzamaros/In Time Sports/AFP/Getty Images
'I'm proud that I'm a Ukrainian'

Malinovskyi has seen how the game can play a role in providing respite from the war's devastating reality.
"Football is emotion […] when you work all week, if somebody has stress, somebody has a difficult week, football is where you can put it out," he says.
"It can sometimes make you happy, sometimes make you angry, sometimes sad […] I think that's why football is the number one sport in the world."
Malinovskyi brushes off concerns that the war has made it harder for him on the pitch and, like many of his national teammates, he's aware of how fortunate he's been.
Like Stepanenko, he sees playing football as his national duty and a way of repaying those fighting on the frontline.
Malinovskyi has also set up a charity alongside his partner which has supplied much needed medical equipment for the children of Ukraine.
Both Malinovskyi and Stepanenko will be key members of the Ukrainian national team in its bid to qualify for the European Championships, hosted by Germany, in 2024.
The campaign got off to a difficult start after a 2-0 defeat to England at Wembley in March, but the team will look to regroup in time for its next fixtures against North Macedonia and Malta in June.
"I'm proud that I'm a Ukrainian and I can represent all players that play in Ukraine," says Malinovskyi, who has played 52 times for the national team.
"For me, a patriot is someone who loves his country and the people in it. The parliament, the president should work for the people, not for himself.
"Every person wants to make this country better and, of course, make it happy."