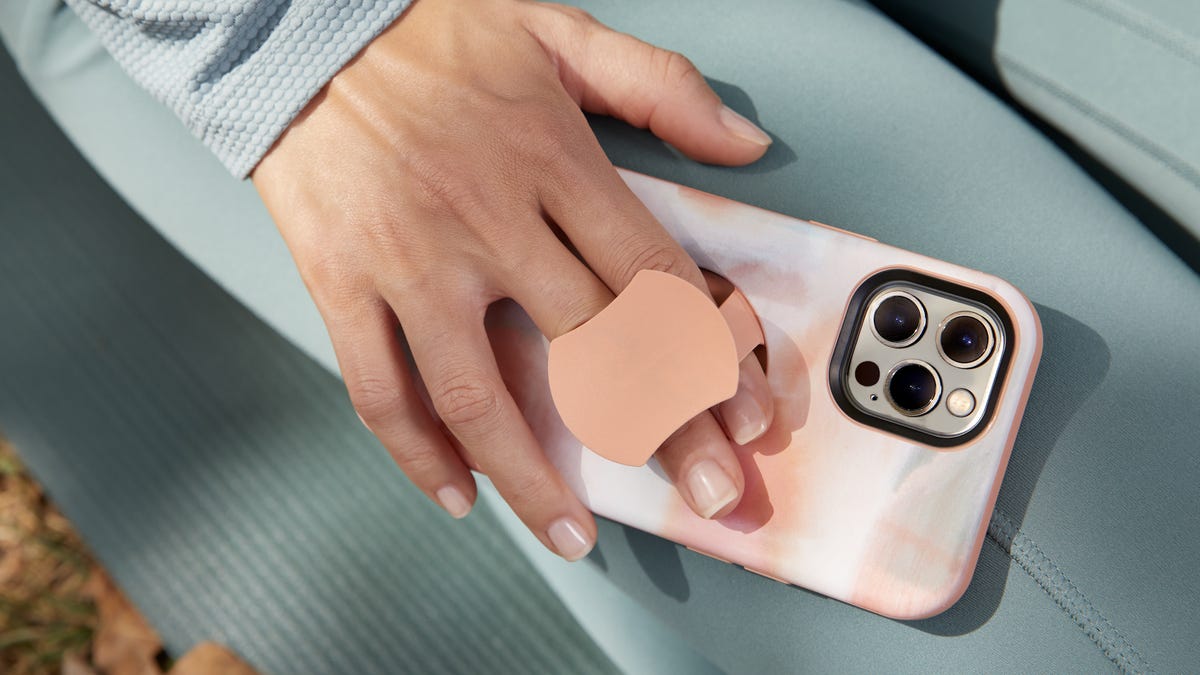 The OtterBox OtterGrip integrates a retractable grip into a Symmetry Series case
OtterBox
One of my favorite MagSafe accessories is Clckr's Stand & Grip ($30), and Clickr also makes a case with an integrated stand for $40. Now OtterBox is getting in on the integrated grip game with its new OtterGrip Symmetry Series case, announced at CES 2023. It will ship in February for $60 and be available for the iPhone 14 devices as well as the iPhone 12/12 Pro and iPhone 13 Pro Max.
I got an early look at the OtterGrip, and what makes it interesting is that when it's not in use, the grip retracts back into the case (it sits flush with the back of the case). It is designed for "strong alignment and attachment with MagSafe technology and accessories without removing or repositioning the case or grip," OtterBox says. That means you could attach the case to a MagSafe car mount, for example, or a MagSafe battery or charging stand. You can't do that with Clckr's Stand & Grip accessory.
Read more: Best iPhone 14 and iPhone 14 Pro Cases You Can Buy Right Now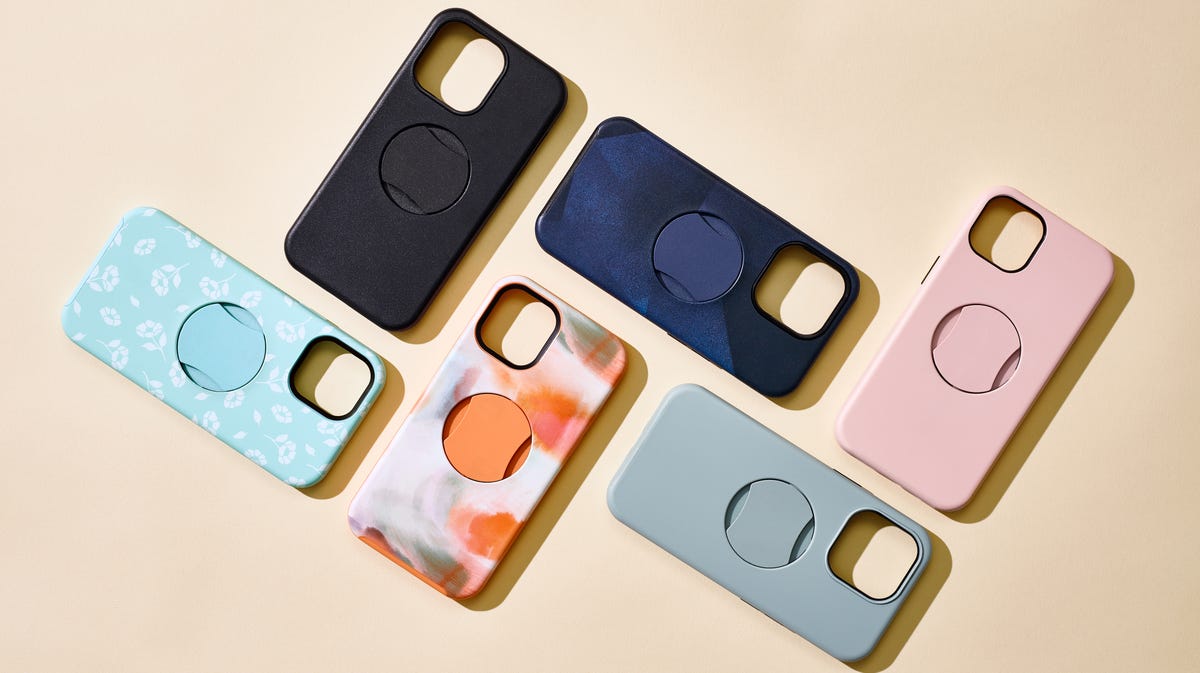 The OtterGrip will ship in February in a variety of color options.

OtterBox

That said, unlike the Stand & Grip, the OtterGrip doesn't convert into a stand. However, it is compatible with OtterBox's new Post Up for MagSafe kickstand accessory ($25), which also ships in February. The Post Up kickstand adheres to any MagSafe compatible iPhone.
OtterBox says the OtterGrip's stem is made out of 50% recycled materials and has a "a soft-to-the-touch, comfortable experience, but is also dynamically flexible enough to enable multiple finger usage and durable for extended use." The grip also rotates 360-degrees to give you more flexibility with how you want to hold your phone in your hand.
Read more: Best MagSafe and Magnetic iPhone Accessories for 2023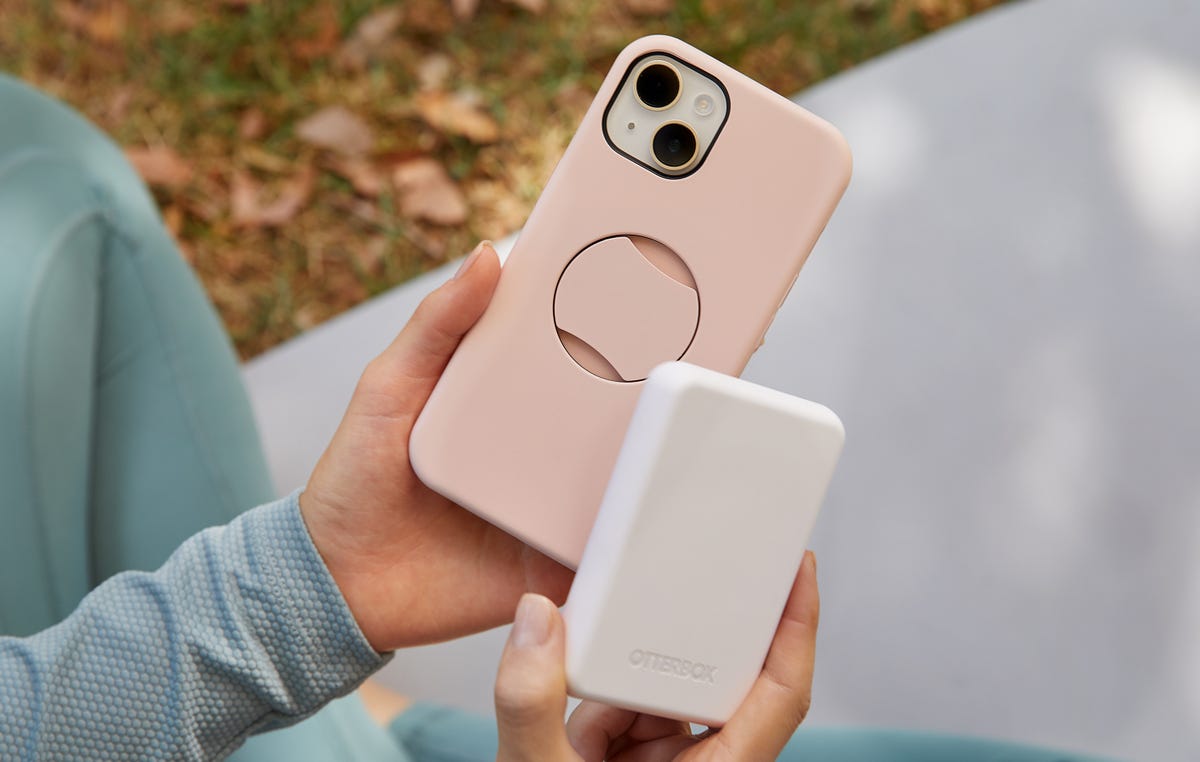 You can attach MagSafe accessories like an external battery to the OtterGrip.

OtterBox

The Clckr Stand & Grip is the more affordable option if you've already got a MagSafe case on your iPhone. But if you're looking for a new case with an integrated grip that also gives you the option to attach the case to another MagSafe accessory, the OtterGrip is definitely worth checking out when it ships next month. And hopefully we'll see some discounts on it and the Post Up for MagSafe moving forward. You'd think that OtterBox might create some sort of bundle with special pricing for both accessories.