The American Israel Public Affairs Committee (AIPAC) and U.S.-based Jewish groups have done the "bidding" of Israeli Prime Minister Benjamin Netanyahu and used their "power and influence" to stop successive administrations from adopting tougher policies toward Israel, according to New York Times columnist Tom Friedman.
"The people I'm most angry with and have written about is [sic] AIPAC and the American Jewish organizations who have done Bibi's bidding over the years," Friedman said in an online discussion last month with fellow writer Peter Beinart, using Netanyahu's popular nickname. "If the reason the administrations are where they are right now, Peter, is because people like the American Jewish Committee and AIPAC at every turn used their power and influence to still the hand of any administration wanting to have a more serious and energetic and vigorous policy."
"And for that," Friedman continued, "They will have to answer to history."
Friedman's comments came in response to a question from Beinart, who claimed Netanyahu is a "racist" who doesn't believe "Palestinians are really human." Beinart then argued the Biden administration has talked about human right but done nothing to stop Israel from practicing "apartheid," before asking Friedman about what he described as the administration's lack of holding Israel accountable.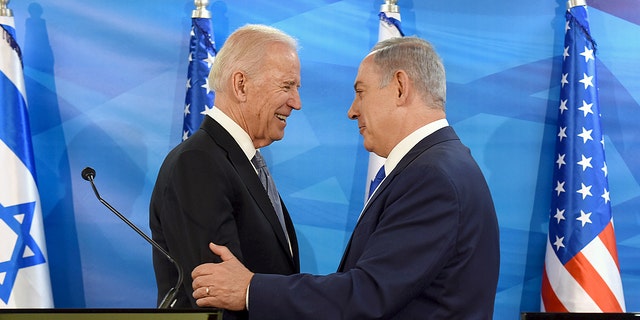 Then-U.S. Vice President Joe Biden (L) shakes hands with Israeli Prime Minister Benjamin Netanyahu as they deliver joint statements during their meeting in Jerusalem March 9, 2016. 
(REUTERS/Debbie Hill)
US AND ISRAEL LAUNCH LARGE SCALE MILITARY DRILL IN REGIONAL SHOW OF FORCE
Apartheid is a governing system of racial segregation and discrimination. In Israel, the world's lone Jewish state, Arabs comprise about 21% of the population, serve in the Israeli government, and have the same legal rights as other Israeli citizens. In the Palestinian territories, it's illegal to sell land to Jews or Israelis, with punishments ranging from hard labor to prison to execution.
Friedman went on to quote a past column of his arguing Netanyahu was able to address Congress in the past because he was "bought and paid for by AIPAC." The exact wording of the 2011 article was that the standing ovation the prime minister got in Congress was "bought and paid for by the Israel lobby" — a statement for which he received significant backlash.
Friedman's remarks seem to echo those of Rep. Ilhan Omar (D-Minn.), who in 2019 came under fire for accusing American politicians of supporting the Jewish state because of the "Benjamins," a slang term for money. When asked who's paying U.S. leaders to be pro-Israel, she responded, "AIPAC." Omar later apologized but still called AIPAC "problematic." She then praised a Democratic activist while retweeting a thread in which he said AIPAC's lobbying is "about the Benjamins."
The New York Times writer then said that if Netanyahu "wanted to speak tomorrow" at the University of Wisconsin, "they'd have to bring out the National Guard," arguing the prime minister couldn't address the campus due to large-scale opposition.
"Shame on him," added Friedman. "That's his real legacy."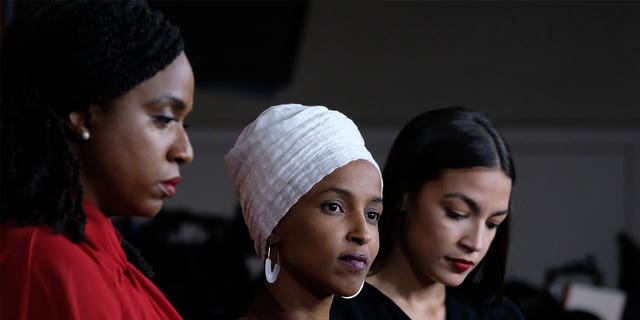 (L-R) U.S. Reps. Ayanna Pressley (D-MA), Ilhan Omar (D-MN) and Alexandria Ocasio-Cortez (D-NY) listen during a news conference at the U.S. Capitol on July 15, 2019 in Washington, D.C.
(Alex Wroblewski/Getty Images)
ANTISEMITISM WATCHDOG SLAMS AOC OVER TWEET TARGETING PRO-ISRAEL ORG: 'SHOWS HER TRUE COLORS'
It's unclear why Friedman seemed to assume that if an Israeli politician was greeted with hostility on an American college campus, it must be the fault of the Israeli politician and not potentially the ideology of the students.
In September, the University of Wisconsin-Madison issued an apology to the school's Jewish students after graffiti targeting what perpetrators called "Zionist" student groups was found in several spots around campus on the first day of the fall semester. University officials called the graffiti antisemitic.
Friedman, AIPAC, and the American Jewish Committee did not respond to Fox News Digital's requests for comment.
Friedman's comments weren't the first time that the New York Times has appeared critical of Israel and Netanyahu. In 2019, for example, the Times' international edition published a cartoon of a guide dog with a big nose and the face of Netanyahu leading a blind Donald Trump wearing a yarmulke. The dog had a Star of David hanging from its collar.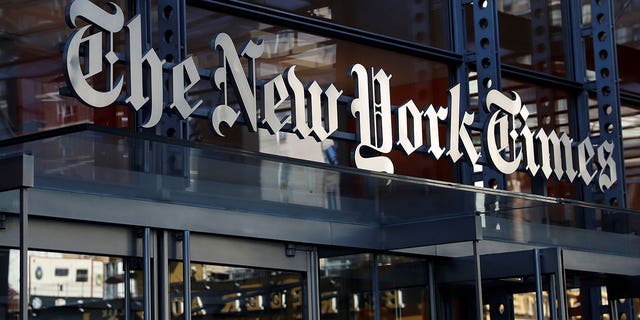 The New York Times called Musk's decision "questionable and unfortunate," and called for a thorough explanation. 
(REUTERS/Shannon Stapleton/File Photo)
FORMER NEW YORK TIMES EDITOR BASHES PAPER FOR PRESENCE AT DAVOS: 'CORRUPT CIRCLE-JERK'
"The cartoon gave vivid expression to the conspiracy theory, or rather myth, that is at the heart of antisemitism and did so in an image that, as was widely noted, could have appeared in Der Stürmer," an old German tabloid that was part of Nazi propaganda, wrote Deborah Lipstadt, who currently serves as President Biden's special envoy to monitor and combat antisemitism.
After receiving significant backlash for publishing the cartoon, the Times released an editor's note calling the image, which was then deleted, "offensive," adding that it was "an error of judgment to publish it." When the criticism didn't stop, the paper's opinion section issued an apology and acknowledged that the cartoon was antisemitic. The Times explained that a "single editor working without adequate oversight" downloaded the cartoon and decided to run it.
Times columnist Bret Stephens wrote in the paper amid the controversy that, for some readers, the paper "has a longstanding Jewish problem, dating back to World War II, when it mostly buried news about the Holocaust, and continuing into the present day in the form of intensely adversarial coverage of Israel."
CLICK HERE TO GET THE FOX NEWS APP
Lipstadt echoed those sentiments later that year.
"Not only were Israeli victims repeatedly ignored, but the Times' reporters and columnists seem to consistently bend over backward to explain away Palestinian wrongs and find moderation among the perpetrators," she wrote.