Civil rights attorney Ben Crump on Wednesday threatened to file a lawsuit on behalf of three high school students against Republican Gov. Ron DeSantis over the state's rejection of an Advanced Placement African American studies program.
Speaking from the Florida Senate in Tallahassee Wednesday, Crump said he was giving "notice to Gov. DeSantis that if he does not negotiate with the College Board to allow AP African American Studies to be taught in the classrooms across the state of Florida, that [the three high school students] will be the lead plaintiffs in a historic lawsuit."
"Will we let Governor DeSantis or anybody exterminate Black history in the classrooms across America?" Crump asked. "What this really is about is saying you cannot exterminate us. You cannot exterminate our culture and you can never exterminate the value of our children in this world."
Crump's threatened lawsuit came a day after the College Board announced plans to revise the AP African-American Studies course.
DESANTIS' TEACHERS' BILL OF RIGHTS PRAISED AFTER BATTLE WITH WHITE HOUSE OVER 'WOKE' CURRICULUM
While the College Board did not cite reasons for the plan to make changes, dustups surrounding its content were longstanding in The Sunshine State.
Gov. DeSantis previously blocked the course from Florida high schools, citing a violation of the state's "Stop WOKE Act" signed into law last year while alleging that the material was "historically inaccurate."
Attorney Ben Crump speaks at a press conference outside the federal courthouse on July 15, 2020, in Minneapolis, Minnesota. 
(Getty Images)
"This course on Black history, what's one of the lessons about? Queer theory," DeSantis said earlier this week. "Now, who would say that an important part of Black history is queer theory? That is somebody pushing an agenda."
The course contains tenets of Critical Race Theory (CRT) and elements of queer theory, according to a copy of the syllabus previously obtained by Fox News Digital.
FLORIDA PUBLIC UNIVERSITIES SPENT $15 MILLION OF TAXPAYER DOLLARS ON CRT, DIVERSITY INITIATIVES: REPORT
A section of the course, titled "African American Studies: Movements and Methods," includes a lesson on "Black Queer Studies" that teaches students about "the concept of the queer of color critique, grounded in Black feminism and intersectionality, as a Black studies lens that shifts sexuality studies toward racial analysis," according to the syllabus.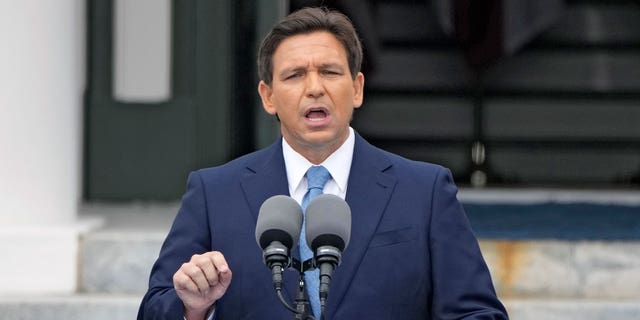 Republican Florida Gov. Ron DeSantis' handling of a Cuban immigration surge may serve as a lens into his policy platform should he run for president in 2024.
(AP Photo/Lynne Sladky, File)
Bryan Griffin, press secretary to Florida Gov. Ron DeSantis said last week the course "is a vehicle for a political agenda and leaves large, ambiguous gaps that can be filled with additional ideological material, which we will not allow."
"As Governor DeSantis has stated, our classrooms will be a place for education, not indoctrination," he said.
Florida Department of Education Communications Director Alex Lanfranconi called Crump's potential lawsuit "nothing more than a meritless publicity stunt."
"We are glad the College Board has recognized that the originally submitted course curriculum is problematic, and we are encouraged to see the College Board express a willingness to amend. AP courses are standardized nationwide, and as a result of Florida's strong stance against identity politics and indoctrination, students across the country will consequentially have access to a historically accurate, unbiased course," Lanfranconi said.
CLICK HERE TO GET THE FOX NEWS APP
"As Governor DeSantis said, African American History is American History, and we will not allow any organization to use an academic course as a gateway for indoctrination and a political agenda. We look forward to reviewing the College Board's changes and expect the removal of content on Critical Race Theory, Black Queer Studies, Intersectionality, and other topics that violate our laws."
Fox News Digital has reached out to Crump and DeSantis' office for additional comment.
Fox News' Taylor Penley contributed to this report.