Democratic lawmakers continue to point fingers at former President Donald Trump amid new revelations that President Biden and former Vice President Mike Pence improperly stored classified documents.
Last week, dozens of classified documents were discovered in Pence's Indiana home. The news comes on the heels of investigations launched into Biden and Trump for their own alleged mishandling of classified documents. Pence's legal team handed over the classified records to the National Archives on Jan. 18, and the National Archives later notified the FBI, per standard procedure.
Sen. Dick Durbin, D-Ill., chair of the Senate Judiciary Committee, told reporters on Wednesday that since Pence and Biden cooperated with authorities in handing over classified documents immediately, they are in contrast to Trump, whose "stonewalling" and "obstruction" is at the heart of this "criminal investigation."
"It's reached a point I'm not surprised, and I should be," Durbin added of the Pence reports. "As careful as we are in dealing with these documents that are secret and classified, as members of Congress, it appears the executive branch is not as careful."
VICE PRESIDENT MIKE PENCE DISCOVERED CLASSIFIED DOCUMENTS IN INDIANA HOME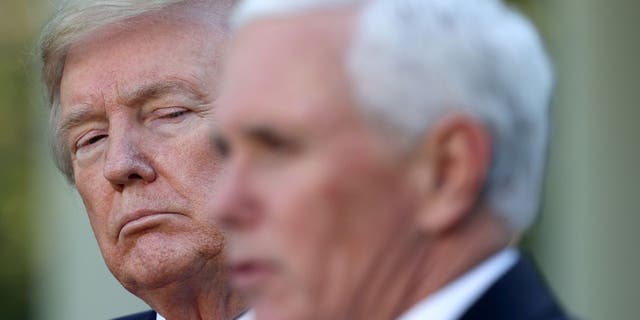 President Donald Trump listens as Vice President Mike Pence answers questions during the daily briefing of the coronavirus task force at the White House in 2020.
(Win McNamee/Getty Images)
Throughout January, reports surfaced that Biden turned over four separate batches of classified documents found among his personal possessions in his Wilmington, Delaware, home and office at the Penn Biden Center in Washington, D.C. Last year, Trump's Mar-a-Lago home in Palm Beach, Florida, was subject to a controversial FBI raid that uncovered more than 300 documents marked classified.
Rep. Ro Khanna, D-Calif., who serves as assistant whip in the Democratic caucus, has called for a bipartisan look into Biden's mishandling of documents. Khanna responded to the news on the former vice president during an appearance on "CNN Newsroom," calling for an end to the "partisan attacks" on Pence and Biden, while also accusing Republicans of trying to score "political points" on Biden.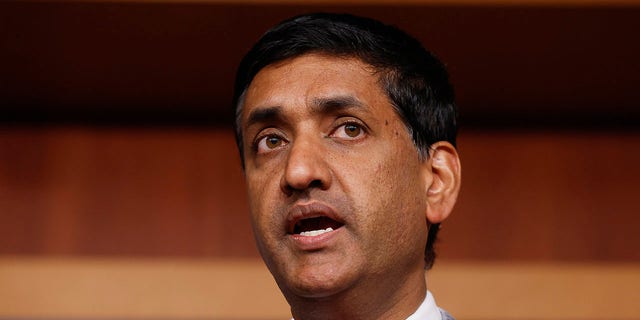 Rep. Ro Khanna called for a bipartisan look into President Biden's mishandling of classified documents on Jan. 23.
(Chip Somodevilla/Getty Images)
It looks like Pence is cooperating, according to Khanna. "That is, I think, what people need to realize is in stark contrast to what President Trump did."
Democrat and Republican lawmakers have accused the other side of hypocrisy on the issue since news of Biden's classified documents broke. The latest revelations coming from the Pence camp complicate the debate further.
MIKE PENCE 'TROUBLED' BY REPORTS BIDEN'S ALLEGED MISHANDLING OF CLASSIFIED DOCS WAS KNOWN BEFORE ELECTION
"Pence, Biden and Trump all have to answer the same set of questions: How many documents? How serious? How did you get them? Who had access to them? Are you being cooperative? These situations are all very serious and there should be an even standard on everybody," Democratic Sen. Tim Kaine of Virginia told Fox News Digital on Wednesday.
"The handling of classified materials and the nation's secrets is a very serious matter and as a former vice president of the United States, I can speak from personal experience about the attention that ought to be paid to those materials when you're in office and after you leave office, and clearly that did not take place in this case," Pence told FOX Business earlier this month in reference to the Department of Justice reportedly sitting on information about Biden's mishandling of classified documents.
CLICK HERE TO GET THE FOX NEWS APP
The documents discovered in Pence's home in Carmel, Indiana, date back to his days as vice president. Pence has agreed to fully cooperate with congressional oversight on the matter, according to a statement from House Oversight Committee Chairman James Comer, R-Ky.