A gunman killed 10 people and injured 10 others at a Southern California ballroom dance studio Saturday amid Lunar New Year celebrations.
Twenty to 30 minutes later, a man with a gun entered the Lai Lai Ballroom in nearby Alhambra but patrons wrestled the gun away from him and he fled, authorities said.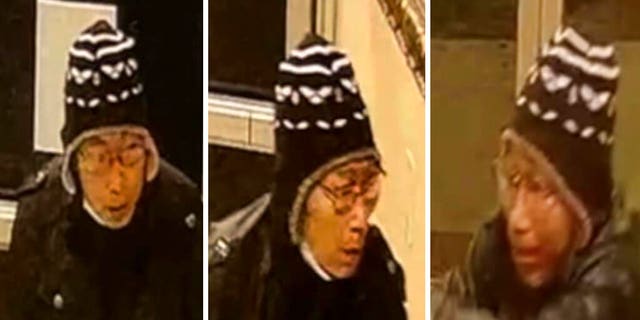 This combination image created using photos provided by the Los Angeles County Sheriff's Department shows a male suspect allegedly involved in a shooting on Saturday, Jan. 21, 2023, in Monterey Park, Calif.
(Los Angeles County Sheriff's Department via AP)
Despite police not releasing the suspect's identity or race, some liberals on Twitter were quick to pin the horror on white supremacy and anti-Asian hate before all the facts were known.
Sen. Chuck Schumer, D-N.Y., tweeted: "We must stand up to bigotry and hate wherever they rear their ugly heads, and we must keep working to stop gun violence."
Rep. Adam Schiff, D-Calif., said Saturday's shooting was "A horrific example of needless gun violence. With bigotry toward AAPI (Asian American Pacific Islander) individuals as a possible motive."
Meanwhile, #StopAsianHate many Twitter users condemned the violence, punctuating their tweets with "#StopAsianHate."
Wisconsin State Representative Francesca Hong, sharing her condolences for the victims, tweeted: "We are broken as a nation to have mass shootings and white supremacy reign terror."
Though not all details were known Sunday afternoon, authorities say that the suspected gunman was an Asian man between the ages of 30 and 50.
Authorities said Sunday they know the suspect's name but declined to release it because it could complicate their ability to apprehend him. They released a photo showing an Asian man wearing glasses and a winter hat. The image was taken from the attempted shooting in Alhambra.
Chester Chong, chairman of the Chinese Chamber of Commerce Los Angeles, told ABC 7 that the mass shooting was over a "domestic dispute."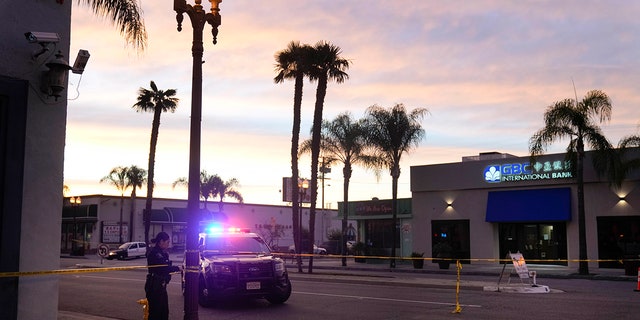 A police officer ties tape around a light pole in Monterey Park, Calif., Sunday, Jan. 22, 2023.
(AP Photo/Jae C. Hong)
By midday Sunday, police in tactical vehicles and bomb-squad trucks surrounded a white van in a parking lot in Torrance, located roughly 30 miles southwest of Monterey Park.
Hours earlier, Los Angeles Sheriff Robert Luna said authorities were looking for a white van after witnesses reported seeing the suspect flee from Alhambra in such a vehicle.
NEW HAMPSHIRE SEES INCREASE IN HATE CRIME REPORTS
The sheriff declined to say what type of gun was recovered in Alhambra. He said investigators believe the gun used in Monterey Park was not an assault rifle.
The shooting and manhunt sent a wave of fear through Asian American communities in the Los Angeles area and cast a shadow over Lunar New Year festivities around the country.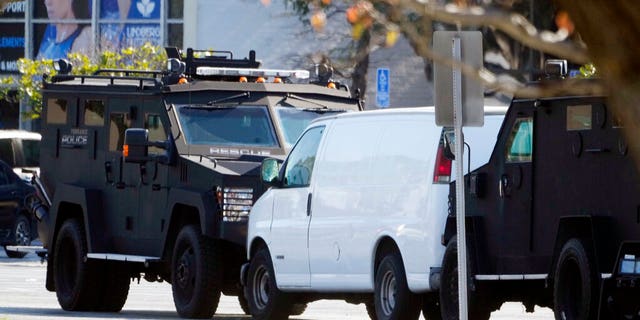 A van is surrounded by SWAT personnel in Torrance Calif., Sunday, Jan. 22, 2023. 
(AP Photo/Damian Dovarganes)
Monterey Park is a city of about 60,000 people on the eastern edge of Los Angeles and is composed mostly of Asian immigrants from China or first-generation Asian Americans. The shooting happened in the heart of its downtown where red lanterns decorated the streets for the Lunar New Year festivities. A police car was parked near a large banner that proclaimed "Happy Year of the Rabbit!"
CLICK HERE TO GET THE FOX NEWS APP
The shooting occurred at Star Ballroom Dance Studio, a few blocks from city hall on Monterey Park's main thoroughfare of Garvey Avenue, which is dotted with strip malls of small businesses whose signs are in both English and Chinese. Cantonese and Mandarin are both widely spoken, Chinese holidays are celebrated, and Chinese films are screened regularly in the city.
The Associated Press contributed to this report.