Democrats have been noticeably silent on the anti-police violence that unraveled in Atlanta over the weekend after rioters set a police vehicle ablaze and smashed windows in response to the police-involved shooting of an armed activist days earlier.
Protesters had gathered Saturday in response to the death of 26-year-old Manuel Esteban Paez Teran, who was killed by officers on Wednesday after he allegedly refused demands from authorities and shot a state trooper at the site of the new Atlanta Public Safety Training Center.
The protests on Saturday began peacefully before spiraling into chaotic riots, resulting in at least six arrests.
Photos showed the activists allegedly lit an Atlanta PD vehicle on fire in addition to targeting the Atlanta Police Foundation building with rocks and fireworks.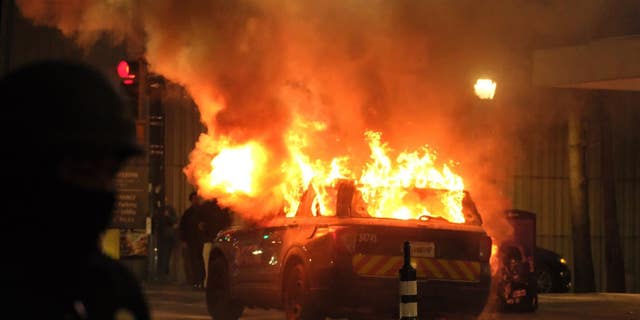 Burning Atlanta Police Department SUV.
(Billy Heath/Fox 5)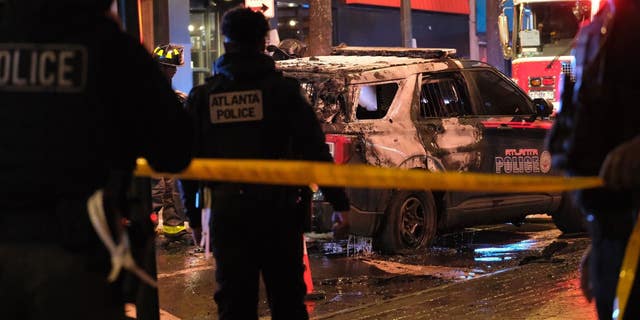 Atlanta police work to subdue a violent protest on Jan. 21.
(Billy Heath/Fox 5)
ATLANTA: PROTESTERS CALL FOR 'VIOLENCE' AGAINST POLICE AFTER SHOOTING LEAVES 1 DEAD, OFFICER INJURED
Caution tape was also wrapped around several buildings, including a Wells Fargo location that suffered several broken windows, photos at the scene showed.
Fox News Digital reached out to multiple Democrats, many of whom had previously been vocal on defunding the police, about whether they condoned the violence and if these types of protests were considered a threat to democracy. However, inquiries sent to the White House, Georgia Sen. Raphael Warnock, Senate Majority Leader Chuck Schumer, House Minority Leader Hakeem Jeffries, and Reps. Nancy Pelosi, Alexandria Ocasio-Cortez, Ilhan Omar, Rashida Tlaib, Ayanna Pressley, Cori Bush, Jamaal Bowman, Summer Lee and Delia Ramirez went unreturned.
Georgia Democrats and Georgia state Rep. Park Cannon also did not return requests for comment.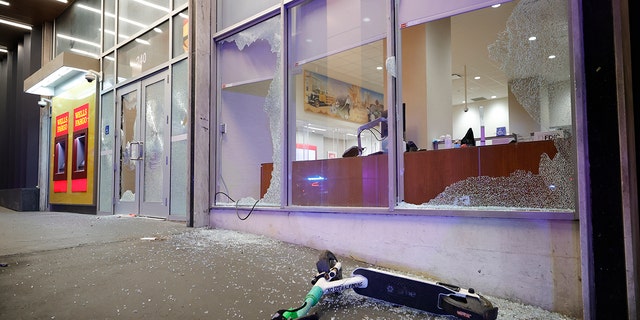 Broken windows at a Wells Fargo branch are seen following a violent protest, late Saturday, Jan. 21, 2023, in Atlanta.
(AP Photo/Alex Slitz)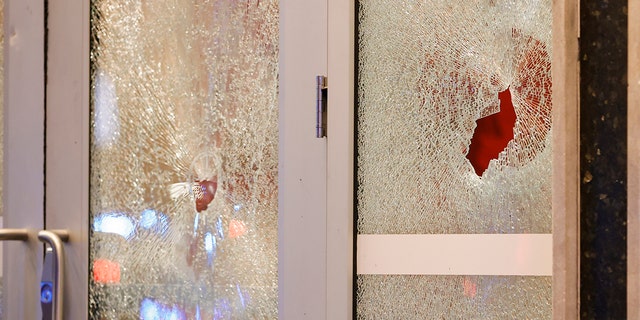 Broken windows at a Wells Fargo branch are seen following a protest, Saturday, Jan. 21, 2023, in Atlanta.
(AP Photo/Alex Slitz)
However, Sen. Jon Ossoff, D-Ga., released a statement Saturday evening saying, "Peaceful protest is a sacred Constitutional right but violence is unacceptable, cannot be permitted or tolerated, and must cease immediately."
"Atlanta Police have arrested 6 people so far, some of whom were carrying explosives," Atlanta Mayor Andre Dickens, a Democrat, tweeted Saturday evening. "These individuals meant violence and used the cover of peaceful protest to conceal their motives. Our law enforcement teams were prepared and resolved the situation swiftly."
Georgia Gov. Brian Kemp, a Republican, on Saturday slammed the destruction and said violence of any kind will not be tolerated.
"While the state continues to respect peaceful protest, acts of violence against person or property will not be tolerated. Those committing such unlawful acts will be arrested and prosecuted fully," Kemp said.
ATLANTA POLICE ARREST 6 IN NIGHT OF CHAOS AFTER VIOLENT PROTESTERS LIT COP CAR ABLAZE, SMASHED WINDOWS
Activists had been camped out for months on an 85-acre planned facility known as "Cop City" to protest the planned training center in Atlanta. Teran was shot and killed after authorities tried to remove the protesters from the plot of land on Wednesday.
A total of seven people were arrested and charged with domestic terrorism when the campsites were cleared Wednesday.
CLICK TO GET THE FOX NEWS APP
The Twitter account Scenes from the Atlanta Forest had called for a "Night of Rage" to enact "reciprocal violence to be done to the police and their allies," according to a post.
Fox News' Emma Colton and Lawrence Richard contributed to this report.