Jeff Zients, the former White House coronavirus response coordinator who is succeeding Ron Klain as President Joe Biden's new chief of staff, has faced left-wing criticism for his corporate past and the massive wealth he's accumulated in the private sector.
Progressive Twitter users were quick to recirculate old articles criticizing Zients after the news broke on Twitter Sunday that Zients would be taking over for Klain in the coming weeks. Fox News Digital confirmed Zients would be the incoming chief of staff.
Zients held several positions in the Obama administration, including director of the National Economic Council from March 2014 to January 2017, before he returned to the private sector, sitting on the board of directors at Facebook and holding executive jobs at The Advisory Board Company and CEB. He has also worked closely alongside several of Biden's senior advisers and members of his cabinet.
Upon joining the current White House as Biden's COVID-19 czar from early 2021 through April 2022, Zients disclosed owning between $89.3 million and $442.8 million in assets, including various investment funds, real estate properties and cash shares.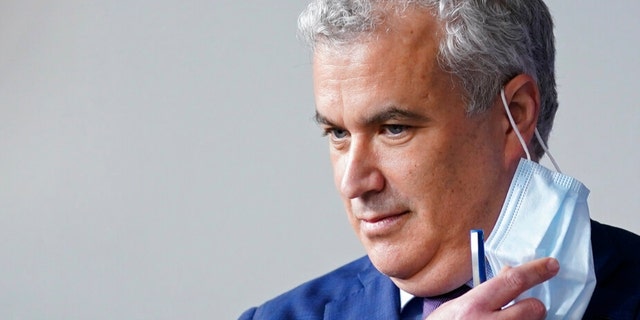 White House COVID-19 Response Coordinator Jeff Zients removes a face mask as he prepares to speak at a press briefing at the White House in Washington, April 13, 2021.
(AP Photo / Patrick Semansky)
BIDEN TO TAP FORMER COVID CZAR JEFF ZIENTS AS NEW CHIEF OF STAFF
The Center for Economic and Policy Research (CEPR) and Public Citizen, two liberal think tanks based in Washington, D.C., have been vocally opposed to Zients' tenure as COVID czar, slamming him for not going far enough on mask mandates and not acting more quickly to ship vaccines overseas.
"Jeff Zients failed, and the world paid the price," Public Citizen President Robert Weissman said in March 2022.
The CEPR's Revolving Door Project, which frequently criticizes Zients' wealth and corporate past, blasted his hiring as chief of staff on Sunday.
"Americans are appalled by profiteering in healthcare – Jeff Zients has become astonishingly rich by profiteering in healthcare," Revolving Door Project Executive Director Jeff Hauser said in a statement Sunday.
"Joe Biden's best chance to fight for the American people and defeat the dark forces threatening our economy is to show real results via the branch of government he runs – the executive branch," he said. "We have long argued for a 'corporate crackdown' on behaviors that violate federal laws and harm the American people in order for corporations to become richer. Those are the practices that have made Zients rich. We're deeply worried that Zients will prevent the administration from exercising power righteously on behalf of an already cynical populace."
In January 2022, one year into Zients' stint coordinating the White House's coronavirus response, the Revolving Door Project published an article in The American Prospect titled, "Fire Jeff Zients," which described Zients as a "former corporate executive whose track record bolsters the worst possible impulses for a Biden appointee in command of the federal government's resources."
Several months later, when rumors first surfaced about Zients succeeding Klain, the project published an article examining Zients' "corporate past," which also looked at his investment firm Portfolio Logic LLC, where he was managing partner.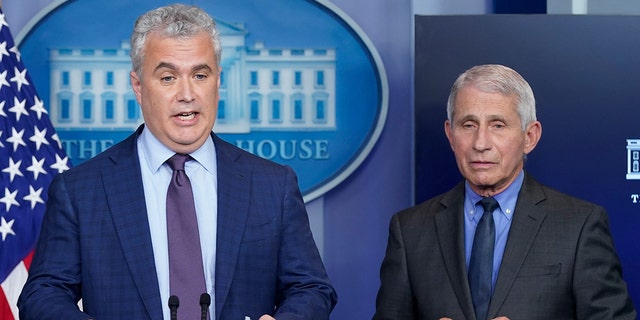 White House COVID-19 Response Coordinator Jeff Zients, left, speaks alongside Dr. Anthony Fauci, director of the National Institute of Allergy and Infectious Diseases, during a press briefing at the White House, April 13, 2021, in Washington.
(AP Photo / Patrick Semansky)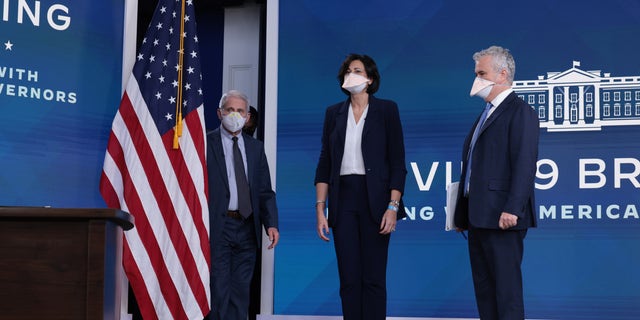 Dr. Anthony Fauci, director of the National Institute of Allergy and Infectious Diseases, left, Centers for Disease Control and Prevention Director Rochelle Walensky and White House COVID-19 Response Coordinator Jeffrey Zients are shown on Dec. 27, 2021, in Washington, D.C.
(Anna Moneymaker / Getty Images)
"Taken together, an examination of the companies that made Zients rich paints a picture of a man who seized on medical providers as a way to capitalize on the suffering of sick Americans. In the end, it seems to have all paid off," the report said.
"As rumors swirl about Zients succeeding Ronald Klain as President Biden's chief of staff," it continued," his corporate record raises serious questions about his fitness to serve in an administration that has attempted to market itself as a champion of working people."
CLICK HERE TO GET THE FOX NEWS APP
The report cited a 2015 federal lawsuit in which Portfolio Logic, which Zients founded, agreed to pay almost $7 million to resolve allegations of fraudulent Medicare and Medicaid billing by a subsidiary that it acquired years earlier.
Zients did not respond to Fox News Digital's request for comment.
Fox News' Brooke Singman, Anders Hagstrom and Greg Wehner contributed reporting.