close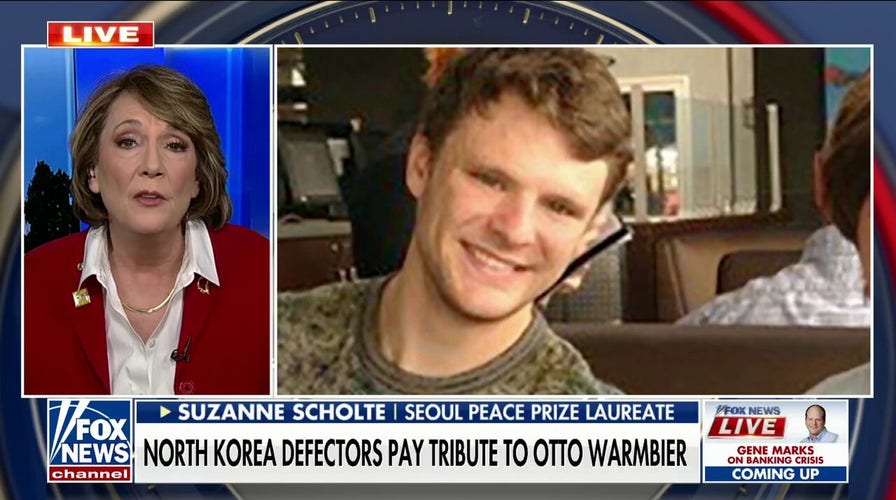 Video
North Korean defectors honor Otto Warmbier, Kim Jong Un's victims

'The North Korean Freedom Foundation' chair Suzanne Scholte joins 'Fox News Live' to discuss the protests in front of North Korea's mission to the United Nations.
North Korean leader Kim Jong Un has called on his country to be ready to launch a nuclear attack to deter war as he accused the U.S. and South Korea of carrying out military drills with American nuclear assets, according to state media.
Kim's remarks, carried on state media KCNA, came after the Hermit Kingdom launched a short-range ballistic missile toward the sea on Sunday. The missile flew across the country and landed in the sea off its east coast, according to South Korean and Japanese assessments – which reported that the missile traveled a distance of about 500 miles.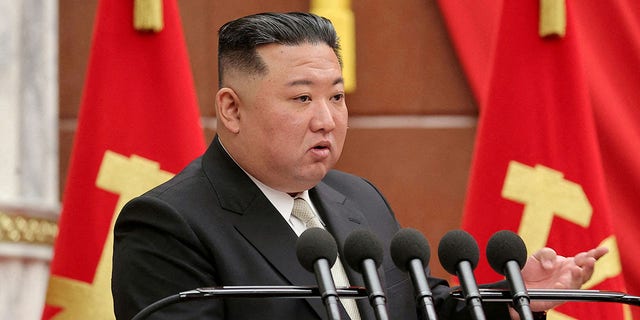 FILE: North Korean leader Kim Jong Un attends the 7th enlarged plenary meeting of the 8th Central Committee of the Workers' Party of Korea (WPK) in Pyongyang, North Korea, March 1, 2023 in this photo released by North Korea's Korean Central News Agency (KCNA).  (KCNA via REUTERS)
Kim, who oversaw the test, said the exercises improved the military's actual war capability and highlighted the need to ensure its readiness posture for any "immediate and overwhelming nuclear counterattack" through such drills.
KCNA quoted Kim as saying the North "urgently" needed to bolster up its nuclear war deterrence exponentially as the enemies "are getting ever more pronounced in their moves for aggression against" his country.
US AND ITS PARTNERS STAGE WARFARE DRILLS AS JAPAN, SOUTH KOREA STRENGTHEN ALLIANCE AGAINST CHINA, NORTH KOREA
"The nuclear force of the DPRK will strongly deter, control and manage the enemy's reckless moves and provocations with its high war readiness, and carry out its important mission without hesitation in case of any unwanted situation," Kim was quoted as saying.
KCNA photos showed Kim attending the test with his young daughter as flames roared from the soaring missile before it hit the target.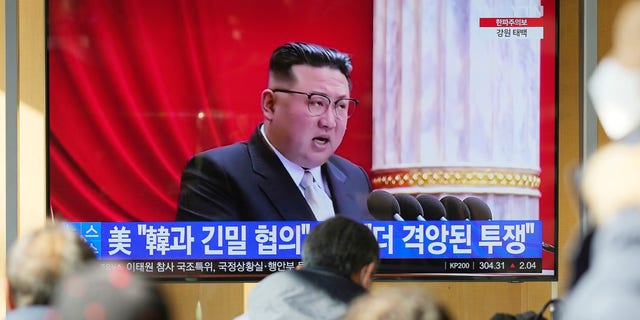 FILE: A TV screen shows a news program reporting with footage of North Korean leader Kim Jong Un in Pyongyang, at the Seoul Railway Station in Seoul, South Korea, on Dec. 27, 2022. (AP Photo/Lee Jin-man, File)
The U.S. and South Korea have for weeks been carrying out annual exercises, including air and sea drills involving U.S. B-1B strategic bombers. Both country's respective navies and marine corps are set to kick off their first large-scale Ssangyong amphibious landing exercises in five years on Monday for a two-week run until April 3. North Korea has frequently condemned these exercises, likening them to a dress rehearsal for an invasion.
CLICK HERE TO GET THE FOX NEWS APP
In another dispatch, KCNA said more than 1.4 million North Koreans have volunteered to join or re-enlist in the military to fight against South Korean and US troops – up from some 800,000 enlistees reported over the weekend.
Fox News' Anders Hagstrom contributed to this report.
Bradford Betz is a Fox News Digital breaking reporter covering crime, political issues, and much more.