close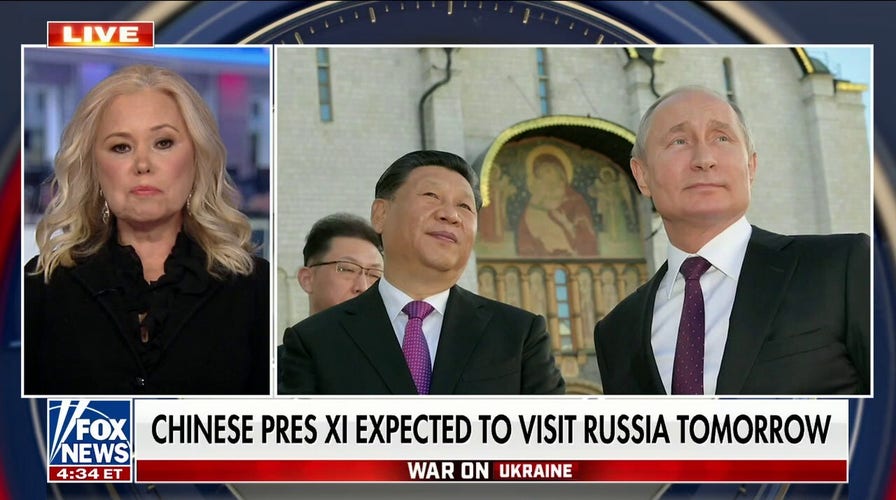 Video
Chinese president not seeking peace in Russia-Ukraine war: Koffler
Former DNI intelligence officer Rebekah Koffler claims reports that Chinese President Xi Jinping will propose a peace plan to Russian President Vladimir Putin are 'all a charade' on 'Fox News Live.'
The general-secretary of the Chinese Communist Party, Xi Jinping, is slated to meet with Russian President Vladimir Putin in Moscow on Monday, just days after the International Criminal Court (ICC) indicted the Russian strongman for war crimes.
Xi's visit is the latest sign of Beijing's emboldened diplomatic ambitions, and it comes amid sharpening East-West tensions over the war in Ukraine, now in its 13th month. Xi recently scored a diplomatic victory, according to an intelligence official, by bypassing the U.S. and brokering a rapprochement between Iran's regime and Saudi Arabia.
Rebekah Koffler, a former analyst at the U.S. Defense Intelligence Agency, told Fox News Digital that Xi's meeting with Putin is "highly significant" because "Xi is highly incentivized to drag out Putin's war on Ukraine because China only benefits from it as both of its top strategic adversaries are depleting their combat arsenals in Ukraine in a proxy war."
Koffler added, "This is why Xi will likely approve lethal aid to Russia. But they are probably discussing how to transfer this aid through third parties, so China can bypass U.S. sanctions policy."
CHINA DENIES HIDDEN MOTIVES AFTER BROKERING TALKS BETWEEN SAUDI ARABIA, IRAN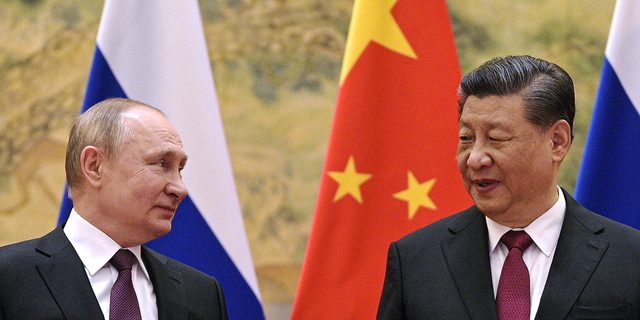 Chinese President Xi Jinping, right, and Russian President Vladimir Putin talk to each other during their meeting in Beijing on Feb. 4, 2022. The two will meet again on Monday as Xi starts a two-day visit to Moscow. (Alexei Druzhinin / Sputnik / Kremlin Pool Photo via AP)
Asked about the Xi-Putin meeting and a potential Xi phone call with President Joe Biden, National Security Council Strategic Communications Director John Kirby told Fox News on Sunday that the "president wants to keep the lines of communications open with China, and you've heard him say it himself just in recent days that he does want to set up another chance to talk to President Xi, and I suspect that will happen; it will happen in due course when it's the appropriate time to do so." He continued, "It's important particularly when the tensions are so high between our two countries that these two leaders keep that line of communication open, and the president is committed to doing that."
Kirby added, "There's no question that both China and Russia, and this is right out in the national security strategy, are two countries that are chafing against this international rules-based order that the United States and so many of our allies and partners have built up since the end of World War II. They don't like that, they'd like to rewrite the rules of the game globally, and they have been increasing their cooperation and their relationship certainly of late."
Fox News Digital sent a press query to the U.S. State Department about criticism that Washington is failing to enforce sanctions against China and its alleged hesitancy to confront Beijing's aggressive foreign policy aimed to counter American interests, but no response was received by press time.
JOHN BOLTON WARNS US 'SITTING STILL' AS CHINA, RUSSIA 'SHORE UP THEIR RELATIONS'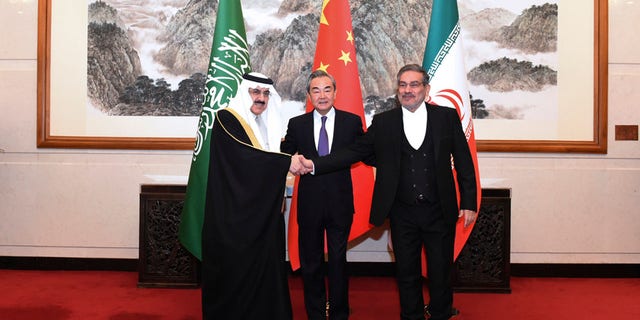 Ali Shamkhani, secretary of Iran's Supreme National Security Council, right, shakes hands with Saudi national security adviser Musaad bin Mohammed al-Aiban, left, as Wang Yi, China's most senior diplomat, looks on in Beijing on March 11, 2023. (Luo Xiaoguang / Xinhua via AP)
Gordon Chang, a senior fellow for the Gatestone Institute, told Fox News Digital that Xi seeks to gain more traction and leverage from his diplomatic success with the Islamic Republic of Iran and Saudi Arabia this month.
Beijing and Moscow have intensified ties in steps that began shortly before Russia's invasion of Ukraine with a meeting between the two in leaders in Beijing during last year's Winter Olympics, where they declared a "no limits" partnership.
China has sought to project itself as neutral in the conflict between Russia and Ukraine, even while it has refused to condemn Moscow's aggression. Beijing has denounced Western sanctions against Moscow and accused NATO and the United States of provoking Putin's military action.
Kremlin spokesman Yuri Ushakov noted that Putin and Xi have "very special, friendly and trusting personal times" and hailed Beijing's peace plan.
"We highly appreciate the restrained, well-balanced position of the Chinese leadership on this issue," Ushakov said.
China last month called for a cease-fire and peace talks between Kyiv and Moscow. Ukrainian President Volodymyr Zelenskyy cautiously welcomed Beijing's involvement, but the overture appeared to go no further.
Yurii Poita, head of the Asia section of the Kyiv-based New Geopolitics Research Network, believes the Ukrainian government is going along with China's involvement because it is reluctant to make another powerful enemy.
BIDEN WARNED AS RUSSIA, CHINA FLEX MUSCLE IN MIDDLE EAST: 'ALLIES MATTER'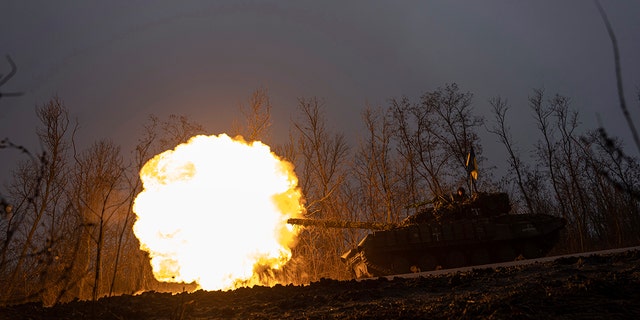 A Ukrainian tank fires on Russian positions near Bakhmut, Ukraine, March 8, 2023. (AP Photo / Evgeniy Maloletka)
"Do not antagonize the dragon when you are fighting against a bear," Poita told the Associated Press.
Observers say that despite China's posturing as a mediator to settle the war between Ukraine and Russia, its refusal to condemn the Russian action leaves no doubt about where Beijing's sympathy lies.
All of this helps to explain why tough critics of China like Chang do not see China as an honest power broker.
Chang, the author of "The Coming Collapse of China," noted that "Russia might not be in this war if not for China's support. China is effectively financing the war with elevated commodity purchases. China's opened its financial system to Russian-sanctioned institutions. China provided location data to Russian [forces] to take out Ukrainian drones. China is selling ammunition to Russians."
It was reported last week that Chinese companies sent Russia assault rifles, drone parts and body armor.
ACTIVISTS PUSH FOR INVESTIGATION OVER CLAIMS CHINA IS FORCIBLY HARVESTING ORGANS OF UYGHUR POPULATION
Video
"The Biden administration wants [China's] help on climate change and is not calling China out and not enforcing sanctions on the Chinese. The Biden administration is fearful of confronting the Chinese. China sees a green light to support its 'no limits' partner Russia," said Chang.
Chang continued, "This is China's all-in support for genocide" with respect to the meeting on Monday. China's human rights record has faced intense criticism over the years due to its violent crackdown on the Uyghurs and Tibetans.
The China expert went on to say that Putin and Xi had to have known about the ICC arrest warrant issued to Putin and Xi still went ahead and "announced the visit just before the international arrest warrant. This meeting is a signal that China is supporting Russia through thick and thin."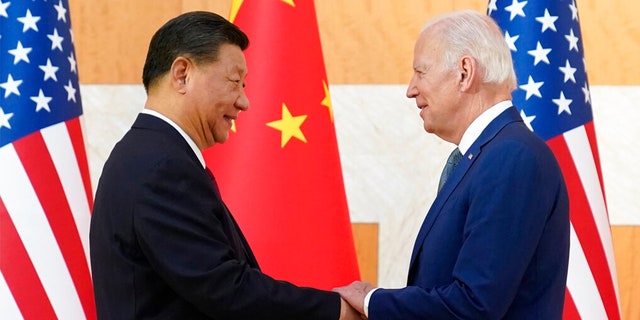 President Joe Biden, right, and Chinese President Xi Jinping shake hands before their meeting on the sidelines of the G20 summit, Nov. 14, 2022, in Bali, Indonesia. (AP Photo / Alex Brandon)
CLICK HERE TO GET THE FOX NEWS APP
Koffler, who is an expert on Putin, did not mince words: "Biden's policies have effectively created a monster – Russia, China, Iran, Syria, North Korea – and all of them are seeking to transform the world and reorder the balance of power. And Putin and Xi are leading this transformation." She added that Biden "is single-handedly degrading U.S. future strategic position in the world."
The Associated Press contributed to this report.
Benjamin Weinthal reports on Israel, Iran, Syria, Turkey and Europe for Fox News Digital. Benjamin has contributed articles to The Wall Street Journal, The Jerusalem Post, Foreign Policy, Haaretz, Forbes and The New York Post. You can follow Benjamin on Twitter @BenWeinthal.