close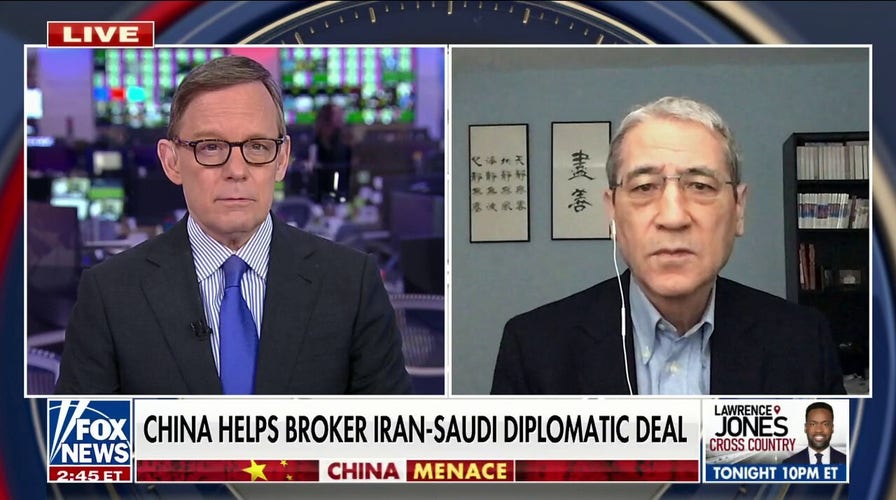 Video
China's Iran-Saudi deal a result of disastrous Biden White House policy: Gordon Chang
Gatestone Institute senior fellow Gordon Chang breaks down what China's Iran-Saudi diplomatic deal means for the United States' foreign power on 'Fox News Live.' 
Saudi Arabia has reportedly invited Iranian President Ebrahim Raisi for an official state visit after the two sides agreed to restore ties in a peace deal brokered by China.
Per the BBC, the invitation came in a letter from Saudi Arabia's King Salman, but that has yet to be confirmed by Saudi officials.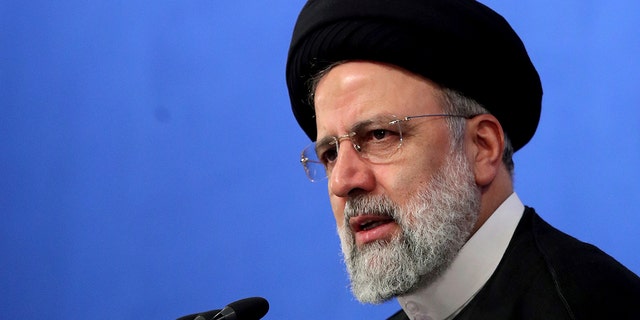 In this photo released by the official website of the office of the Iranian Presidency, President Ebrahim Raisi speaks during a press conference in Tehran, Iran, Monday, Aug. 29, 2022.  (Iranian Presidency Office via AP)
Mohammad Jamshidi, Deputy Chief of Staff for Political Affairs, tweeted that Salman had invited Iranian President Raisi to Riyadh, Saudi Arabia's capital.
He added that Salman had "called for strong economic [and] regional cooperation."
"Raisi welcomed the invitation and stressed Iran's readiness to expand cooperation," he said.
SENIOR IRANIAN OFFICIAL VISIT UAE DAYS AFTER TEHRAN AGREES TO RESTORE DIPLOMATIC RELATIONS WITH SAUDI ARABIA
Further details of a possible meeting between the two country's leaders remain unclear. The development comes less than two weeks after Saudi Arabia and Iran agreed to restore diplomatic ties and reopen embassies after more than seven years of hostility.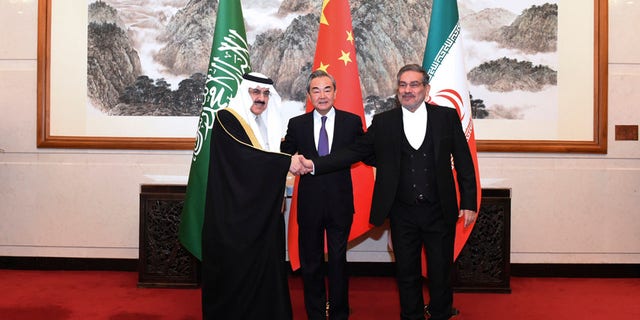 FILE: Ali Shamkhani, the secretary of Iran's Supreme National Security Council, at right, shakes hands with Saudi national security adviser Musaad bin Mohammed al-Aiban, at left, as Wang Yi, China's most senior diplomat, looks on, at center, for a photo during a closed meeting held in Beijing, Saturday, March 11, 2023. (Luo Xiaoguang/Xinhua via AP)
The deal, struck in Beijing amid its ceremonial National People's Congress, signaled a major diplomatic victory for the Chinese as Gulf Arab states perceive the United States withdrawing from the wider Middle East.
Saudi Arabia broke ties with Iran in 2016 after protesters invaded Saudi diplomatic posts there. The kingdom had executed a prominent Shiite cleric with 46 others days earlier, triggering the demonstrations.
CLICK HERE TO GET THE FOX NEWS APP
That came as Crown Prince Mohammed bin Salman, then a deputy, began his rise to power. The son of King Salman, Prince Mohammed previously compared Iran's Supreme Leader Ayatollah Ali Khamenei to Nazi Germany's Adolf Hitler, and threatened to strike Iran.
The Associated Press contributed to this report.
Bradford Betz is a Fox News Digital breaking reporter covering crime, political issues, and much more.