close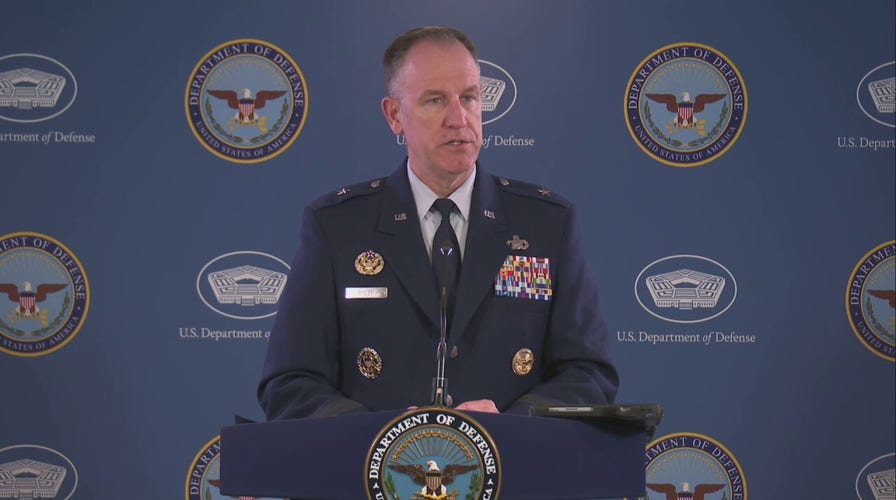 Video
Pentagon says deterrence of North Korea 'continues to work'
Pentagon spokesman Brig. Gen. Pat Ryder told reporters Thursday that deterrence of North Korea "continues to work," hours after the Kim regime launched another intercontinental ballistic missile.
North Korea is seeking to make a deal with Russia exchanging its glut of weaponry for much-needed food supplies, according to U.S. security officials.
National Security Council (NSC) coordinator John Kirby made the assertion Thursday during a press conference.
"We remain concerned that North Korea will provide further support to Russia's military operations against Ukraine," Kirby said. "As part of this proposed deal, Russia would receive over two dozen kinds of weapons and munitions from Korea."
CHINA INSTALLS NEW AMBASSADOR IN NORTH KOREA, ONE OF FEW IN THE COUNTRY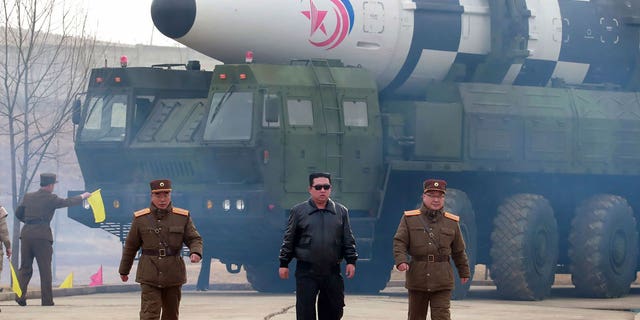 North Korean leader Kim Jong Un, center, walks around a Hwasong-17 intercontinental ballistic missile on the launcher at an undisclosed location in North Korea. (Korean Central News Agency/Korea News Service via AP, File)
He continued, "We also understand that Russia is seeking to send a delegation to North Korea and that Russia is offering North Korea food in exchange for munitions."
The alleged arms deal may be coordinated by a notorious Slovakian arms dealer, Ashot Mkrtychev, Kirby claimed.
NORTH KOREA REVEALS NEW NUCLEAR WARHEADS AS US CARRIER STRIKE GROUP DOCKS IN SOUTH KOREA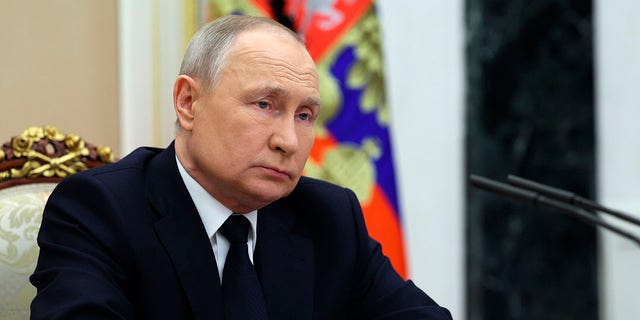 Russian President Vladimir Putin listens to Russian Transport Minister Vitaly Savelyev during their meeting in Moscow Saturday, March 25, 2023. (Gavriil Grigorov, Sputnik, Kremlin Pool Photo via AP)
The NSC will continue monitoring the relationship between the two countries, warning that evidence of an arms deal could lead to an international incident.
"Any arms deal between North Korea and Russia would directly violate a series of U.N. Security Council resolutions. We've taken note of North Korea's recent statements that they will not provide or sell arms to Russia, and we are continuing to monitor this closely," Kirby said at the Thursday press conference.
NORTH KOREANS FORCED INTO MARRIAGES, SEX SLAVERY IN CHINA'S 'RED ZONE,' HUMAN RIGHTS GROUP SAYS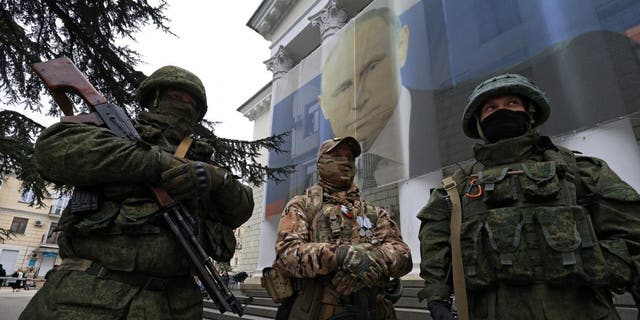 Participants dressed in military uniform stand in front of a banner with a portrait of Russian President Vladimir Putin during a patriotic flash mob marking the ninth anniversary of Russia's annexation of Crimea, in Yalta. (REUTERS/Alexey Pavlishak)
He added, "We are going to continue to identify, expose and counter Russian attempts to acquire military equipment from North Korea or from any other state that is prepared to support its war in Ukraine."
North Korea revealed new, smaller nuclear warheads on Tuesday as a U.S. aircraft carrier strike group docked in South Korea.
CLICK HERE TO GET THE FOX NEWS APP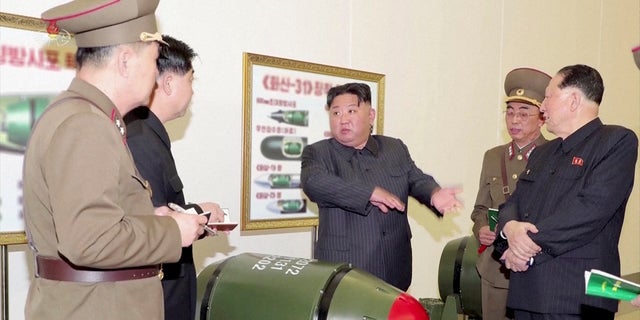 North Korean leader Kim Jong Un on Tuesday ordered his country to ramp up production of "weapon-grade nuclear materials." ( KRT/via Reuters TV/Handout)
The unveiling of the weapons, called Hwasan-31s, show potential progress by the North in creating warheads that are strong, yet small enough to place on intercontinental ballistic missiles capable of reaching American shores, experts told Reuters.
Images released by North Korea showed Kim Jong Un viewing the weaponry at an undisclosed location.
Fox News Digital's Greg Norman contributed to this report.
Timothy Nerozzi is a writer for Fox News Digital. You can follow him on Twitter @timothynerozzi and can email him at [email protected]