close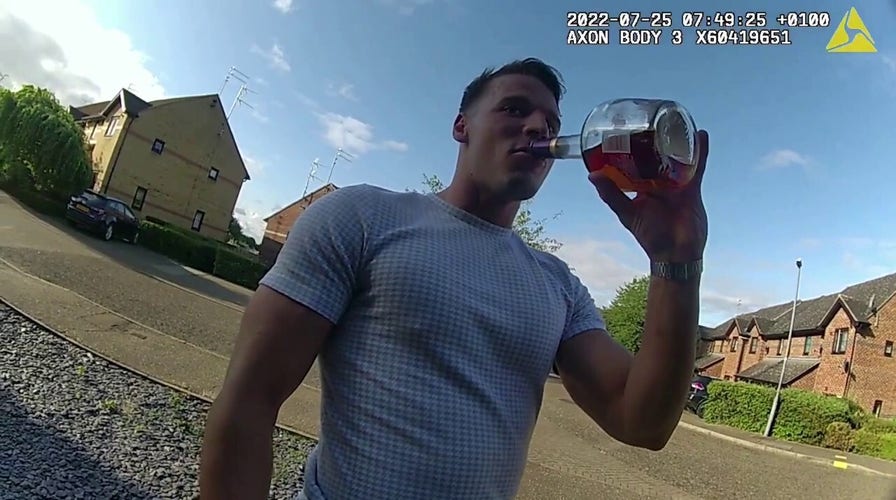 Video
UK man sentenced for murder after drunkenly telling police 'what happened'
British police have released bodycam footage showing Marek Hecko drunkenly returning to the scene where he murdered Adrian Ellingford.
MANCHESTER, England – The United Kingdom's most notorious and violent prisoner, Charles Bronson, has lost his latest attempt for freedom. A parole board panel rejected the 70-year-old's claim that after nearly half a century in jail he is safe to be released.
Bronson was first jailed for armed robbery in 1974, but his sentence has repeatedly been extended for violent prison incidents which have included attacks on wardens and staff, hostage-taking and rooftop protests.
He was eventually given a life sentence for kidnapping a prison teacher during a siege at Hull Prison in 1999. Since then, he has remained behind bars after seven previous parole applications were refused.
On Thursday, the parole board announced that Bronson, who now uses the name Salvador, would remain in jail. It also rejected moving him to a less-secure open prison.
The panel noted Bronson's "prolonged period of improved behavior" but also his history of rule-breaking.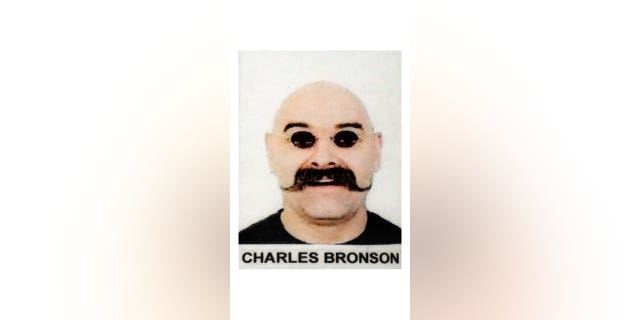 Photograph of Charles Bronson. (PA/Alamy)
FRENCH SERIAL KILLER DEPICTED IN NETFLIX SERIES 'THE SERPENT' TO LEAVE NEPAL PRISON
It said the ability to manage his risk outside prison "had yet to be tested" and he had "not yet developed the necessary internal controls" to reduce the risk of future violence.
"He lives his life rigidly by his own rules and code of conduct and is quick to judge others by his own standards," it added.
"His positive progress has to be assessed in the context of him being held in a highly restrictive environment.
"In the panel's view, it is unknown exactly what is containing Mr Salvador's risk. It is unclear whether the strong external controls of custody are mainly responsible or whether his attitudes have genuinely changed."
Bronson did win a legal battle for the right to have his latest parole hearing, held over three days earlier this month, heard in public.
The hearing took place at His Majesty's Prison Woodhill, in Milton Keynes, Buckinghamshire, where Bronson is held in the close supervision center, and was watched by members of the press and public on a live stream from the Royal Courts of Justice, in central London.
The U.K.'s Justice Secretary Dominic Rabb had opposed his parole, arguing that Bronson posed too much of a risk.
However, in his opening statement, Bronson, said he had had more porridge [prison time] than Goldilocks and the Three Bears "and I'm sick of it."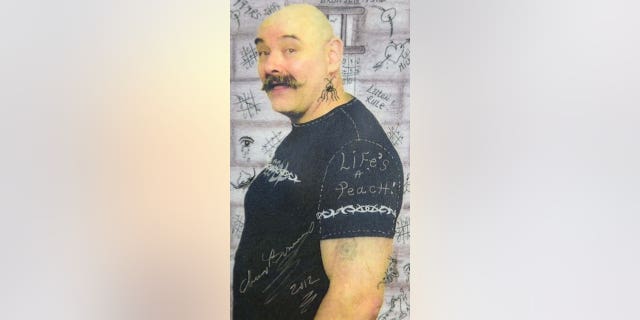 Charles Arthur Salvador (born 1952), better known as Charles Bronson, a British criminal who has been referred to in the British press as the most violent prisoner in Britain and Britain's most notorious prisoner. He has spent periods detained in the Rampton, Broadmoor and Ashworth high-security psychiatric hospitals. Upon his release in 1987, he began a bare-knuckle boxing career in the East End of London. His promoter thought he needed a more suitable name and suggested he change it to Charles Bronson in 1987, after the American actor. (PA/Alamy)
YEMEN BILLIONAIRE'S SON REPORTEDLY ADMITS INVOLVEMENT IN LONDON RAPE, MURDER OF NORWEGIAN STUDENT 15 YEARS AGO
He described himself as "retired prison activist", and likened the parole hearing process to "being on The Apprentice" – the popular TV show where contestants compete to become entrepreneur Sir Alan Sugar's business partner.
He admitted being a "nasty bastard" in the past but told the panel of three that he had changed, was now anti-violence and "a man of peace", and "almost an angel" compared to his former persona.
In a plea on behalf of his mother, now aged 95, and who he referred to as "my old duchess", Bronson said, "You people have got the power to let me out, that's my mum's last dream on this planet, to see her son outside, doing well, making an honest living with my art, as you know I'm anti-crime."
A prison psychologist said that Bronson, who admitted that he once "loved a rumble", would pose a high risk to the public if released, and also a high risk if he were moved to open prison.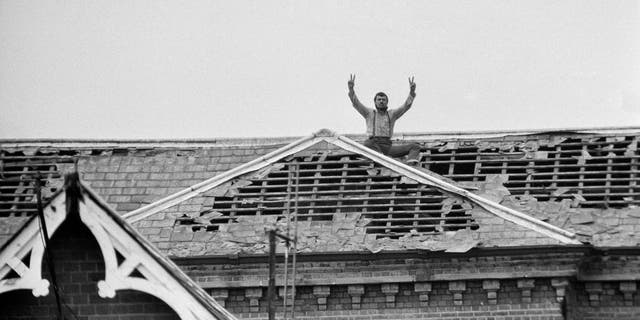 Michael Peterson, aka Charles Bronson, stages a protest on the roof of Broadmoor Hospital June 20, 1983. (Photo by Hart/Mirrorpix/Getty Images)
However, a psychologist hired by Bronson's legal team said he was suffering from mild PTSD due to his brutal treatment inside prisons and had previously harbored fears he would be killed by prison officers.
"His violence has been exacerbated while he has been in the prison system and that is because he has felt that he is locked in a battle with the authorities," she said.
"He feels like the whole system is about humiliating and degrading him."
She argued Bronson was "less of a risk" in a community setting compared to a prison setting but admitted he was not ready for immediate release and any move to a "highly supportive" community environment would need to be gradual.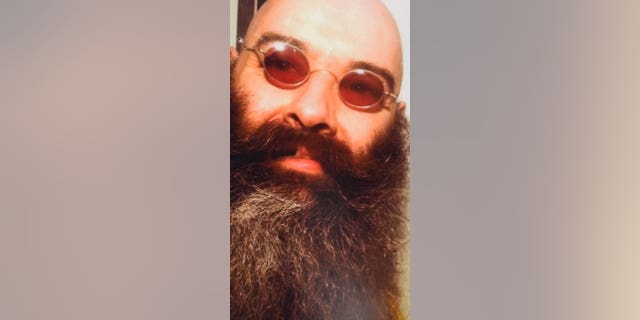 Charles Arthur Salvador, better known as Charles Bronson, was denied parole. (PA/Alamy)
'SMILING' NURSE LUCY LETBY ACCUSED OF KILLING BABY GIRL AFTER FOUR ATTEMPTS
Bronson, she said, was "always going to value violence" and had found it "cathartic" in the past, but has now weighed up the pros and cons.
Although he was "incredibly capable of causing absolute mayhem", she added, he had "mellowed out" with old age.
The panel also heard that Bronson would need a great deal of support for even everyday tasks if he was ever released because he had never even used a cash machine.
WHO IS CHARLES BRONSON?
Bronson, 70, is the U.K.'s most notorious prisoner and his violent reputation and offending has led to him spending nearly 50 years in prison, with most of the time in solitary confinement.
He claims his eyes have become sensitive to light as a result and has to wear dark glasses.
Born in Luton, England, in 1952, he was originally known as Michael Gordon Peterson but changed his name to Charles Bronson, after the American film star, when he took up a short-lived career as a bare-knuckle boxer.
He later used the name Charles Ali Ahmed after temporarily converting to Islam when he met the second of his three wives, but now prefers to be known as Charles Salvador, because Salvador means "Man of Peace" in South America he told a panel when asked if he took the name from Spanish artist Salvador Dali.
Bronson has written many books about his experiences in prison and is also an artist. His paintings have been exhibited and won many awards. He was the subject of the 2008 biopic Bronson, starring Tom Hardy, which was based loosely on his life.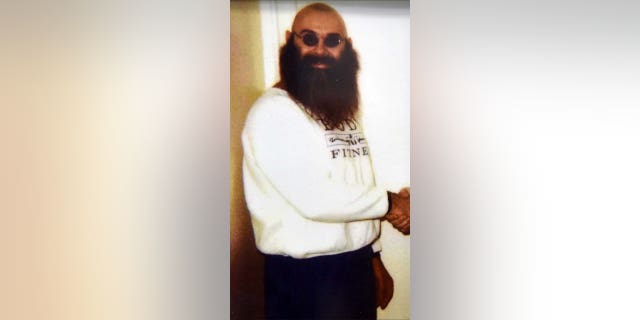 Charles Arthur Salvador, better known as Charles Bronson, is known as Britain's most violent criminal was denied parole. (PA/Alamy)
WHY HAS HE BEEN IN PRISON FOR SO LONG?
First involved in petty crime as a teenager, he was convicted of armed robbery in 1974 at 22 years old and sentenced to seven years in prison. Apart from two brief spells of freedom, he has been in prison ever since.
His sentence has repeatedly been extended for attacks on prison governors, staff and fellow inmates, and for taking hostages. His reputation as a dangerous and challenging prisoner has seen him moved around some of the U.K.'s toughest prisons. His violent attacks have also seen him detained at psychiatric hospitals.
When he was moved to Parkhurst Prison in 1976, he befriended the notorious British gangsters the Kray twins, whom he described as "the best two guys I've ever met".
LUCY LETBY TRIAL: FATHER TESTIFIES BABY GIRL WAS LEFT SEVERELY DISABLED AFTER NURSE TRIED TO KILL HER
Bronson was released from prison in 1987, but he was sent back a year later for another seven years for robbing a jewelry shop. He kept one ring to give to his then girlfriend before selling the rest.
He was released from prison again in 1992, but was back behind bars 53 days later for conspiracy to commit a robbery and given an eight-year sentence. He has been behind bars since for a string of violent offenses while in custody, and he has taken 11 hostages in nine different sieges.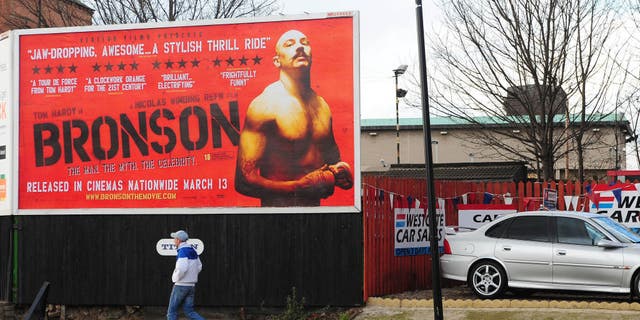 The entrance of Wakefield Prison where Charles Bronson, is being held lies behind a billboard advertising the new film "Bronson," about the life of the man described as Britain's most dangerous criminal, starring Tom Hardy in the lead role. (Photo by Anna Gowthorpe – PA Images/PA Images via Getty Images)
Seven years were added to his sentence after he took three men hostage in his cell in 1996, although this was cut to five years on appeal; however, he was finally given a discretionary life sentence for kidnapping prison art teacher Phil Danielson and wrecking prison property during a siege at Hull Prison in 1999. The teacher, who was tied up with a skipping rope and dragged around at knifepoint for 44 hours, was left so traumatized by the incident that he never went back to work.
Bronson appealed against his life sentence in 2004, but three appeal court judges rejected the application, and he has remained a Category A prisoner classed as the most dangerous inmate and kept in high-security prisons.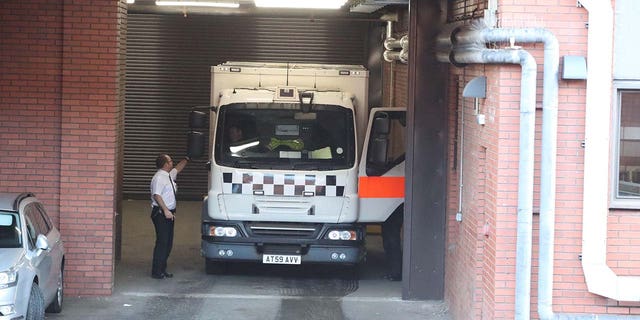 Charles Bronson arriving at Leeds Crown Court where he denies attempting to cause grievous bodily harm with intent. (PA/Alamy)
CLICK HERE TO GET THE FOX NEWS APP
Previous parole board hearings have rejected his bids for freedom and in 2013 a petition was presented to then prime minister David Cameron calling for his release with Bronson saying he wanted to be able to "live what's left of my life and not be buried in the prison system".
In 2020, Bronson won a High Court battle for the right to have his 2023 parole board hearing held in public, citing the right to a fair trial.
Ian Leonard is a freelance journalist who reports on UK news for Fox News Digital. Ian has contributed articles to The Times, The Daily Telegraph, The Guardian, Daily Mail, The Sun, Daily Mirror, and many others. He's also worked as a producer for BBC Radio 5 Live. He can be followed on Twitter @iancleonard