close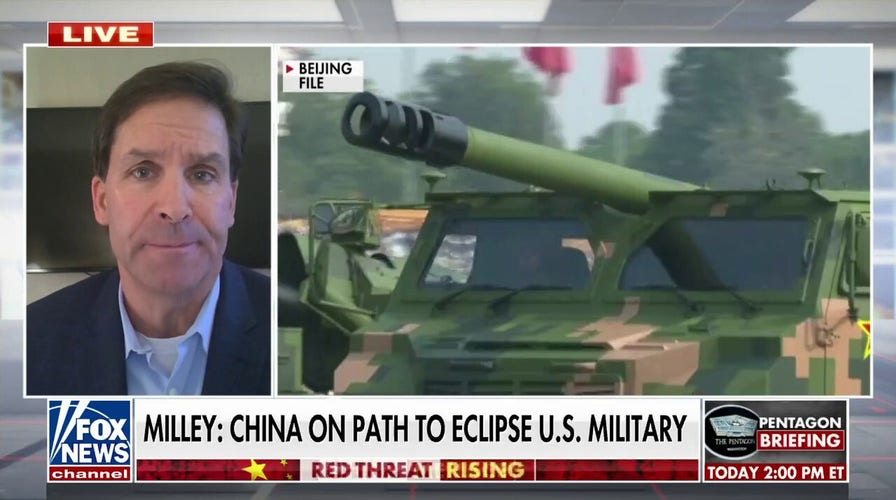 Video
Mark Esper: China's nuclear aspirations 'really disturbing'
Former Defense Secretary Mark Esper on the growing Chinese military and what this means for the U.S.
U.S. foreign policy has stalled in key regions as the Biden administration focuses on China as its paramount threat. It's allowed Beijing to present itself as a superior alternative as it seeks to become the top global superpower, according to experts.
"I think the U.S. policy has been one of paralysis," Dr. Michael Pillsbury, senior fellow of the Heritage Foundation for Change of Strategy and author of "The Hundred Year Marathon," told Fox News Digital. "Not backing off, but it's just very little is actually happening other than the military support of the Ukrainian resistance to Putin's invasion and various other fronts.
"I don't see any new Biden doctrine, do you? I don't see a new foreign policy," he added. "They attack the Trump administration more than they put forward their own ideas."
The State Department told Fox News Digital the Biden-Harris administration has "a clear strategy" for the Middle East and Africa, two regions of intense interest for both China and Russia as the competition for energy resources pushes more diverse investment from world superpowers.
SAUDI ARABIA GROWS CLOSER TO BEIJING WITH STEP TOWARD MEMBERSHIP IN CHINA-LED SECURITY BLOC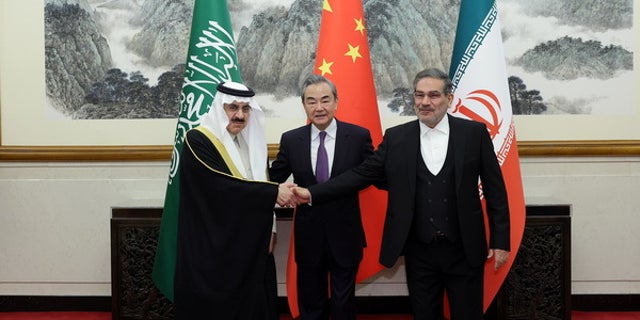 Iran's top security official Ali Shamkhani, right; Chinese Foreign Minister Wang Yi, center; and Musaid Al Aiban, the Saudi Arabia's national security adviser, pose for a photo after Iran and Saudi Arabia agreed to resume bilateral diplomatic ties after several days of deliberations between top security officials of the two countries in Beijing March 10, 2023. (Chinese Foreign Ministry/Anadolu Agency via Getty Images)
A State Department spokesperson cited several policy gains in the Middle East, such as a truce in Yemen, a "historic agreement" to establish a maritime boundary between Israel and Lebanon and "strengthened Gulf regional security discussions," noting that some of the work "expanded the Abraham Accords."
But, following the U.S. military withdrawal from Afghanistan and the failure to close the deal on the Joint Comprehensive Plan of Action (JCPOA) with Iran, China has stepped in and scored some major policy wins while also supplanting the U.S. as the major source of support in those areas.
TOP SENATOR PUSHES BAN ON ALL CHINESE PURCHASES OF US LAND: 'NOT ONE MORE INCH'
Rebekah Koffler, president of Doctrine & Strategy Consulting and a former Defense Intelligence Agency officer, told Fox News Digital the intelligence community believes China's main goal is to become the dominant superpower on the planet, with a timeline that would see it overtake the U.S. militarily and economically by 2049.
"They're marching steadily into that direction," Koffler said. "Now, obviously, it's not something that's going to happen right away. But they are well on track to have to do that because in certain areas they already are holding advantage."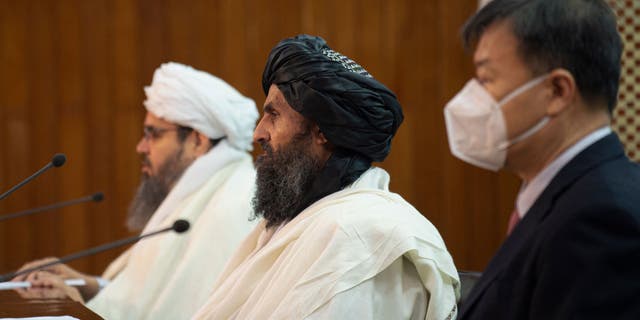 Shahabuddin Dilawar, acting minister of mines and petroleum, left; Abdul Ghani Baradar, Afghanistan's acting first deputy prime minister, center; and Wang Yu, China's ambassador to Afghanistan, attend a press conference to announce an oil extraction contract with a Chinese company in Kabul Jan. 5, 2023.  (Ahmad Sahel Arman/AFP via Getty Images)
"They want control, supply chain routes … they're standing up the alternative financial architecture, alternative energy," she added. "They want to replace the dollar with the yuan, and they're getting on board all these other countries, not just Russia and Iran, but also looking to Saudi Arabia and India."
China in January cut a deal with the Taliban to allow Beijing to extract oil from Afghanistan, providing significant funds to a country that struggled with a brittle economy since the major switch in power in 2021.
Beijing also secured a deal between Iran and Saudi Arabia — longtime regional rivals — that has led to both countries committing to resume diplomatic operations, including the reopening of embassies in their respective capitals.
Biden referred to the latter as a "pariah" during his 2020 campaign but appeared to renege and visited Riyadh to try and deal with them anew, enjoying a very mixed reception in the process. That ambiguity — trying to admonish countries for their crimes and human rights issues while also trying to engage with them diplomatically — has resulted in a seemingly mixed policy in the region.
WHITE HOUSE DEFENDS TAIWANESE PRESIDENT VISIT TO US AMID CHINA THREAT
"The withdrawal from the JCPOA brought us much closer to Saudi and to our other Gulf partners that were enormously concerned about that deal and gave clarity to them that the United States, under President Trump, was not going to … legitimize [Iran]," Victoria Coates, senior research fellow at the Margaret Thatcher Center for Freedom, explained.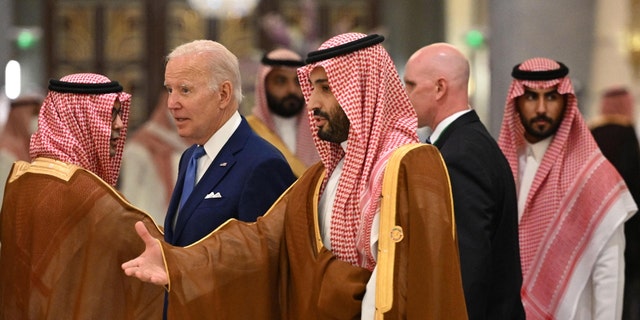 President Biden, center left, and Saudi Crown Prince Mohammed bin Salman, center, arrive during the Jeddah Security and Development Summit at a hotel in Saudi Arabia's Red Sea coastal city of Jeddah July 16, 2022.  (Mandel Ngan/Pool/AFP via Getty Images)
"I think what you've seen from the Biden administration is the mirror opposite of that," Coates, former National Security Council official for the Trump administration, added.
Joel Rubin, former deputy assistant Secretary of State under President Obama, argued that a peace deal between Saudi Arabia and Iran was "good for everybody" since it decreased tensions in the region, particularly through proxy wars in Yemen, Syria and Iraq. But he questioned China's broader ability to secure peace deals.
"They didn't create this one," Rubin said. "[China] did leverage what was done for several years what we and others led in Iraq, in particular: There were a lot of discussions in Iraq for a couple of years between the Iranians and the Saudis."
WHITE HOUSE CONDEMNS WSJ REPORTER'S ARREST IN RUSSIA
Rubin pointed to Ukraine's unwillingness to deal with Chinese President Xi Jinping concerning a deal with Russia, calling it a significant failure for the "Chi-ssia" relationship if Xi can't help Russian President Vladimir Putin broker a deal to end the Ukraine war.
"[Xi] talks to Putin all the time, but he's actually not doing anything on peace negotiation," Rubin said.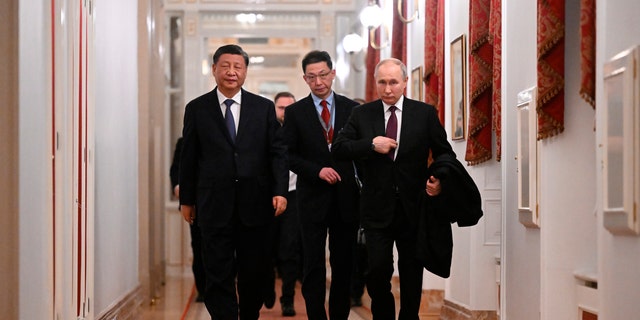 Chinese President Xi Jinping, left, and Russian President Vladimir Putin walk after their talks at the Kremlin in Moscow March 20, 2023.  (Grigory Sysoyev, Sputnik, Kremlin Pool Photo via AP)
Instead, he argued that the U.S. has essentially increased its focus on China, trying to "box in" Beijing with stronger regional alliances and investment in the region, particularly with Japan, which doubled its military spending, and arming Australia with nuclear submarines.
"It's not like we're just sitting back and doing nothing," Rubin concluded. "This is all American diplomacy, recognizing an interest in Russia and China."
WORLD CHAOS STARTED WITH BIDEN'S AFGHANISTAN DEBACLE: REP. MIKE WALTZ
Pillsbury similarly rejected the notion that the U.S. has "slipped" in the Middle East and instead has focused more heavily on China as it prepares for a new Cold War, even if it is to the detriment of progress in those other regions.
"When [China] sees an American foreign policy blunder, even if it's something relatively minor … they echo and amplify any kind of American mistake or indecision as part of a long-term campaign to disqualify America from global leadership," Pillsbury explained.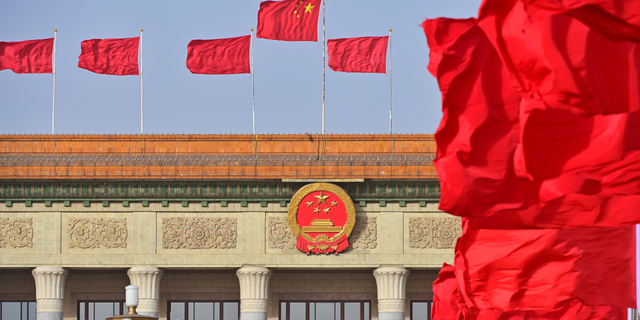 Red flags flutter in front of the Great Hall of the People before the annual two sessions March 4, 2022, in Beijing, China.  (VCG/VCG via Getty Images)
Coates argued that the shift in policy to focus more fully on China is "real, but also short-sighted."
"We have to be able to walk and chew gum at the same time," she argued. "The Saudi, Iran, China deal shows you that we can decide we're going to focus on the Pacific and just look at the China problem set, and then China pops up in the Middle East in our traditional sphere of influence.
CLICK HERE TO GET THE FOX NEWS APP
"You could call it a symbiotic or parasitic relationship between China and Russia, [but] those problem sets are now emerging, and the ability to disaggregate between a China threat and Russia threat, well, those may be becoming one and the same," Coates added.
"So you can try to pivot to Asia, but that doesn't mean the Middle East is not going to pivot back toward you. We do not have the luxury of just being a Pacific power."
Peter Aitken is a Fox News Digital reporter with a focus on national and global news.