close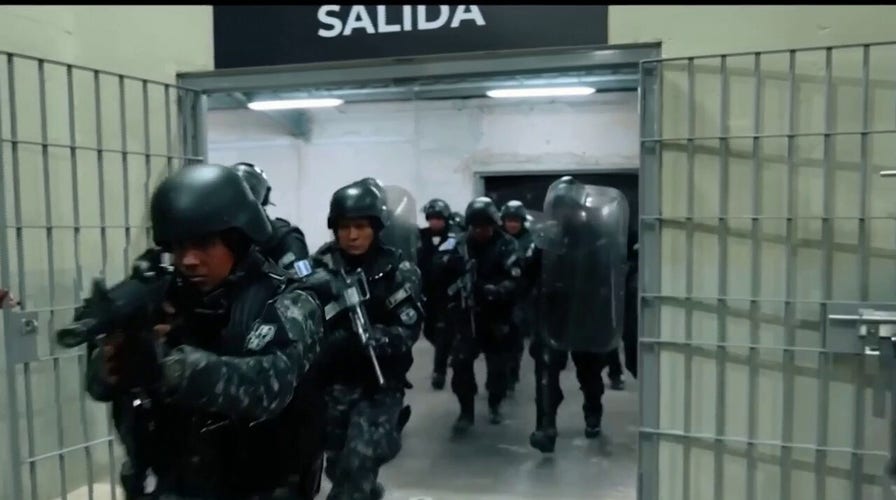 Video
El Salvador president visits new high security prison for gang members
El Salvador's President Nayib Bukele on Jan. 31 visited a new prison where gang members considered highly dangerous will be held. (CREDIT: Salvadoran Government handout via Reuters)
El Salvador has doubled its prison capacity after opening a 40,000-person facility this week in an effort to further crack down on the country's gang violence problem.
"All those home boys, those terrorists in the organization that made our beloved Salvadoran people suffer, will be housed and subjected to a severe regimen," El Salvador's Prisons Director Osiris Luna said on state television.
El Salvador's President Nayib Bukele said the country's "Terrorism Confinement Center" mega-prison, now one of Latin America's largest, will have 37 guard towers and eight cellblocks that will be "impossible to escape," The Times of England reported.
Roughly 600 troops and 250 police officers will help secure the prison, which will sit on some 410 acres.
TEXAS MAN ALLEGEDLY MURDERED DJ GIRLFRIEND IN COLOMBIA, STUFFED BODY IN SUITCASE AND TOSSED IN DUMPSTER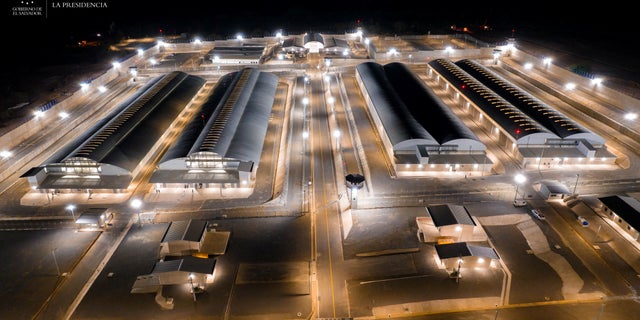 The Terrorism Confinement Center in Tecoluca, El Salvador, on Feb. 1, 2023.
(Secretaria de Prensa de la Presidencia/Handout via Reuters)
The prison will serve as a powerful new tool in the country's "war against gangs," which has proven popular with the beleaguered population.
Bukele declared a state of exception in March 2022 as he empowered his government to crack down on gang members by loosening the country's arrest rules, such as no longer requiring a warrant for an arrest and granting the government access to citizens' communications.
PERU EVACUATES HUNDREDS OF TOURISTS FROM MACHU PICCHU AMID WIDESPREAD VIOLENT PROTESTS, GOVERNMENT CRACKDOWN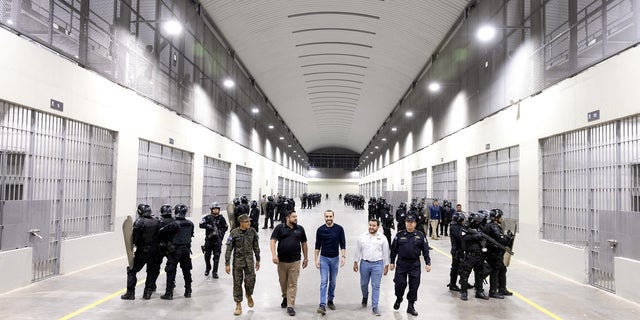 El Salvador's President Nayib Bukele takes part in a tour of the Terrorism Confinement Center in Tecoluca on Feb. 1, 2023.
(Secretaria de Prensa de la Presidencia/Handout via Reuters)
El Salvador's congress extended the state of exception several times, resulting in more than 46,000 arrests of alleged gang members. That number surged to over 62,000 by the end of the year, including alleged collaborators.
A poll by Cid Gallup last year found that 91% of those surveyed supported the more aggressive crackdown, Bloomberg reported.
WHATEVER HAPPENED TO VENEZUELA'S OPPOSITION MOVEMENT?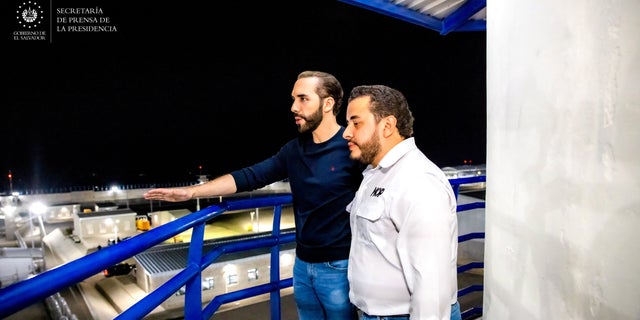 President Nayib Bukele stands in an observation tower with the Minister of Public Works Romeo Rodriguez during a national television transmission to present the Terrorism Confinement Center on Feb. 1, 2023.
(Secretaria de Prensa de la Presidencia/Handout via Reuters)
But that crackdown led to roughly 2% of the country's adult population ending up behind bars, further straining the country's already stretched prison system. El Salvador had 20 prison centers holding 35,976 prisoners in a space with 30,000 capacity by 2021.
CLICK HERE TO GET THE FOX NEWS APP
Nongovernmental organizations have tallied several thousand human rights violations and at least 80 in-custody deaths of people arrested during the state of exception. Rights activists say young men are frequently arrested just based on their age, appearance or whether they live in a gang-dominated slum.
Reuters and The Associated Press contributed to this report.
Peter Aitken is a Fox News Digital reporter with a focus on national and global news.