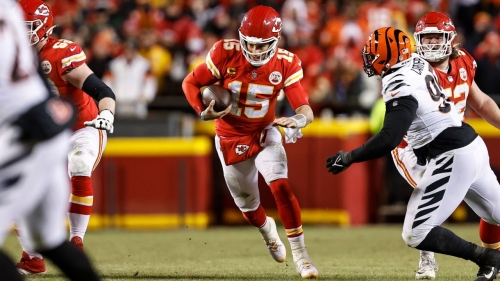 Kansas City Chiefs quarterback Patrick Mahomes runs with the ball against the Cincinnati Bengals in January.
Michael Owens/Getty Images

CNN
—
The NFL announced four selected games for the 2023 season on Wednesday, including a first-ever Black Friday match-up between the Miami Dolphins and the New York Jets.
That game, which will take place at MetLife Stadium on November 24, will see four-time MVP Aaron Rodgers, recently traded to the Jets, go up against the Dolphins' star quarterback Tua Tagovailoa.
In a repeat of last season's NFC Championship game, the San Francisco 49ers will take on the Philadelphia Eagles at Lincoln Financial Field on December 3, while the Eagles also face the New York Giants in Philadelphia on Christmas Day.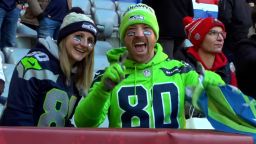 video
'It felt electric from the time we took the field': Tom Brady speaks about first NFL game in Germany
There will also be a rematch of last season's AFC Championship game between reigning Super Bowl champions the Kansas City Chiefs and the Cincinnati Bengals in Kansas City on New Year's Eve, pitting Joe Burrow and Patrick Mahomes – perhaps the two best quarterbacks in the league at the moment – against each other.
The full schedule for the 2023 season will be announced on Thursday.
Also on Wednesday, the NFL announced five international games: two in Frankfurt, Germany – the first time the city will have hosted an NFL game – two at London's Tottenham Hotspur Stadium and one at Wembley Stadium.
The league staged its first game in Germany last year when the Tampa Bay Buccaneers and the Seattle Seahawks faced off at Munich's Allianz Arena.
Below is a full list of the NFL's international games for the 2023 season.
Atlanta Falcons vs. Jacksonville Jaguars – October 1 at Wembley Stadium
Jacksonville Jaguars vs. Buffalo Bills – October 8 at Tottenham Hotspur Stadium
Baltimore Ravens vs. Tennessee Titans – October 15 at Tottenham Hotspur Stadium
Miami Dolphins vs. Kansas City Chiefs – November 5 at Frankfurt Stadium
Indianapolis Colts vs. New England Patriots – November 12 at Frankfurt Stadium