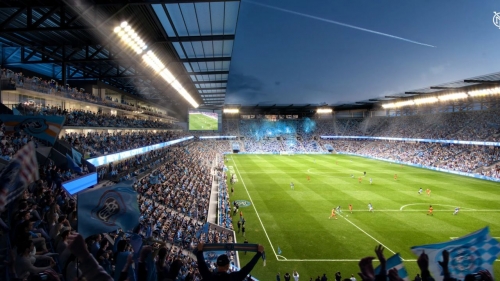 Rendered image showing New York City FC's future stadium.
New York City FC

CNN
—
New York City FC has released a first look at the renderings for its plans to build a new 25,000-seat stadium complex in Queens, the first soccer-specific stadium in the city.
In addition to the $780 million stadium, the project plans are set to include 40,000 square feet of public open space, a school, a hotel and ground floor retail shops to the Willets Point neighborhood, according to the New York club.
Developers are also planning to deliver 2,500 units of "100% affordable housing," according to the New York club.
"This proposal will provide affordable homes for thousands of families, catalyze economic activity that supports small business and create another great destination in Queens," Thomas J. Grech, president and CEO of the Queens Chamber of Commerce, said in a statement.
NYCFC says it plans to have the stadium, which will be privately financed, ready for the 2027 MLS season.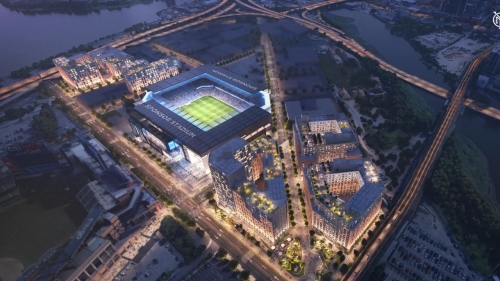 The project also plans to redevelop the areas surrounding the stadium.
New York City FC
Willets Point is also home to the New York Mets' Citi Field and NYCFC's new stadium will be across the road from the Billie Jean King National Tennis Center, home of tennis' US Open.
New York mayor Eric Adams announced the plans to build a new stadium back in November and, according to the Queens Daily Eagle, the replacing of 100,000 tons of contaminated earth with 80,000 tons of clean dirt has recently been completed at the project site.
"This continued investment in New York City will create a long-overdue home for our First Team, and create a new neighborhood for Queens," Marty Edelman, vice chairman of NYCFC, said in a statement.
NYCFC was founded in 2013 and played its first MLS season in 2015, but has never had its own stadium.
Now in its ninth MLS season, NYCFC has primarily played its home matches at Yankee Stadium, but has also hosted fixtures at Citi Field, Red Bull Arena and even as far afield as BMO Stadium in California.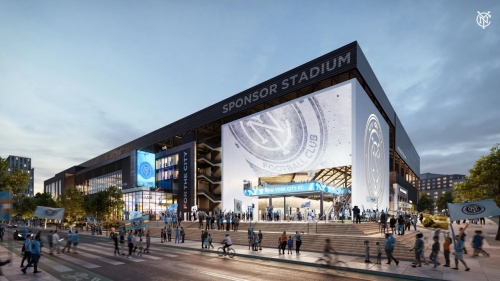 Thousands of units of affordable housing will also be built, NYCFC announced.
New York City FC
"The integration of the residential buildings with the open space and stadium is a true model for how neighborhoods should be built, and is a critical step for how this vision will come to life in a way that puts housing first, prioritizes the pedestrian experience and will be built with union labor," New York City Council member Francisco Moya said in a statement.
"The welcoming 'front door' to the new Willets serves as a powerful symbol of investment in a corner for Queens that has languished for too long but stands to become a beacon for the borough and the City."