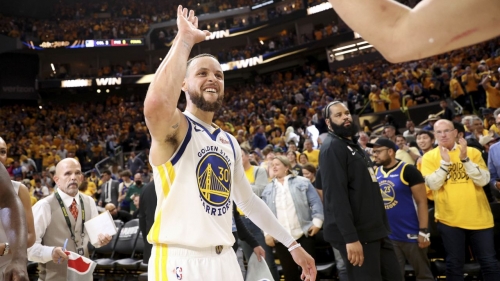 The Golden State Warriors eked out a victory over the Sacramento Kings to level the series.
Ezra Shaw/Getty Images

CNN
—
The Golden State Warriors narrowly beat the Sacramento Kings in a playoff thriller, winning 126-125 to level the first round series at 2-2.
Former Warrior Harrison Barnes, who played a key role in Golden State's 2015 title run, missed a game-winning buzzer beater that would have given Sacramento a commanding series lead.
Warriors star guard Stephen Curry will have been more relieved than most to see Barnes' three-point effort rim out.
With Golden State up five with just 45 seconds remaining, Curry called for a timeout without realizing his team was out of them, resulting in a technical foul and possession being given back to the Kings.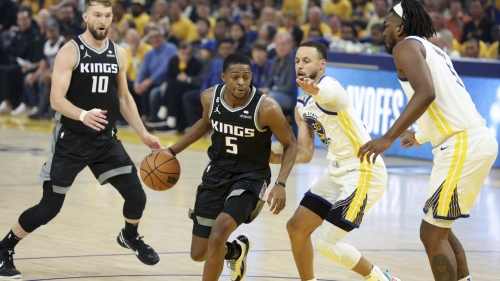 De'Aaron Fox and Steph Curry went toe-to-toe in a thriller.
Ezra Shaw/Getty Images
Malik Monk made the free throw for the technical foul and then Sacramento star De'Aaron Fox, who has earned a reputation this year for big buckets at crucial moments, hit a three-pointer to narrow the gap to just one.
Curry then missed his next effort and gave Barnes the chance to win the game, but the 30-year-old's shot was just long, sparking jubilant scenes inside the Chase Center.
"I ain't gonna lie, I thought it was the smartest play in the world," Curry said after the game, per the NBA. "When I grabbed the ball and turned around and saw the trap, realized there was no real outlets instead of turning it over, it's kind of the heady play, but it turned out not to be.
"I looked over at the bench and everyone was shaking their head, so it was an unfortunate situation in that respect. Thankfully, we came away with the win but good learning lesson on how important all those details are.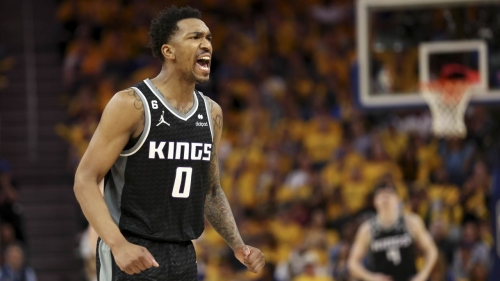 Malik Monk closed the deficit from the free throw line after Curry's botched call.
Ezra Shaw/Getty Images
"We know it but knowing timeouts, knowing the situation, it was just an unfortunate sequence right there."
But Warriors head coach Steve Kerr said he took responsibility for not making the situation clearer to Curry.
"We took the challenge and when the challenge was unsuccessful, as we were exiting the huddle, it's on me," Kerr said.
"I've got to remind the guys, we're out of timeouts and I didn't say that, and so Steph wasn't aware. That's on me for not making that clear."
Curry led scoring for the Warriors with 32 points and was helped out by Klay Thompson's 26 and Jordan Poole's 22.
At the other end, Fox scored a game-high 38 points to go with nine rebounds and five assists and was backed up by rookie Keegan Murray, who scored 23 points and grabbed seven rebounds.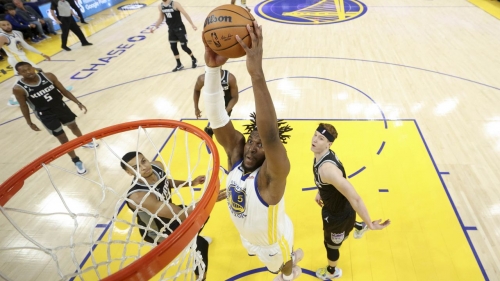 The two teams will play Game 5 in Sacramento.
Ezra Shaw/Getty Images
The Kings perhaps still hold a slight advantage as the series returns to Sacramento on Wednesday for Game 5.
Golden State, despite boasting one of the best home records in the league this season, had one of the worst away records and has struggled on the road all year.
This young Kings team has also expertly dealt with the pressure of playing in the franchise's first playoff series in 16 seasons and will be rightly confident it can retake the lead on Wednesday.