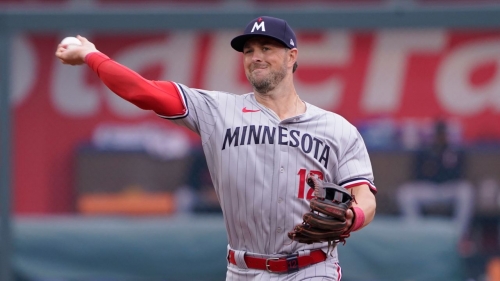 Minnesota Twins shortstop Kyle Farmer plays against the Kansas City Royals on March 30, 2023.
Ed Zurga/Getty Images

CNN
—
Minnesota Twins infielder Kyle Farmer will need surgery to "realign his teeth and to fix a major laceration of the lower jaw" after he was hit in the face by a pitch during Wednesday's game between the Twins and the Chicago White Sox, according to Twins manager Rocco Baldelli.
With a runner on base in the bottom of the fourth inning, White Sox pitcher Lucas Giolito's fastball sailed high and inside striking Farmer in the head. Farmer immediately fell to the ground and put his hands to his face. Trainers quickly rushed to the aid of the downed shortstop.
After being on the ground for more than a minute, Farmer was able to walk off the field with two trainers.
Baldelli told reporters after the game that Farmer was going to have surgery but it didn't appear the player suffered any facial fractures from the 92 mph pitch.
It was "probably some sort of miracle that that's the case," he said.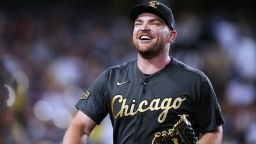 LOS ANGELES, CA – JULY 19: Liam Hendriks #31 of the Chicago White Sox jokes around during the 92nd MLB All-Star Game presented by Mastercard at Dodger Stadium on Tuesday, July 19, 2022 in Los Angeles, California. (Photo by Daniel Shirey/MLB Photos via Getty Images)
Daniel Shirey/MLB/Getty Images
Chicago White Sox pitcher Liam Hendriks rings victory bell after finishing cancer treatments
Baldelli described Wednesday's game as "one of the more difficult days that you're going to have at a ballpark. You just can't stop thinking about him and what he's gone through and what he's about to go through."
Baldelli said he barely had the ability to do his job but his players were amazing.
Giolito said he never wants to hit anyone, according to MLB.com.
"It's something that obviously I feel very, very bad about," Giolito said. "It will rattle you in the moment, but you have to do what you can to regain focus in the situation, continue to make good pitches, get out of the situation. And maintain that focus throughout the rest of the game."
The Twins beat the Sox 3-1.
CNN has reached out to the Twins for further comment and an update on Farmer's condition.
CNN's Steve Almasy contributed to this report.