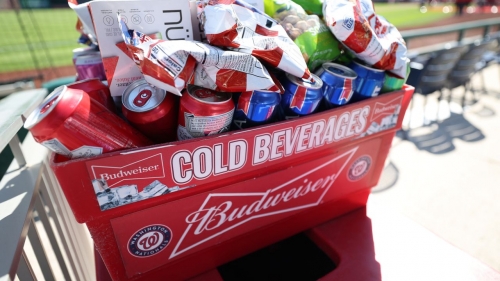 Several Major League Baseball (MLB) teams have extended beer sales following the implementation of new rules.
Patrick Smith/Getty Images

CNN
—
Several Major League Baseball (MLB) teams have extended beer sales thanks to the newly implemented regulations for the 2023 season that have shortened the average game time.
The Arizona Diamondbacks, Texas Rangers and Minnesota Twins have confirmed to CNN Sport that they have extended beer sales through the eighth inning.
Traditionally, teams stop all alcohol sales after the seventh inning, but the newly introduced pitch clock has dropped the average time of games by about 30 minutes to start the season.
The Rangers told CNN that, prior to the 2023 season, the team allowed some alcohol sales through the eighth inning but have made it widely available this year.
The team is offering in-seat service to everyone which was "done partly in reaction to the pitch clock and the potential of shorter game times, so fans would not have to miss extended action waiting in lines at concession stands," a team spokesperson said.
The Milwaukee Brewers have also extended beer sales into the eighth inning, according to MLB.com.
Brewers president of business operations Rick Schlesinger told MLB.com that on an "experimental basis," alcohol sales at American Family Field have been extended later.
"This is [reflective] of the fact that the games are shorter," Schlesinger said. "From a time perspective, we're probably looking at selling beer for the same amount of time by extending to the eighth inning that we did last year through the seventh.
"Obviously, the safety and the conduct of our fans has primacy. We've had no issues, but it's a small sample size and we're going to continue to test it and see if it makes sense. I know a number of other teams are doing the same thing."
CNN has reached out to the Brewers for comment.
MLB introduced several new regulations – which include a pitch timer, defensive shift limits and bigger bases – when the 2023 season started on March 30.