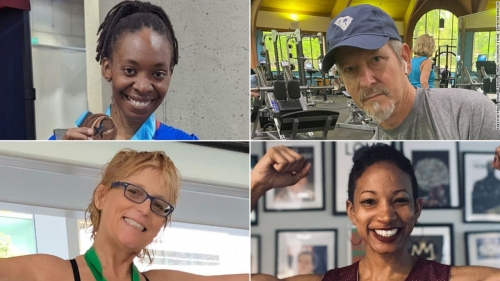 Clockwise from left, Phelicia S. Price, Allen Stancil, Carol Fitzsimons "Fishie", and Eryn Mathewson.
Courtesy of Phelicia S. Price/David Stancil/Carol Fitzsimons/Eryn Mathewson
Editor's Note: Eryn Mathewson is a podcast producer on the CNN Audio team.

CNN
—
When was the last time something terrible led you to something incredible?
For me, that "something terrible" was suddenly developing liver failure. And although recovering from that was probably one of the most grueling experiences I've ever gone through, it also connected me to some of the kindest, bravest strangers I've ever crossed paths with.
At the top of the list is my donor – a young man I'll never meet, who saved my life. His decision to be an organ donor allowed me to get a life-saving liver transplant in January 2022.
Since then, just about every aspect of my life has changed, including my relationship to sports and exercise. I've been an athlete for as long as I can remember – first as a competitive figure skater, then as a cross country runner and wrestler, and most recently as a marathoner.
I've raced in eight marathons – including Boston, NYC, and Chicago – and I hope to become one of a handful of US-born Black women who have completed a marathon (26.2 miles) in under three hours.
My transplant has delayed that training: I'm 40-years-old and I'm still recovering, and rebuilding strength and endurance. I often wonder if it derailed it entirely. Will I ever be as fast or as strong as I was before? No one can answer that question for sure, but I've been told to have patience and take it slow.
So when a colleague told me about the World Transplant Games – an Olympic-style event that promotes organ donation and encourages transplant fitness – my first thought was to cover the event as a journalist.
But the more I thought about it, the more it seemed like the perfect event for someone like me; someone who wanted to test her limits – and her new liver – in a safe way. A few months later, I applied to compete for Team USA.
After many medical tests and even more laps around the track, I've traveled to Perth, Australia, to take part in one of the largest gatherings of transplant athletes you've probably never heard of.
Competitors from more than 60 countries will converge on the capital of Western Australia to participate in the week-long event, April 15-21 – which happens to fall smack in the middle of National Donate Life Month in the US.
There are a wide variety of events including cycling, swimming and darts. I'm competing in the 5K road race, the 4 x 100-meter relay, and bowling – which I chose because it's so fun and I wanted to participate into a low intensity event in case I was not healthy enough to race.
My goals are simple: do my best, hopefully win some medals, connect with more transplant recipients; and show a lot of love to the donor community in attendance.
There are athletic events and ceremonies to honor the families of deceased as well as living donors – people who donate a kidney, a lobe of the liver or bone marrow, for example. Even though my donor is deceased and his family is anonymous, I'll be thinking of them during the Games, as I do most days.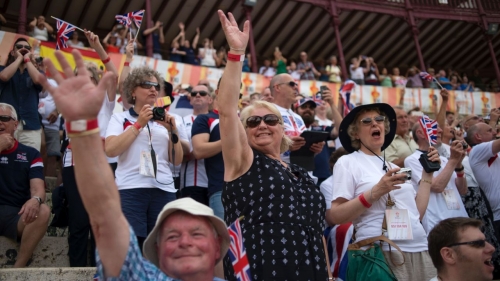 British supporters gesture during the opening ceremony of the XXI World Transplant Games 2017 in Malaga, Spain on June 25, 2017.
Jorge Guerrero/AFP/Getty Images
What are the World Transplant Games?

The World Transplant Games is not a household name like the Special Olympics or the Susan G. Komen Race for the Cure. But its goals are just as crucial: raise awareness about organ donation and transplantation, and encourage transplant recipients to get fit.
The first iteration of the Games took place in Portsmouth, England in 1978 with nearly 100 athletes from the UK, France, Germany, Greece and the US taking part.
According to Chris Thomas, president of the World Transplant Games Federation, a kidney specialist started the event as a way to encourage a patient to run to aid his recovery from a kidney transplant.
The patient's fitness improved over time and the idea to bring people together to celebrate transplantation was born. Since then, the event has expanded to include athletes from countries in Africa, South America, the Asia-Pacific and the Middle East, and the research connecting fitness with better transplant management has become widely accepted.
"There is this fear of movement that transplant recipients feel, and they can become sedentary," Thomas, who has been leading the World Transplant Games Federation (WTGF) since 2015 and will be retiring this year, told CNN Sport.
"Whereas all of the evidence shows now that the fitter and the more active they can be around that transplanted organ, the more likely they are to actually hold onto that organ for many, many years to come."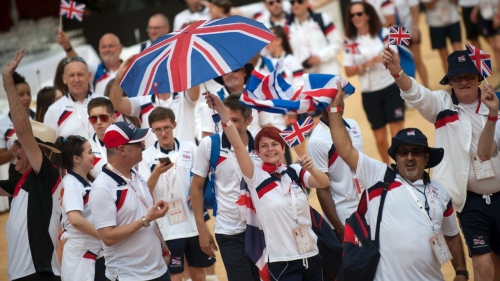 The British delegation parades during the opening ceremony of the XXI World Transplant Games 2017 in Malaga, Spain on June 25, 2017.
Jorge Guerrero/AFP/Getty Images
Who can compete?

The Games, which occur every two years with summer and winter sports taking place in alternating years, are primarily open to people who have received a solid organ transplant (liver, heart, lung, kidney, pancreas) or bone marrow transplant.
Almost everyone who receives one of these organs must take immunosuppressants for the rest of their lives; these medications prevent organ rejection, which could be life-threatening.
Because immunosuppressants affect athletic performance, the idea was to level the competitive playing field by allowing immunosuppressed people to only compete with one another.
"There was a lot of discussion about the effects of immunosuppressive drugs on the human body and on the ability of an athlete to train. They do a number on the body … so the Federation decided that the only fair way to do this would be to make sure that … it's like apples-to-apples competition," said Gary Green, sports manager of the World Transplant Games Federation and one of two team managers for Team USA.
WTGF President Thomas has heard questions about this approach. For starters, all organ transplants are not the same: they each come with their own particular care regimens and complications. Thomas said he's heard suggestions to narrow the competition categories even further, so that only competitors with the same transplanted organ compete against one another.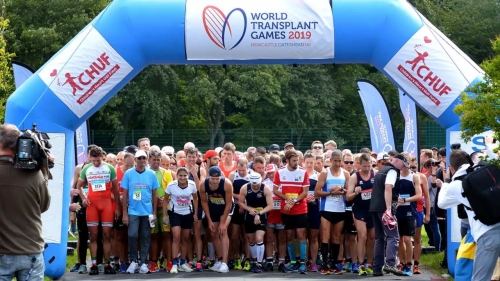 The Road Race starts at the 2019 World Transplant Games in Newcastle-Gateshead, United Kingdom.
World Transplant Games Federation
Another proposed idea is to separate competitors by time-since-transplant (under five years vs. 5 years or more), because, generally speaking, the longer a recipient has had an organ, the stronger they are likely to be.
"We transplant people to be normal. So [after] four or five years, I wouldn't even think that they're a transplant recipient … I just would say they're just a normal person … who just happened to have a major surgery back in the day," said Dr. Jennifer Lai, a general and transplant hepatologist at the University of California San Francisco.
In comparison, she said a transplant recipient only a year out from surgery is still recovering and likely on higher doses of immunosuppressants. "So, I do think there's probably more to the timing and the amount of time you have to train post-transplant, than there is to being on immunosuppression or not."
Thomas called it an interesting idea but stands by the way the Games are currently organized because of its emphasis on organ donation and successful transplantation.
"You never get the playing field perfectly level … and I think the vast majority of athletes participating at the Games realize that it's about giving thanks. It's about celebration," he said, getting at the inherent tension between promoting transplants and embracing a competitive edge.
Transplant recipients who don't require immunosuppressants, such as those who receive corneas, are currently ineligible to compete in the Games. But that may change in the future.
"With all the new kinds of transplants that are going on, you want to be able to … celebrate that, and have that be part of the whole reason for doing the games," said Green.
A few events are designated for living donors and donor families. Since you don't need to take immunosuppressants to donate organs, they compete only against each other in categories including golf, swimming and the long jump.
There are no tryouts or qualifying competitions for any of the athletes to join Team USA. You just have to be at least six months out from surgery, have medical clearance from your doctors and be able to afford to travel and participate in the Games. This year, the team is composed of 50 transplant recipients, nine donor competitors, two team managers and 39 supporters; friends, family, fans – anyone who is not an athlete.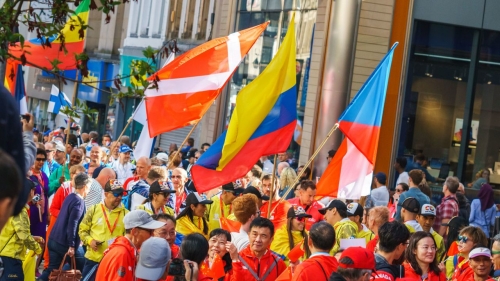 The 2019 World Transplant Games' opening parade in Newcastle-Gateshead, United Kingdom.
World Transplant Games Federation
Teamwork makes the dream work

This will be my inaugural trip to the Games and my debut as a member of Team USA. The same is true for Allen Stancil, who plans to compete in the 5K speed walk and several sprint races. The 58-year-old from Piedmont, South Carolina, received a heart transplant last February.
"All I've got on my mind right now is getting stronger and getting ready," said Stancil. The retired park ranger said getting Covid in December 2022 set back his training a bit, but he's recovered and has been splitting his time between the track, the stair master and the weight room.
"You tell people and it just kind of blows them away, like, wow, you've had a transplant and you're going to go do this? So, that's a pretty big deal, I think."
Phelicia Price, 43, on the other hand, has been focusing on walking and tossing exercises to prepare for the pétanque doubles and singles competition. Pétanque is a sport similar to bocce ball. Price, who received a kidney in 2016, hails from Charlotte, North Carolina and works as an economics professor and yoga instructor.
"To even just say that we're training to represent our country. I mean, that's just so cool," she told me. Price is currently recovering from a non-transplant related surgery, but said she's ready to make her second appearance at the World Transplant Games.
"I want to meet new people and reconnect with old people. That's primarily, I would say, the goal overall every time," she said.
Just as each athlete's training routine is tied to their health, participation is also contingent on physical well-being. Medical approval is a requirement for participation. Additionally, athletes must submit results from blood tests that measure things like liver and kidney function. A cardiac stress test is also recommended.
In addition to being fit enough to compete in the Games, all of us have to think of our health once there. My participation was actually uncertain up until a few weeks before the Games because of some liver-related issues.
But my doctors eventually gave me the green light and advised me to bring a month's worth of medication in case my travel plans are delayed. They also identified a liver transplant center I can go to if I need it. There will be doctors and other medical staff on-hand at the Games in case of any emergencies.
When we all arrive in Perth, we'll be there with about 1,500 other athletes and supporters. The age range is wide – the youngest athlete this year is 12-years-old, the oldest is 81 – and so is the level of competition, according to Green.
"We [Team USA] usually end up in the medal standings … sometimes maybe fourth or fifth … we don't emphasize the performance levels that some of the other countries do," he said. The team representing Great Britain-Northern Ireland tends to dominate the medal count, he said.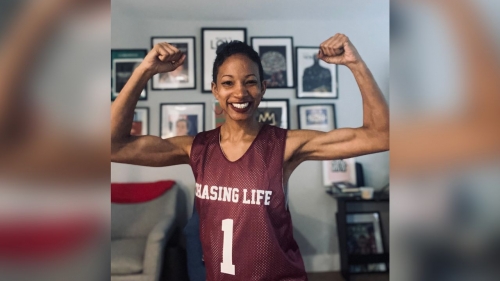 Eryn Mathewson wearing a jersey gifted by her CNN teammates. "Chasing Life" refers to CNN's health and wellness podcast, 'Chasing Life' with Dr. Sanjay Gupta.
Courtesy of Eryn Mathewson
How to train your (transplanted) organ

The last time the World Transplant Games were held in person was in 2019 because of the pandemic. The winning time for the 5K women's race that year was 21:28 – which is more than 10 minutes faster than I am right now (emphasis on right now). To give an imperfect comparison, last year, the winning time from the Women's 5,000 meter final at the NCAA Championships was 15:18.
My running coach Tony Ruiz believes I will get back to my pre-transplant times. He helped me train for the New York City Marathon in 2018 and the Amsterdam Marathon in 2019, and we'd started talking about what it would take to run a sub three-hour marathon a few months before I got the transplant.
He's never worked with a transplant recipient before, but he said he has coached Special Olympians as well as athletes diagnosed with cancer and autism. His advice: don't push too hard too soon.
"The Eryn I coach now, (post-transplant) in all honesty, has not changed much," Ruiz wrote in an email. "You could never tell that she has gone through that type of life altering event, based on her attitude … I sense that she will one day get back to her old times!"
Pam Bloomer, the senior physical therapist at the Starzl Transplantation Institute at the University of Pittsburgh Medical Center in Pennsylvania, reminds her transplant patients to know their limits.
"I know a lot of people are anxious to get back to a prior level … you've just got to be patient," said Bloomer, who works with transplant patients ranging in age from teenagers to septuagenarians.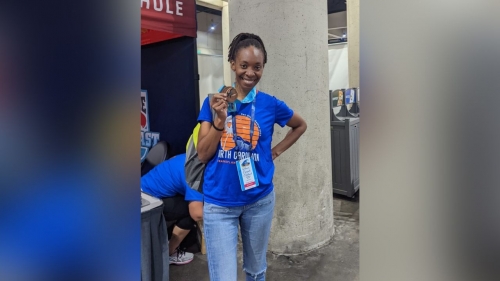 Phelicia S. Price received a kidney seven years ago.
Courtesy of Phelicia S. Price
She said only a few have identified themselves as athletes. "When you have a transplant, you've got to be careful to make sure you're focusing on the correct muscles and [that] you're not overworking your muscles."
And managing expectations after transplant is key, according to psychologist, Dr. Jared Skillings,
"If you were a 10 in terms of athletic competition before, you need to think about what [it] would be like to be a five or a three, depending on how your body takes it," said Dr. Skillings, who is the chief of professional practice for the American Psychological Association.
He worked with heart, lung, kidney and bone marrow transplant recipients for Spectrum Health in Michigan for about 10 years. He shared that only a few of them expressed a desire to participate in athletics. "But most of them were able to get back to performing at a pretty significant level in terms of athletics."
Transplant athletes aren't common. The Games welcomes all levels of fitness and athleticism, but it targets recipients who might need encouragement and support in developing a fitness routine.
"You know, if you're training, whether you're a good athlete or not … it's so worth it," said Carol "Fishie" Fitzsimons, 58, who will compete in several events including the 50-meter fly and 200 meter freestyle swim. She later added in an email: "Being there and able to travel and compete while promoting the need for organ, eye and tissue donation in a giant celebration of life is the best part!"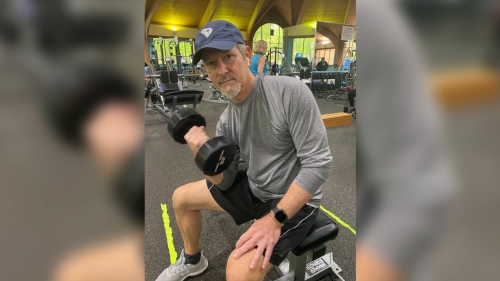 Allen Stancil will be competing at the World Transplant Games for the first time.
Courtesy of David "Allen" Stancil
Fitzsimons has been swimming since she was a kid – hence the nickname – and won't miss a World Transplant Games if she can help it. Perth will mark her 11th appearance. The retired teacher from Howard, Ohio, received a kidney transplant over two decades ago.
"I've come away from many games and not won anything, especially at the world level. At first, I was kind of depressed about that. But then I'm like, look at how much better transplants are going for people at the levels they can perform. It amazes me," Fitzsimons told me.
Join us for coverage of some WTG events and participants on Instagram, Twitter and Facebook. The second part of this story will feature a conversation with Sean Elliot, Spurs TV analyst and former NBA player, who shares how a kidney transplant affected him on and off the court.
To learn more about the Games and its resources for transplant and donor athletes, you can find their website here.