close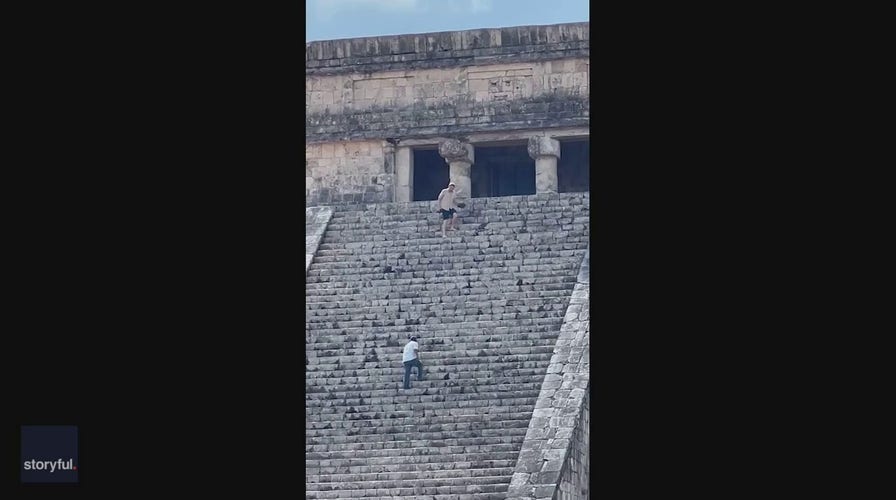 Video
Mexico tourist whacked with stick and heckled after climbing sacred pyramid
A tourist from Poland was reportedly detained and fined after climbing the steps of a sacred temple at Mexico's Chichén Itzá archaeological site. (Credit: Daniel Fretwell via Storyful)
A tourist was captured on video being beaten with a stick by a bystander after climbing up a sacred temple in Mexico.
The incident played out over the weekend at the Chichén Itzá archaeological site on Mexico's Yucatan Peninsula, a popular tourist attraction, and involved an unidentified tourist from Poland running up the steps of the pyramid of Kukulkan which is a move frowned upon by locals, The Independent reported.
In the videos from the scene, which went viral on social media, the tourist can be seen being led away from the pyramid by two Mexican officials and then beaten with a stick by a bystander.
"Are you stupid," an onlooker shouted at the tourist.
AMERICANS TRAVELING BETWEEN MEXICO, US SEE VACATIONS TURN INTO NIGHTMARES AT THE BORDER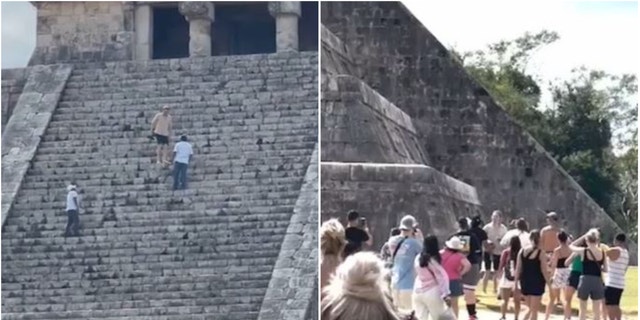 A tourist in Mexico was arrested and fined after climbing up the steps of a sacred pyramid.
(Daniel Fretwell via Storyful)
The Polish man was reportedly arrested and held for 12 hours before being released.
The director of Mexico's National Institute of Anthropology and History (INAH) told Mexico Daily Post that the tourist was fined 5,000 pesos, $263, for the incident.
"Tourists must respect the security measures of the INAH in the archeological zone to preserve the cultural heritage of Mexico, take care of other visitors and enjoy that Mayan legacy," INAH Director José Arturo Chab Cárdenas said.
STATE DEPT. ISSUES CANCUN TRAVEL WARNING AFTER TAXI DRIVERS ATTACK UBER DRIVERS, PASSENGERS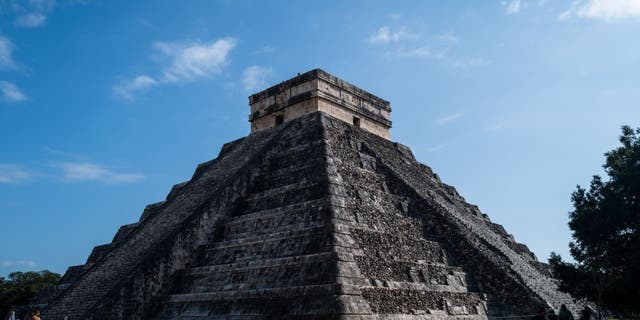 Tourists visit Temple of Kukulcan in Chichen Itza archeological site, in Yucatan, Mexico on Dec. 8, 2022. 
(Photo by Wolfgang Schwan/Anadolu Agency via Getty Images)
A similar incident unfolded in November when a tourist was mobbed by bystanders and pelted with water for climbing the same pyramid, Fox Tampa Bay reported.
Climbing the sacred site has been banned since 2008 due to efforts by the Mexican government to preserve the Mayan pyramids.
CLICK HERE TO GET THE FOX NEWS APP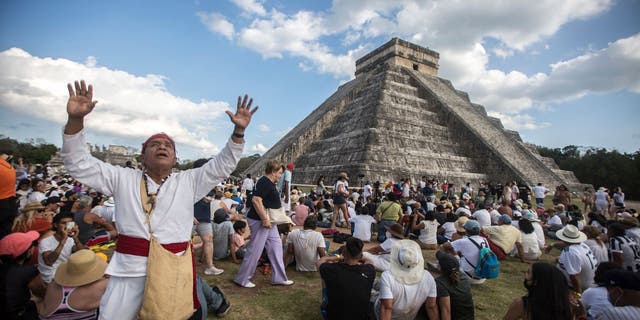 People surround the Kukulcan Pyramid at the Mayan archaeological site of Chichen Itza in Yucatan State, Mexico, during the celebration of the spring equinox on March 21, 2022. 
(Photo by HUGO BORGES/AFP via Getty Images)
Fox News Digital reached out to National Institute of Anthropology and History for comment but did not immediately receive a response.
Andrew Mark Miller is a writer at Fox News. Find him on Twitter @andymarkmiller and email tips to [email protected].