close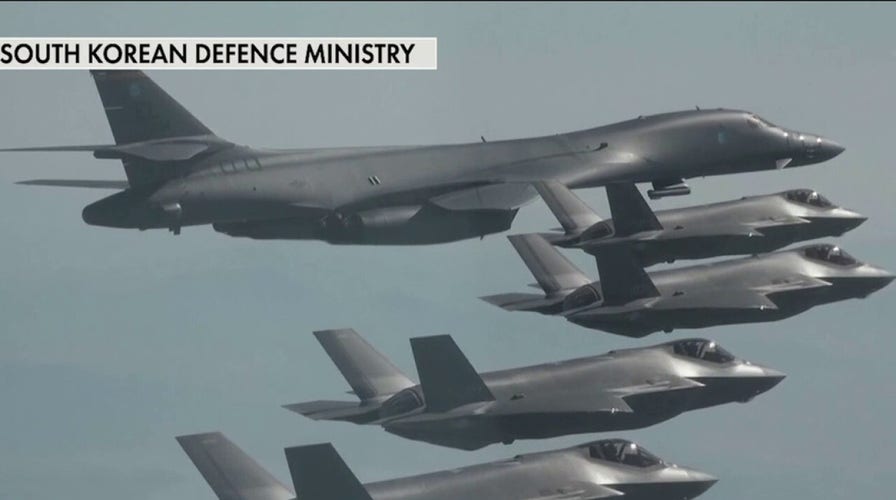 Video
Sec. Austin says US will increase deployment of strategic weapons to South Korea during visit to region
Fox News chief national security correspondent Jennifer Griffin has the latest on China tensions as an Air Force general predicts war with China by 2025 on 'The Story.'
The Philippines on Tuesday granted the U.S. access to four more military bases, allowing Washington to expand its presence in the region and bolster its deterrence against China's aggression.
In a statement from the Department of Defense (DOD), the U.S. and the Philippines will "accelerate the full implementation of the Enhanced Defense Cooperation Agreement (EDCA) with the agreement to designate four new Agreed Locations in strategic areas of the country."
The agreement will also expand joint military trainings, drills and "interoperability" between the U.S. and Filipino forces.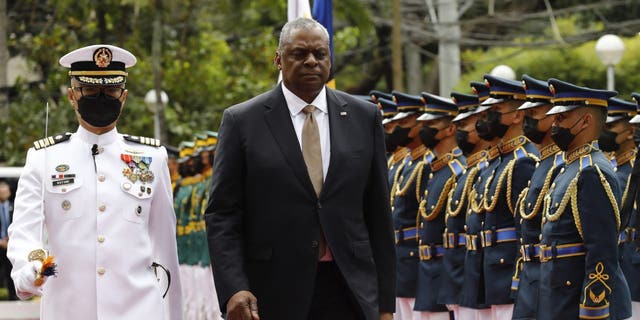 Defense Secretary Lloyd Austin walks past military guards during his arrival at the Department of National Defense in Camp Aguinaldo in Quezon City, Metro Manila, Philippines, on Thursday, Feb. 2, 2023.
(Rolex Dela Pena/Pool Photo via AP)
US MARINES STORM BEACH NEAR DISPUTED REEF IN SOUTH CHINA SEA JOINT MILITARY DRILLS
"Expansion of the EDCA will make our alliance stronger and more resilient, and will accelerate modernization of our combined military capabilities," the DOD said.
There are already five other EDCA locations in the Philippines and the U.S. said it will allocate $82 million for infrastructure development at the existing sites.
The partnership will also enable a greater joint response to humanitarian and climate-based disasters.
"I have always said that it seems to me that the future of the Philippines and for that matter the Asia-Pacific will always have to involve the United States simply because those partnerships are so strong," Filipino President Ferdinand Marcos Jr. told Secretary of Defense Lloyd Austin Thursday.
Austin's trip to the Philippines followed a visit to South Korea earlier in the week when Washington and Seoul agreed to ramp up nuclear deterrence in the region and to solidify efforts to strengthen U.S. security alliances in Asia.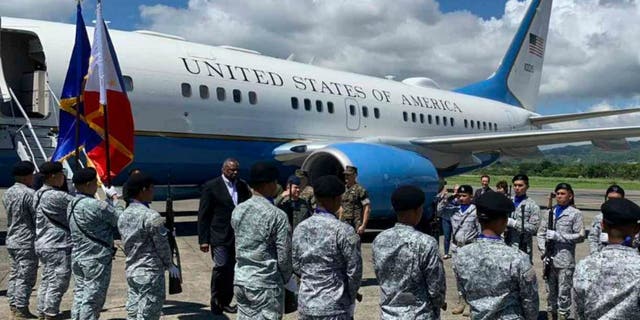 Defense Secretary Lloyd Austin arrives in Zamboanga province, southern Philippines, on Wednesday Feb. 1, 2023.
(Command Public Information Office, Western Mindanao Command via AP)
AIR FORCE GENERAL PREDICTS WAR WITH CHINA IN 2025: 'I HOPE I AM WRONG'
The focus on strengthening ties in the region comes as China continues to assert an aggressive posture not only toward Taiwan, but through territorial disputes with regional neighbors like Brunei, Signapore, Vietnam, Loas, Myanmar and the Philippines.
The U.S. this week also announced the opening of a new embassy on the Solomon Islands in the South Pacific off of Papua New Guinea, where China has a growing interest.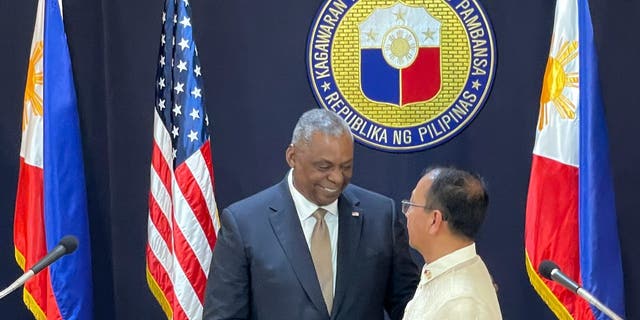 Defense Secretary Lloyd Austin shakes hands with his Philippine counterpart, Carlito Galvez Jr., at a joint press conference at Camp Aguinaldo in metro Manila, Philippines, on Thursday, Feb. 2, 2023.
(AP Photo/Joeal Calupitan,Pool)
CLICK HERE TO GET THE FOX NEWS APP
"The U.S. embassy in the Solomon Islands will serve as a key platform from which the U.S. government will continue to develop the Indo-Pacific partnership with our critical partner here in the Solomon Islands, one that is based on shared values of democracy, human rights and the rule of law," Russell Comeau, U.S. chargé d'affaires ad interim, said, according to Radio Free Asia.
Secretary of State Antony Blinken also championed the move and said it not only "symbolizes a renewal of our relationship" but is part of U.S. plans to expand its presence in the Pacific.
The Associated Press contributed to this report.
Caitlin McFall is a Reporter at Fox News Digital covering Politics, U.S. and World news.