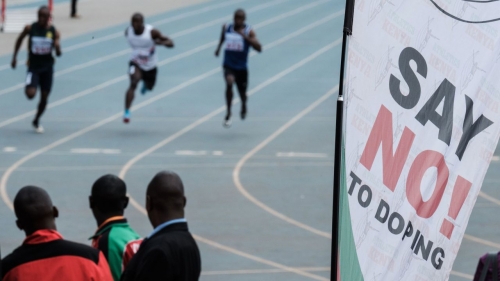 Athletes run as an anti doping banner is seen during the Kenya National Trials at Kasarani Stadium in Nairobi on June 21, 2018.
Yasuyoshi Chiba/AFP/Getty Images

CNN
—
Kenya has a proud tradition of track and field but right now the country is grappling with a serious doping problem.
The Athletics Integrity Unit (AIU), which works to combat doping in track and field, says it has found "striking similarities" in two recent doping cases which points to a "medically-savvy" doping operation in Kenyan athletics.
In January, marathon runner Betty Lempus was banned for five years for breaching anti-doping rules, while middle-distance runner Eglay Nafula Nalyanya received an eight-year ban in March.
In a statement Tuesday, the AIU said a Disciplinary Tribunal found that both produced "falsified medical documents" which claimed they had received "intramuscular injections" at the same Kenyan hospital.
The AIU – in collaboration with the Anti-Doping Agency of Kenya (ADAK) – said it had discovered that the doctors listed in the documents were fictitious and that "neither athlete had received the respective injection."
Both women had attended the hospital on the respective days in question, though, but it's unclear what for.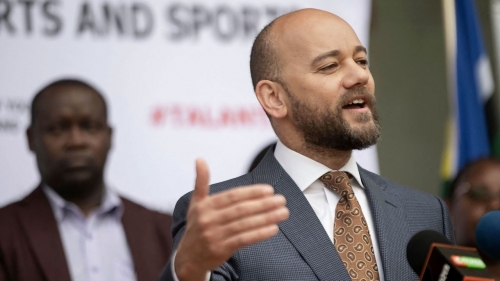 Head of Athletics Integrity Unit (AIU) Brett Clothier gives a statement at a joint press conference on March 31, 2023.
Tony Karumba/AFP/Getty Images
"It seems that elite Kenyan athletes are being assisted by a person or persons, including someone with considerable medical knowledge, to commit what amounts to criminal conduct involving frauds on the AIU, and that this is not limited to a single case but evidences a pattern of behaviour,' the Disciplinary panel said in a statement.
In a statement sent to CNN, Athletics Kenya, the governing body of track and field in the country, said it had acknowledged and appreciated "the great work done by the AIU through its Disciplinary Tribunal," saying it was "alive to the huge problem of doping in athletics."
It also outlined the ways it was stepping up its efforts in combating the problem, including improved athlete education.
According to the AIU, 66 Kenyan athletes are currently on the global ineligible athlete list for breaching anti-doping rules.
In its statement, the AIU also noted the support from the Kenyan government, notably the $5 million pledge per year for the next five years to help fight the issue.
In a recent speech, Kenya's Principal Secretary for the State Department for Sports, Jonathan Mueke, said that he hoped "doping would be a thing of the past."
"We are committed as a government because this is a matter of national strategic interest to ensure all our athletics continue flying our flag high around the world by running clean," he added.
CNN reached out to both Lempus' and Nalyanya' agents for comment but did not receive a response.