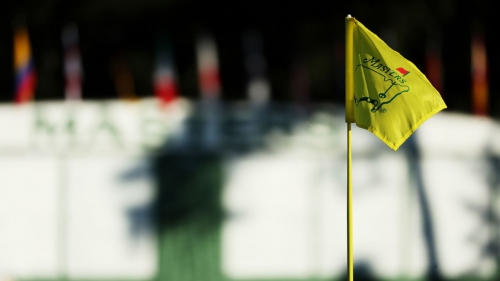 Augusta National will once again play host to the 87th edition of The Masters this week.
Christian Petersen/Getty Images

CNN
—
For the 87th time, the center of the golfing world shifts to Augusta National for The Masters on Thursday.
The first major of the season will see Scottie Scheffler attempt to defend the green jacket he eased into with a dominant victory at last year's tournament.
The American finished three-shots ahead of Rory McIlroy, who once again returns to Georgia chasing the crown that would see him become just the sixth player to win all four majors and complete golf's grand slam.
Tiger Woods is among the illustrious group to have completed the feat, and a shock victory come Sunday would see him draw level with Jack Nicklaus' record of six Masters wins. The 47-year-old is making his 25th appearance at Augusta, though said Tuesday he is unsure if it will be his last.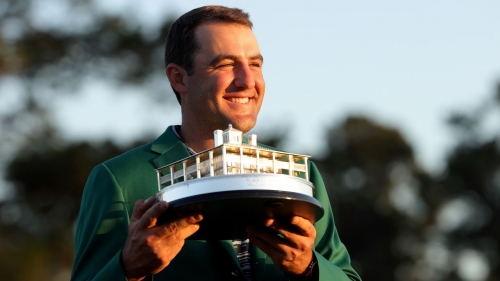 Scheffler's 2022 victory marked the first major win of his career.
Jamie Squire/Getty Images
How to watch

If you are in the United States, live coverage begins on ESPN at 1 p.m. ET on Thursday. ESPN will broadcast the first two rounds before coverage switches to CBS for the weekend, starting at 3 p.m. ET on Saturday and 2 p.m. ET for Sunday's deciding round.
Viewers in the UK will be able to watch the tournament on Sky Sports, with featured groups shown from 2 p.m. BST for the first two rounds. Saturday's third round coverage begins at 7:30 p.m BST, with live broadcast of the final round from 6:30 p.m. BST.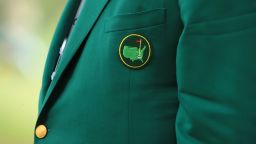 A detail of a green jacket during the third round of the Masters at Augusta National Golf Club on April 13, 2019 in Augusta, Georgia.
Andrew Redington/Getty Images
Why do Masters champions win a green jacket?
American Kevin Na and Canada's Mike Weir will be the first to tee off Thursday at 8 a.m. ET. Woods begins alongside Viktor Hovland and Xander Schauffele at 10:18 a.m. ET, with Scheffler and McIlroy among the last to start at 1:36 p.m. ET and 1:48 p.m. ET respectively.
A live streaming simulcast will also be available on both The Masters website and The Masters app.
For more information on how to watch, check The Masters website here.
Scheffler not chasing legacy

A second consecutive victory at Augusta for Scheffler would see the world No. 1 add his name to a legendary group.
Since the inaugural event in 1934, only Nicklaus (1965, 1966), Nick Faldo (1989, 1990) and Tiger Woods (2001, 2002) have won back-to-back Masters titles.
Though Scheffler insists he is not playing for legacy.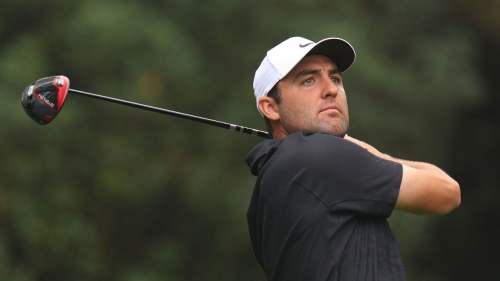 Scheffler warms up during a practice round.
Andrew Redington/Getty Images
"Any time you can get mentioned in the same breath as a Tiger and a Jack and a Nick Faldo is really special, but it's not a motivating factor for me to come out here," Scheffler told reporters Tuesday.
"I'm just hoping to have a good attitude and just come out here and just do the best that I can do, and wherever that ends up in my career, I'll be happy with.
"Legacy just a complicated thing. In a hundred years, I'm going to be forgotten and it's not a big deal."
No big deal, but one big meal. Later Tuesday evening, Scheffler hosted the annual Champions Dinner, serving up his Texas-inspired menu to a host of former Masters victors.
The 2023 Champions Dinner portrait. #themasters pic.twitter.com/4cLriTv8sO

— The Masters (@TheMasters) April 5, 2023
McIlroy's recipe for history

McIlroy was not on the guest list for the Champions Dinner, though not for the want of trying.
The Northern Irishman has seven top-10 finishes in his last 10 appearances at Augusta and arrives for his 15th outing on the back of an impressive runner-up showing last year.
Yet arguably the closest McIlroy has come to claiming the elusive green jacket was in 2011, when the then-21-year-old carried a four-shot lead into the final round only to suffer a devastating collapse. After shooting the highest score of the day, he finished tied-15th.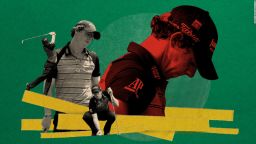 The haunting Masters meltdown that changed Rory McIlroy's career
A four-time major champion by 2014, McIlroy has arrived at Augusta every year since knowing a win would put him on golf's Mount Rushmore. Only Gene Sarazen, Ben Hogan, Gary Player, Nicklaus and Woods have sealed the career grand slam in the modern era.
To continue the food theme, McIlroy believes history is only one good bake away.
"I've got all the ingredients to make the pie," he told reporters Tuesday.
"It's just putting all those ingredients in and setting the oven to the right temperature and letting it all sort of come to fruition.
"I've always felt like I have the physical ability to win this tournament. But it's being in the right head space to let those physical abilities shine through," he added.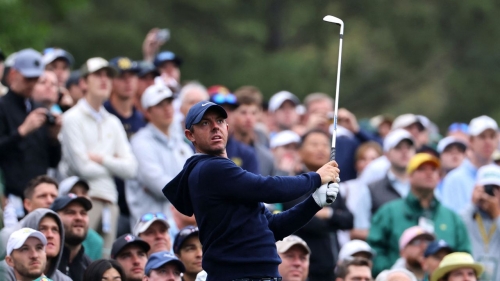 McIlroy will be making his 15th Masters appearance this week.
Mike Blake/Reuters
Woods: McIlroy's grand slam 'a matter of time'

Woods is certain McIlroy will eventually don a green jacket.
"Rory has the talent. He has the game. He has all the tools to win here. It's just a matter of time," he said.
"A lot of things have to happen to win at this golf course. A lot of things have to go right. I think Rory has shown over the years he's learned how to play this golf course, and you just have to understand how to play it.
"Whether it's this year or next or whenever it comes, he will get it done, and he will have a career grand slam. It's just what year it will be; it will definitely happen."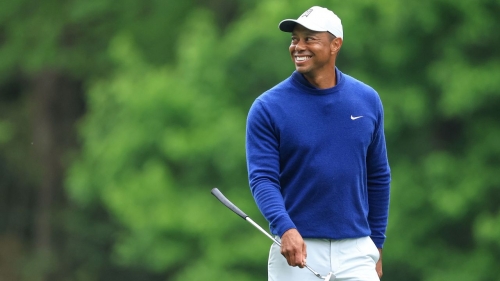 Woods was all smiles during his practice round.
David Cannon/Getty Images
Woods was less confident, but not totally dismissive, of his own chances. Despite his pedigree at Augusta, the 15-time major winner is not among the favorites this week, with Scheffler, McIlroy, world No. 3 Jon Rahm and 2015 champion Jordan Spieth among those tipped to triumph.
The 47-year-old's competitive appearances have been sporadic since he suffered severe leg injuries in a serious car crash in 2021. Victory two years prior had ended an 11-year major drought in dramatic fashion, though that win would surely be trumped by a shock result on Sunday.
"Whether I'm a threat to them or not, who knows," Woods said.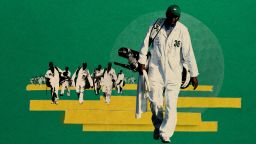 Alberto Mier/Getty/CNN
For nearly 50 years, only Black men caddied The Masters. One day, they all but vanished
"People probably didn't think I was a threat in 2019 either, but [that] kind of turned out okay.
"This tournament has meant so much to me in my life. I have so many great memories here, and looking forward to another great week," he added.