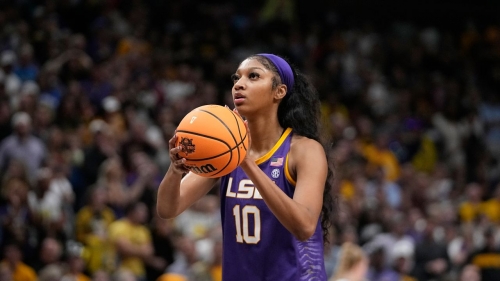 Reese was named the women's NCAA tournament's Most Outstanding Player.
Darron Cummings/AP

CNN
—
LSU star Angel Reese says that neither she, nor her team, would be visiting the White House after the Tigers defeated the Iowa Hawkeyes 102-85 to win their first basketball national championship.
Traditionally, the national champions would be invited to the White House. But after comments from first lady Jill Biden suggesting that Iowa be invited as well before appearing to walk that back, Reese told "I AM ATHLETE" podcast hosts Brandon Marshall and Ashley Nicole Moss: "I don't accept the apology because you said what you said … You can't go back on certain things that you say … They can have that spotlight. We'll go to the Obamas.' We'll go see Michelle. We'll see Barack."
Reese, who was named the women's NCAA tournament's Most Outstanding Player as a result of her standout performances, also said separately: "I just know if the roles were reversed, they wouldn't be the same. If we were to lose, we would not be getting invited to the White House."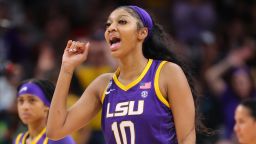 DALLAS, TX – APRIL 02: Angel Reese #10 of the Louisiana State Tigers celebrates a play against the Iowa Hawkeyes during the 2023 NCAA Women's Basketball Tournament National Championship at American Airlines Center on April 2, 2023 in Dallas, Texas. (Photo by C. Morgan Engel/NCAA Photos via Getty Images)
C. Morgan Engel/NCAA Photos/Getty Images
Biden press secretary clarifies White House invitation is just for LSU after player calls it 'A JOKE'
Speaking on Monday, Biden congratulated both teams on their performance in Sunday's national championship game, as well as specifically highlighting Iowa's sportsmanship.
"Last night, I attended the NCAA women's basketball championship," said Biden, while speaking at an event at the Colorado State Capitol in Denver.
"So I know we'll have the champions come to the White House, we always do. So, we hope LSU will come but, you know, I'm going to tell Joe [Biden] I think Iowa should come, too, because they played such a good game."
Reese responded to Biden's comments calling them "A JOKE" on Monday, and in a comment on an Instagram post from "The Shade Room" which included a comment from Reese, the recently crowned NCAA champion said: "WE NOT COMING. period."
By Tuesday, Biden appeared to walk back the comments, with first lady press secretary Vanessa Valdivia saying in a tweet that they "were intended to applaud the historic game and all women athletes. She looks forward to celebrating the LSU Tigers on their championship win at the White House."
President Biden had previously said that LSU would be invited to the White House, along with NCAA men's champions, the University of Connecticut.
Reese's teammate Alex Morris took to Twitter to ask Michelle Obama if her team could celebrate their win at their house, after Barack tweeted his congratulations to the team.
After LSU's victory on Sunday, head coach Kim Mulkey said she would go to the White House if the team was invited.
CNN has reached out to LSU and the Obamas for comment.
Meanwhile, Iowa's Caitlin Clark said Tuesday that Iowa shouldn't be invited to White House.
"I don't think-runner ups usually go to the White House. I think LSU should enjoy that moment for them and congratulations, obviously, they deserve to go there. Maybe I could go to the White House on different terms though," Clark said. "That's for LSU. That's a pretty cool moment and they should enjoy every single second of being a champion."
CNN's Ben Morse and Wayne Sterling contributed reporting.