Kevin McCarthy late Friday failed to succeed in his 14th bid for House speaker after indicating confidence in a victory and two of his GOP opponents appeared to clear the way for a victory by voting "present."
When the dust settled, McCarthy had 216 votes, but needed 217. Two of his most vocal opponents, Rep.-elects Matt Gaetz of Florida and Lauren Boebert of California, voted "present" which was aimed at lowering the minimum majority needed to win.
MCCARTHY CONFIDENT HE'LL CLINCH SPEAKER'S GAVEL FRIDAY NIGHT: "I'LL HAVE THE VOTES'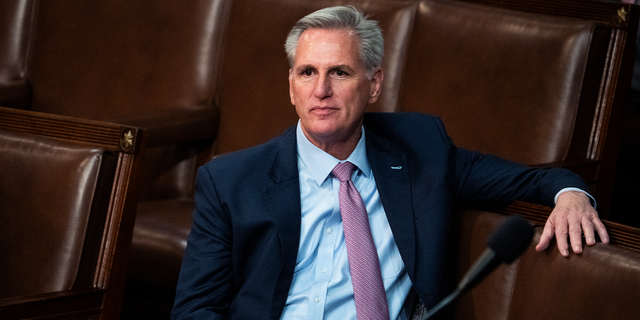 Republican Leader Kevin McCarthy, R-Calif., won the 14th vote for House speaker late Friday night.
(Kent Nishimura / Los Angeles Times via Getty Images)
But with only 432 votes cast, the McCarthy needed 217 to clinch it, and fell short by a single vote.
The result seemed to surprise McCarthy and his team, many of whom started an intense discussion with Gaetz in an apparent attempt to sway him to change his vote to one in support of McCarthy.
But when that failed, McCarthy could be heard saying, "we'll do it again."
CLICK HERE TO GET THE FOX NEWS APP
The shock finale came late Friday after McCarthy had already picked off 15 of his opponents aimed at changing the way the House is run that were demanded by hardline member of the House Freedom Caucus.
Following the vote, Republicans asked to adjourn.
This is a breaking story and will be updated.