Kevin McCarthy's difficult road to becoming House speaker ended early Saturday morning after Republicans appeared to have miscounted the number of votes they needed and left him one vote short of winning the gavel, then quickly voted one last time to give him the win – with help from some of his biggest detractors.
The 15th and final vote for House speaker gave McCarthy 216 votes, a bare majority that was lower than the normal 218 votes needed because all six of his remaining GOP opponents relented and voted "present." Reps.-elect Andy Biggs of Arizona, Lauren Boebert of Colorado, Elijah Crane of Arizona, Matt Gaetz of Florida, Bob Good of Virginia and Matt Rosendale of Montana voted "present" in the final round.
In the end, no Republican voted against McCarthy, which was the closest thing to GOP unity seen all week.
MCCARTHY LOSES BY ONE VOTE IN SHOCKING 14TH ATTEMPT, FURIOUS FLOOR LOBBYING FAILED TO SWAP OPPONENTS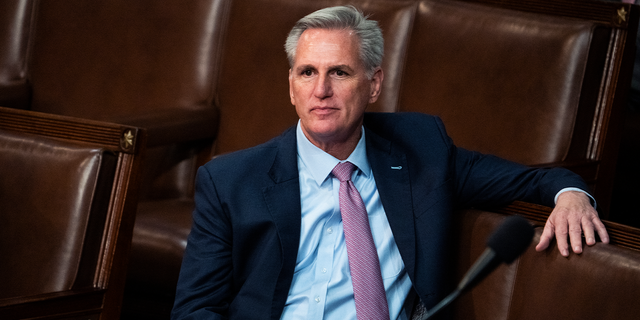 Republican Leader Kevin McCarthy, R-Calif., was elected House speaker early Saturday morning in the 15th vote.
(Kent Nishimura / Los Angeles Times via Getty Images)
Taking the anti-McCarthy votes off the table capped a week in which McCarthy was able to chip away at the 20 Republicans who opposed him, thanks in large part to negotiations that will dramatically reshape the way the House is run. Some of the most conservative members of the House said they got virtually everything they wanted out of the talks and started to break for McCarthy on Friday morning.
McCarthy agreed to allow a single lawmaker to make a motion to elect a new speaker, returning to the way the House ran for decades before that practice was eliminated under former Speaker Nancy Pelosi. He agreed to votes on term limits and the adoption of a budget resolution that balances the budget in 10 years, and a cap on fiscal year 2024 spending at FY 2022 levels.
McCarthy agreed to reject any negotiations on spending with the Senate until the Senate passes its own spending bills. He agreed not to increase the debt limit without spending cuts or other fiscal reforms, to set up a committee to examine the weaponization of government against U.S. citizens, and to ensure no bills are brought up on the floor until at least 72 hours passed.
THE VOTE FOR HOUSE SPEAKER: LIVE UPDATES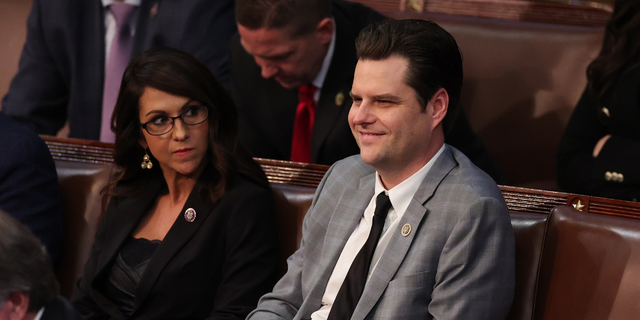 (Reps.-elect Lauren Boebert and Matt Gaetz voted "present" in order to give McCarthy the win. Getty Images)
And he agreed to give three members of the House Freedom Caucus three seats on the House Rules Committee, which sets the terms of debate for all legislation headed to the House floor.
Republicans who were holding back their votes until the deal was done praised it as a series of changes that will beat back the excessive spending and regulation that have defined the first two years of the Biden administration.
"We are negotiating a historic conservative victory to finally stop reckless SPENDING and DEBT from crushing our children & grandchildren," Rep.-elect Mary Miller of Illinois tweeted Friday. "We will ensure a Republican House cannot do what Senate Rs did when they passed the disastrous $1.7 TRILLION omnibus! We must STOP BIDEN!"
Rep.-elect Ralph Norman of South Carolina said restoring fiscal sanity is his top priority and said the deal would help make that happen.
HOUSE SPEAKER BREAKTHROUGH: MCCARTHY PICKS UP 14 GOP VOTES IN 12TH ROUND OF VOTING
"We cannot continue the reckless spending and borrowing on the backs of our children," he tweeted. "That's why I am pleased to have reached an agreement with Rep. McCarthy on concrete steps he will take to fix our budgeting and appropriations processes., as well as much-needed rules changes in the House."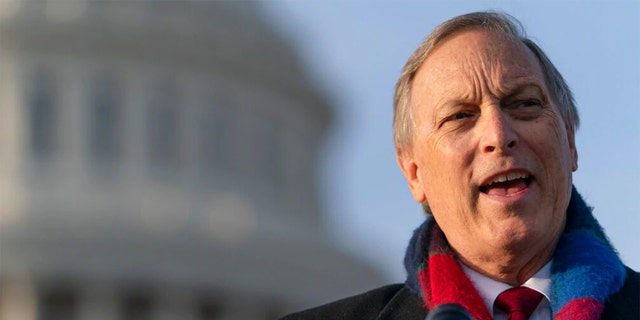 (Rep-elect Andy Biggs of Arizona was another McCarthy opponent who stood down and allowed him to take the speaker's gavel. (AP Photo/Jacquelyn Martin,File))
And Rep.-elect Dan Bishop of North Carolina said the deal will "make the People's House truly work for the American people again."
Those who continued to oppose McCarthy found themselves in an increasingly small camp throughout the day. Rep.-elect Andy Biggs of Arizona said he was still "holding the line" against McCarthy a few hours before the final vote, and others like Reps.-elect Matt Gaetz of Florida and Bob Good of Virginia have said repeatedly they would never support McCarthy.
CLICK HERE TO GET THE FOX NEWS APP
For both Republicans and Democrats, McCarthy's election means members-elect of the 118th Congress can be sworn in and assigned to committees, and that the regular work of the House can begin. GOP lawmakers have said for months that once their work begins, it will lean heavily on managing the federal government through passing a budget and individual spending bills, and tough oversight of the Biden administration.
And more immediately, it allowed McCarthy to begin swearing in new members, after which members were expected to be asked to vote on the rules package developed by the GOP.