Micki Witthoeft, the mother of Ashli Babbit, who was shot by police during the Jan. 6, 2021 riot, was arrested on Friday afternoon during a demonstration marking the two-year anniversary of the event, according to police.
Witthoeft, 58, is being accused of traffic violations, according to U.S. Capitol Police, who said she was taken into custody but later released on Friday.
Officials said that Witthoeft and a group of other demonstrators were walking on a street by the Capitol when police told the group to move off of the road.
Police said that officers were in a line to prevent the group from going further.
ASHLI BABBITT SHOOTING WAS LAWFUL, UNNAMED CAPITOL POLICE OFFICER CLEARED, INTERNAL REVIEW FINDS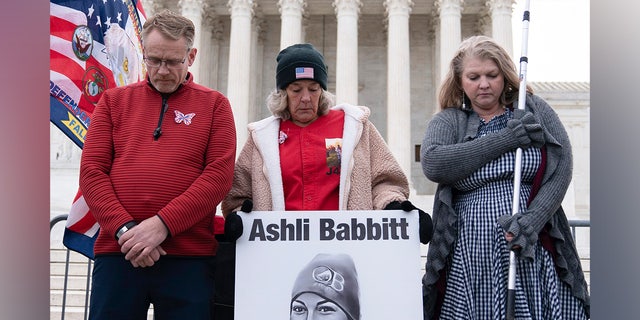 Micki Witthoeft, center, mother of Ashli Babbitt, the woman fatally shot by police inside the U.S. Capitol during the Jan. 6, 2021, riot, joins protesters outside of the Supreme Court on the second anniversary of the Jan. 6, assault on the U.S. Capitol, in Washington, Friday, Jan. 6, 2023.
(AP Photo/Jose Luis Magana)
One video on social media show police telling the group to get on the sidewalk or else they may be arrested. Witthoeft put her hands behind her back and was placed under arrest.
Police said that the group of protesters didn't have a permit to demonstrate on Capitol grounds.
BIDEN LINKS 'SICK INSURRECTIONISTS' TO DEATH OF CAPITOL POLICE OFFICER KILLED BY NATION OF ISLAM SUPPORTER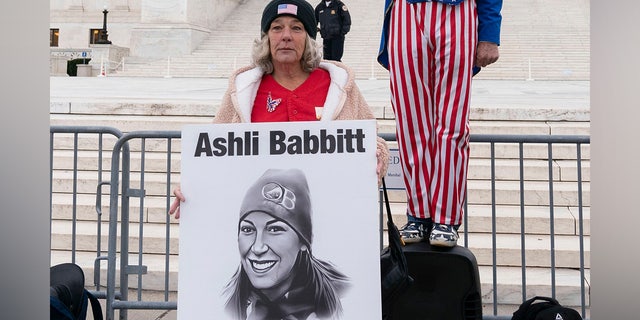 Witthoeft was arrested in Washington on Friday after refusing to get out of the street during a demonstration on the two-year anniversary, police said. 
(AP Photo/Jose Luis Magana)
Babbitt, 35, was shot by a Capitol Police officer while she attempted to enter the Speaker's lobby on Jan. 6, 2021 and later passed away at a Washington, D.C. hospital.
A U.S. Capitol Police internal investigation claims that the officer's actions were lawful.
CLICK HERE TO GET THE FOX NEWS APP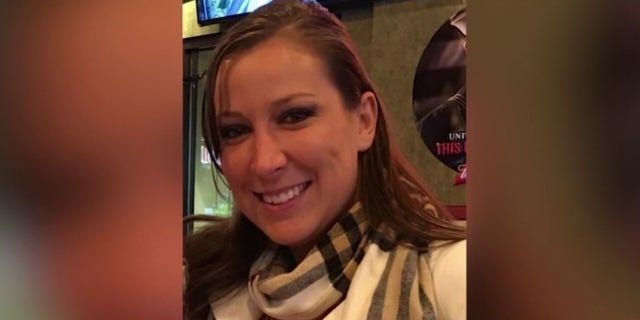 Ashli Babbitt, killed by Capitol Police on January 6, 2021.
(Tucker Carlson Tonight/Fox)
The Capitol Police Office of Professional Responsibility (OPR) "determined the officer's conduct was lawful and within Department policy, which says an officer may use deadly force only when the officer reasonably believes that action is in the defense of human life, including the officer's own life, or in the defense of any person in immediate danger of serious physical injury."
The Associated Press and Fox News' Danielle Wallace contributed to this report.