A long line of at least 100 cars stretched towards Maui's War Memorial Stadium on Thursday, even as the shelter began reaching capacity.
Scores of evacuees have arrived here and set up camp after wildfires tore through the Hawaiian island, destroying entire neighbourhoods and leaving many residents with nowhere to stay.
Volunteers have been trying to create a comfortable atmosphere despite the heat, offering local treats like shaved ice. But conditions are still challenging.
People have to bring their own bedding to the shelter, so many are sleeping on bare cots and air mattresses. And after seeing what people were in need of, part-time Maui resident and talk show host Oprah Winfrey, brought pillows and other goods.
Tom Leonard has lived in Lahaina for 44 years. He told the BBC he has been staying at the shelter for the past two days after losing all of his possessions. He has no idea where he will go next.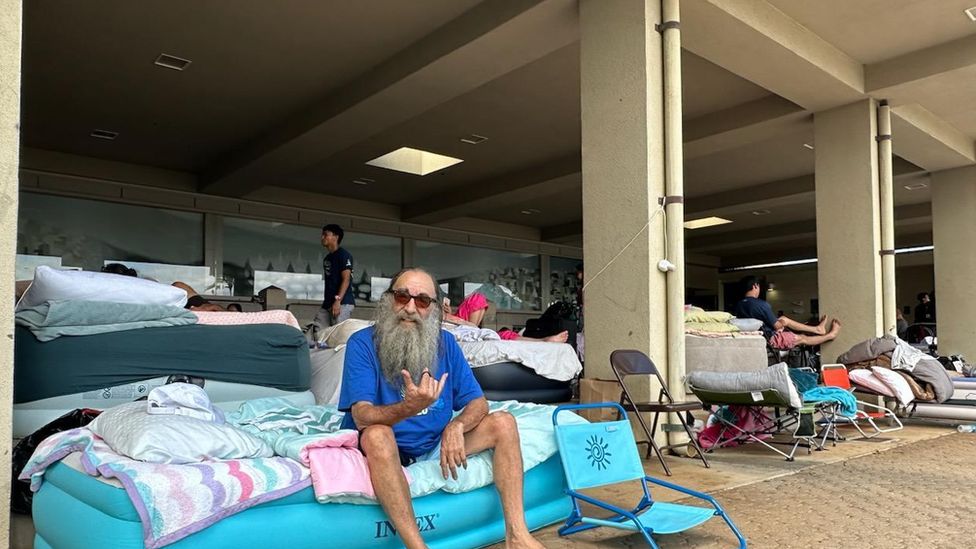 Image caption, Tom Leonard has lived in Maui for decades, but has lost all of his possessions
More concerning than the loss of possessions, are the loved ones that people have yet to hear back from. There is even a sense of guilt for some people here.
Hundreds are said to be missing. At least 55 people have died and that number is expected to rise.
Getting in contact with loved ones has been made even more challenging by the fact mobile service on the island has been unreliable.
People are doing what they can at the shelter, writing down the names of their loved ones along with their contact information and sticking notes on increasingly crowded whiteboards.
Maui resident Ellie Erickson created a Google spreadsheet to crowdsource efforts to find people. Although she only shared it on Wednesday morning, thousands of names have already been added to the list. Some are marked in green as "found" and other names are marked in red as "not located".
With the names of the dead not yet confirmed, people have only rumours to go on to know whether their neighbours and friends are still alive.
Chelsey Vierra's great-grandmother, Louise Abihai, lives at the Hale Mahaolu senior living facility. She told the Associated Press that she did not know if she was OK.
"She doesn't have a phone. She's 97 years old," Ms Vierra said. "She can walk. She is strong."
"If you never made contact with your family before sunset last night, you're still trying to figure out where they are," Leomana Turalde, 36, told USA Today. He has several aunties who live near Lahaina's popular Front Street which bore some of the heaviest.
One of them went missing on Wednesday morning.
At the shelter, Les Munn, 42, recalled packing his belongings as the hurricane winds began coming to shore. His building then caught fire around him. "Everything went black", he said, as the smoke began pouring in.
"I ran up, knocking on some of my neighbours doors. And some of them wouldn't come out," he said, sounding perplexed by their decision.
Eventually he ran outside, spotted a blue light from a police car through the dense black smoke, and ran and dove into the back of the vehicle. "And that's how I survived," he said from his shelter cot.
He added that he had not seen any of his neighbours in the shelter and was concerned for their safety.
"I don't know their fate," he said. "I don't know if they survived."
With additional reporting by Chloe Kim
This video can not be played
To play this video you need to enable JavaScript in your browser.
Media caption,
Watch: Four factors that made Maui wildfires so deadly