"The Tisa was shallower than I expected, just up to my chest," said George. "So I didn't need to swim. I just waded across the river."
When he reached the Romanian shore, a Ukrainian patrol spotted him.
"I heard shots first, then a string of insults. But I wasn't afraid. When you've spent time at the front, you know the difference between bullets fired in the air, and bullets fired at you."
George is a big man with a soft face and a wounded look. As a deserter from the Ukrainian army, he would face 10 years in jail if he were caught.
George is not his real name. His and the names of other Ukrainians in this piece have been changed to protect their identities.
His first night in the trenches was the worst. That was in March last year, a month after the war started.
"We had 27 dead and 57 injured." He flicks through images on his phone of his former comrades. His forehead crumples as he does so and his big hands shake.
"All these people are dead, except me and that one" – he points to a woman in camouflage fatigues.
It took him several weeks and thousands of euros paid to a network of "guides", to cross the whole of Ukraine from the eastern war zone to this green and peaceful western border.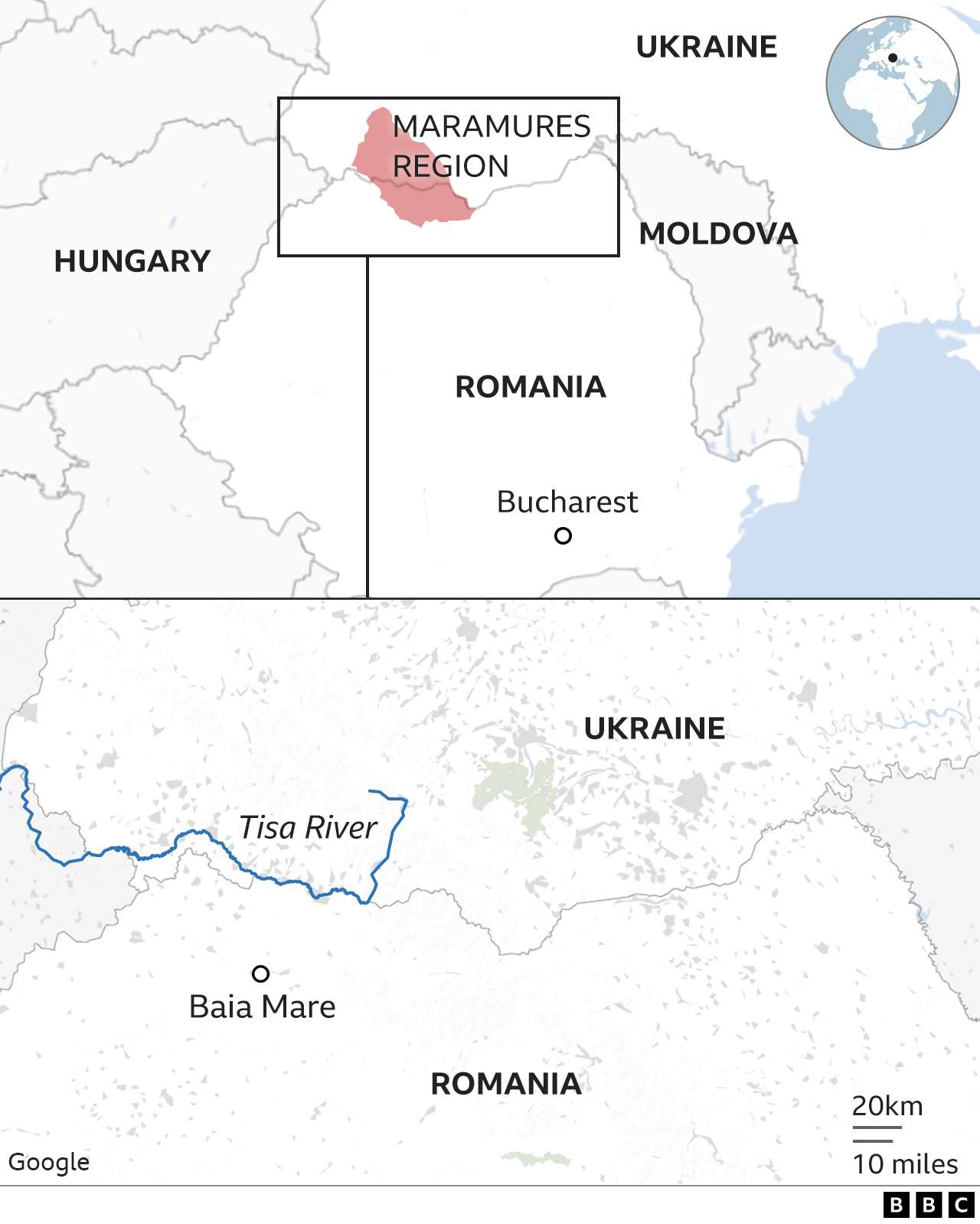 Enforcing the draft in Ukraine can be difficult and corruption is recognised as a major problem by the authorities. Reliable sources in western Ukraine speak of the existence of a "monthly rate" – a payment made to keep someone out of the army.
There are also reports from the Ukrainian frontlines, of commanders asking the recruitment office to stop sending them men who don't want to or are too scared to fight. They are just a burden in battle.
But many men see fleeing to another country illegally as their only chance of avoiding combat.
The Ukrainian army stops cars and buses every dozen kilometres on the road beside the Tisa river, looking for draft dodgers. Their database, chaotic at the start of the war, is improving.
The Ukrainian Border Police recently reported that they are detaining up to 20 men a day. The BBC has approached the Armed Forces of Ukraine for comment on rates of desertion and draft dodging.
But according to the Romanian immigration authority, 6,200 Ukrainian men of military age have crossed the 600 km (373 mile) border into Romania illegally since Russia's full-scale invasion last year and been granted temporary protection.
Some 20,000 others made it there legally, armed with exemptions – sometimes paid for, sometimes not – and chose not to return.
And according to unofficial Ukrainian figures, 90 men have died on the journey to Romania – either drowned in the Tisa, or frozen to death in the mountains – in the past 15 months.
Both sides have problems to contend with. The stories of tens of thousands of Russians fleeing the war and mobilisation have been extensively reported.
But this is the story of those Ukrainians who quit or dodged the call-up.
Dima rolls back his sock to show me his right foot. It looks like a round, pink club.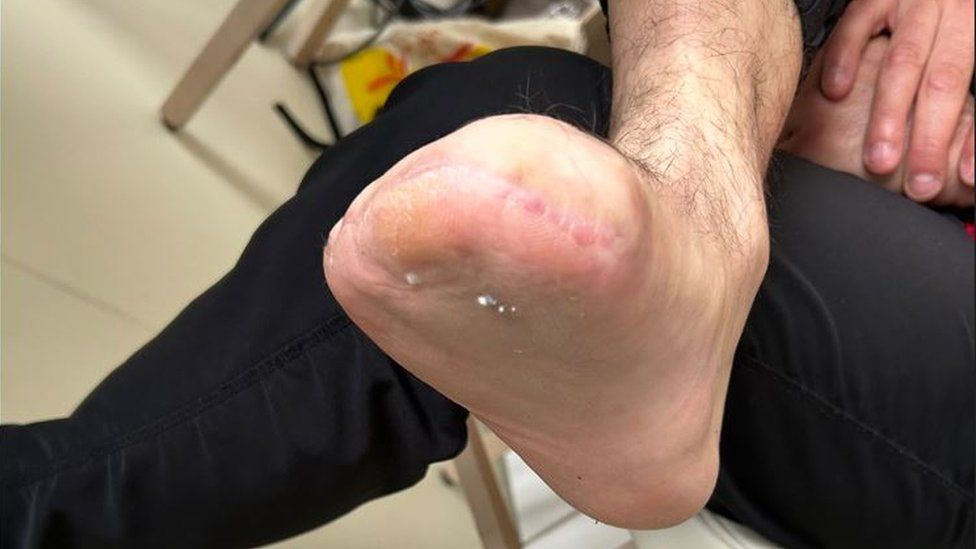 Image caption, Dima lost all the toes on his right foot to frostbite when he fled the draft and crossed the mountains into Romania
He lost all his toes to frostbite, when he crossed the Maramures mountains from western Ukraine into northern Romania. He'd fled Ukraine when his call-up papers came. One of the four men in his group died.
"On the second night in the snow storm, I rang my wife. I said I was sorry, I wasn't going to make it."
"I told him to stop being stupid, get up and keep going," Katja says, beside him. They're holding hands, tightly.
Those we met here were mostly from the ethnic Romanian minority in western Ukraine but our research indicates that this is a widespread phenomenon across the country.
The border between Ukraine and Romania runs along a mountain ridge in this section. There's an almost vertical drop on the Romanian side. That's where the "guides" – in reality, smugglers – directed Dima and nine other men.
Trying to descend, Dima lost his balance in the wind and ice, and hurtled down the mountain, losing his boots, his phone, and one of his socks. Bruised, bleeding and shaken, he improvised a sock with his torn trouser leg and phone cable, and stumbled on.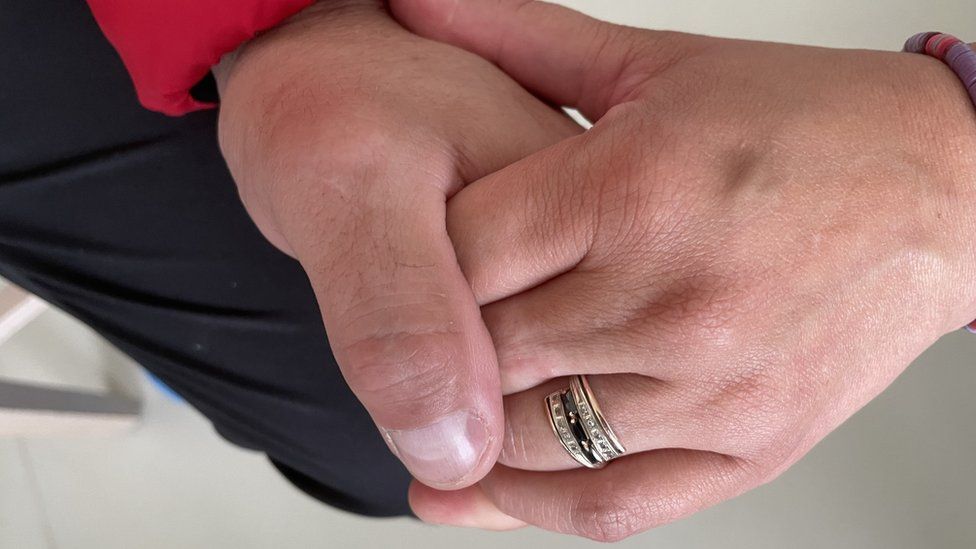 Image caption, Like all Ukrainians in this piece, Dima and Katja did not want to give their real names or have their faces photographed
The Romanian rescue service, alerted by his wife, found him barely alive after four days and three nights in the mountains. He was airlifted to safety by helicopter.
"What would you answer if someone called you a coward?" I ask, as gently as I can.
"I have no country," he says awkwardly. "I just have a family."
In Baia Mare, a large, relatively prosperous Romanian city near the Ukrainian border, I meet Veronika, formerly a doctor in Zaporizhzhia, a town which has faced constant Russian rocket attacks.
She left her job and took her son to safety in Romania, a few weeks before his 18th birthday, to keep him out of the army. She shows me a photograph. A studious youth, with glasses and a Harry Potter look.
"He has a very good brain but physically he's not strong. A country can't just have military service. A country must have brains. I think my son is the brain of my country in future."
Like George and Dima, she has no idea when or if they can ever return to Ukraine.
Maria, a 22-year-old Romanian border guard, opens the boot of her patrol car to show me a plastic bag full of blankets and men's clothes.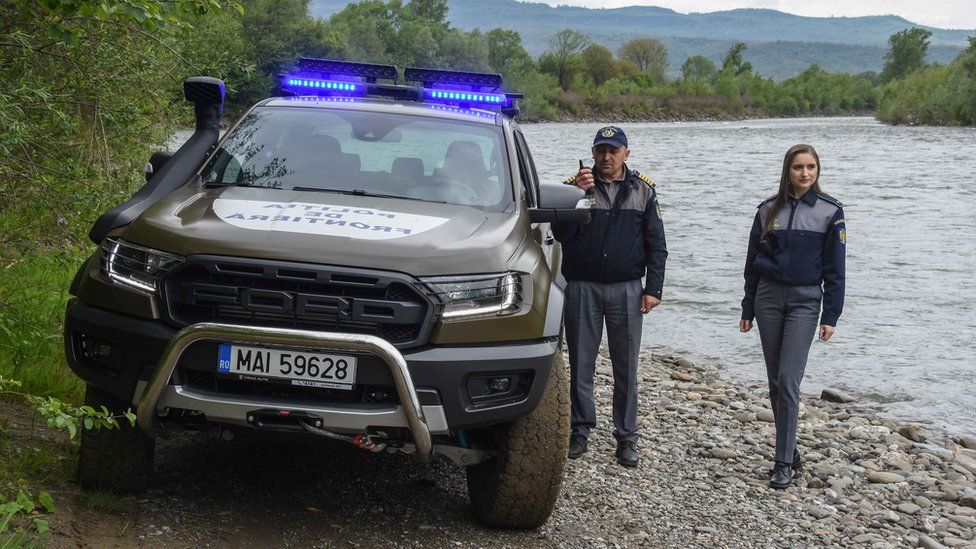 Image caption, Maria (right) and her border guard colleagues are often the first people to speak to the fleeing Ukrainians after they cross the border
"When men cross the river here, they are cold and wet and frightened. They think we will send them back. But we never do," she says.
As a Ukrainian speaker, she's often the first person the men speak to.
Some, like George, have battle wounds which re-open in the exertion of the border crossing. Others cut their feet on the barbed wire and broken bottles they claim the Ukrainian soldiers put in the water, to deter them.
Maria does her best to reassure them: "I try my best to help and care for them because it's what they need from us. And give them food and medical care, if needed."
For more on this story, listen to Assignment – Ukraine: the men who don't want to fight