Wendi Lou Lee was experiencing headaches and dizzy spells for weeks when she finally received a diagnosis. The mother of two had a brain tumor.
The former actress, who played "Baby Grace" Ingalls on "Little House on the Prairie," wrote a memoir coming out Aug. 13, "Red Tail Feathers: Dare to Discover the Beauty of Grace."
The book details her health battle and how she relied on her unshakable faith in God during her recovery. The 45-year-old previously opened up about her diagnosis to Fox News Digital in 2019.
"This book was like a big therapy session after brain surgery," Lee told Fox News Digital. "I felt like I had to look back on my life through a different lens. And I saw grace in a different way. I defined it in a different way. And I felt God changed my perspective."
'LITTLE HOUSE ON THE PRAIRIE' STAR MELISSA GILBERT ON EMBRACING A SIMPLER LIFE: 'I DON'T MISS HOLLYWOOD'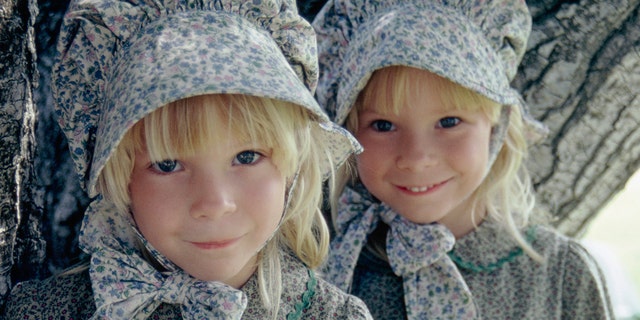 Wendi Lou Lee (right) and her twin sister Brenda played Grace Ingalls in "Little House on the Prairie." (NBCU Photo Bank/NBCUniversal via Getty Images via Getty Images)
It was 2015 when Lee started suffering from "crazy headaches" that wouldn't go away. For six weeks, she "tried everything" as doctors struggled to find the cause of her health woes.
"I started to think that maybe I was going a little crazy," Lee admitted. "Maybe I was overdramatizing something. I was going through that battle where you're just doubting what you think you're feeling for a long time.
"I was at the doctor every week. I go to the doctor maybe once a year, so this was very strange."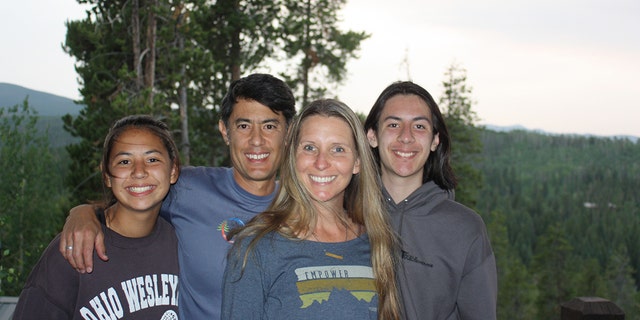 Wendi Lou Lee, a mother of two, had no idea she had a growing brain tumor. (Courtesy of Wendi Lou Lee)
Lee was sitting down at her office job when she suddenly felt "like my whole equilibrium just went to the right." She immediately left work, picked up her kids from school and called her doctor, stressing that something was seriously wrong.
New tests were ordered. This time, Lee finally had an answer. A growing tumor was discovered in the ventricles of her brain.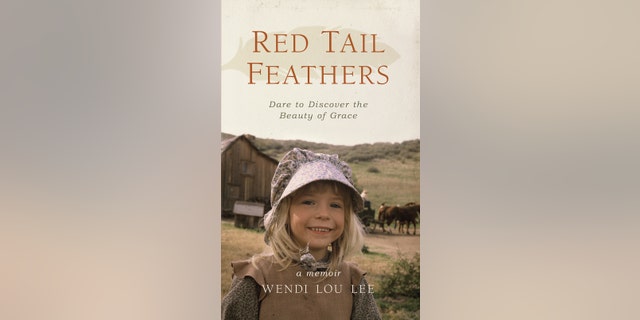 Wendi Lou Lee has a new memoir, "Red Tail Feathers." (Pocketful of Sunshine)
"[My doctor] finally ordered the brain scan," she recalled. "I don't know why we didn't order the brain scan earlier, but I was just listening to my doctor and trusting my doctor and not thinking, 'Oh yeah, I have a brain tumor.' I wasn't going there. And she didn't go there. And then, all of a sudden, that's what it was."
CLICK HERE TO SIGN UP FOR THE ENTERTAINMENT NEWSLETTER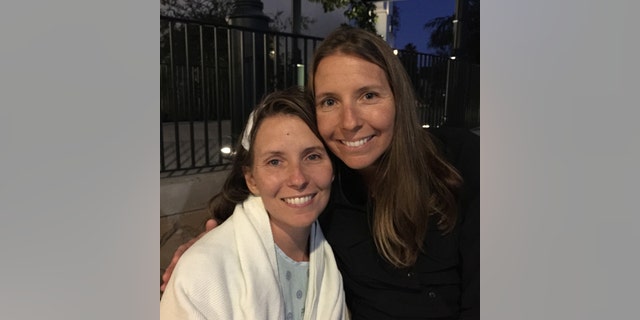 Wendi Lou Lee (left, seen here with her twin sister) had brain surgery in 2015. (Courtesy of Wendi Lou Lee)
Brain surgery was scheduled for the following week. Lee said she was "relieved."
"It might sound crazy … [but] for so long we didn't know what it was," she explained. "Sometimes, an answer, no matter what the answer is, is better than the unknown. And so, for me, I was so relieved to go, 'I can move forward.' Because for so long there was nothing. There was no answer. And that's just a terrifying place to be. I was like, 'This could go well or this could not go well, but at least I have a path to take.'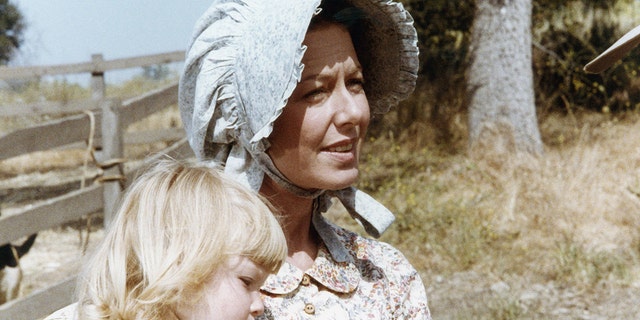 Wendi Lou Lee, a former child actress, faced a major health battle as an adult. (NBCU Photo Bank)
"And so, I was relieved," Lee added. "I'm a little scared, especially … for my family. … I had an 8-year-old and an 11-year-old at the time, and they really needed me. … [But] this peace just came over me, knowing that I had a road to walk on. I could do it trusting God, or I could do it not trusting God. I chose to trust that this was the path I was supposed to walk on."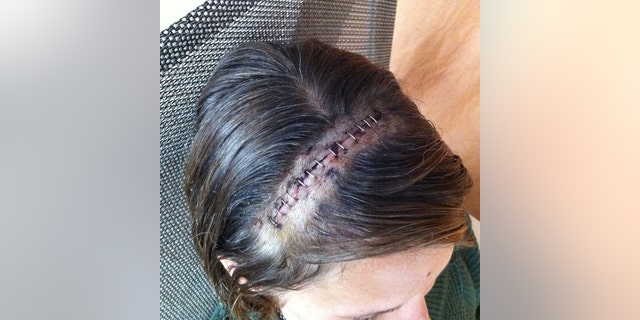 Wendi Lou Lee told Fox News Digital she leaned on her loved ones and God during her long recovery. (Courtesy of Wendi Lou Lee)
Lee said it was her "very faithful close walk with God" that gave her bravery to face brain surgery and the possible complications that could come with it.
WATCH: 'LITTLE HOUSE ON THE PRAIRIE' ACTRESS RECALLS BRAIN TUMOR DIAGNOSIS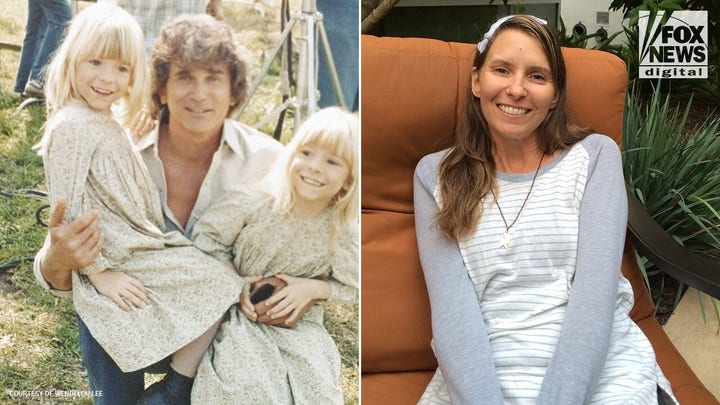 Video
"I have been a believer my whole life," said Lee. "I was raised in the church, and it's just a part of who I am. But there's something that happens when you go through something really hard that just brings you to a different level. It makes you cling to God in a way that you never knew that you could. It was an eye-opening feeling of 'I do need God more than I ever knew that I needed him.'"
Surgery was successful. And a long recovery awaited Lee. Her loved ones and prayer gave her comfort as she navigated life again.
'LITTLE HOUSE ON THE PRAIRIE' STAR KAREN GRASSLE GETS CANDID ON SOBRIETY, MAKING PEACE WITH MICHAEL LANDON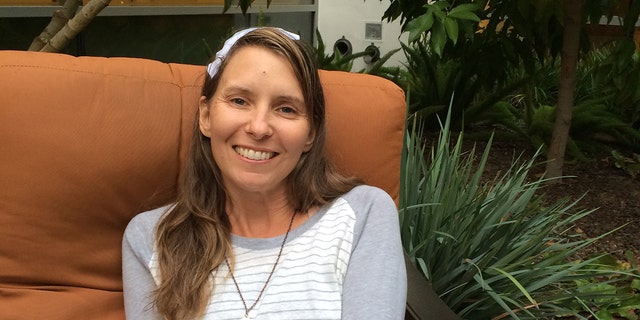 Wendi Lou Lee detailed her close relationship with God in her new book. (Courtesy of Wendi Lou Lee)
"It took about a year for me to be able to start running again," she said. "Riding a bicycle was like, 'Oh my goodness, I might fall off.' I was pretty much back to normal [in] about a year. … I still deal with headaches. Your brain's not supposed to get opened up and tinkered with without some long-lasting effects. So, if anything is off with me, I get a headache. It's just the territory.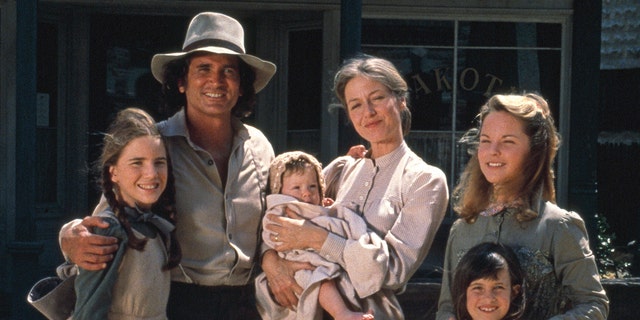 Wendi Lou Lee said she's connected with "Little House" fans over the years. (NBCU Photo Bank/NBCUniversal via Getty Images via Getty Images)
"It's funny. When I woke up from surgery, it was just this incredible experience of waking up," she added. "It wasn't 'Why me?' It was, 'Wow, I can't believe that I got to do this. What a privilege [it is] to get to walk this road and learn what I've learned and grow so close to God in the process.' I knew God was going to do something with this.
"And I felt privileged that He would choose me to do this. I woke up from surgery and said, 'This is the best day of my life.' Not just that I woke up, but that God was writing this different story in my life. And He was going to let me use it to hopefully bring him glory and to live my life in a different way."
Looking back, Lee described her time on "Little House" as "a blessing." It has allowed her to connect with fans over faith.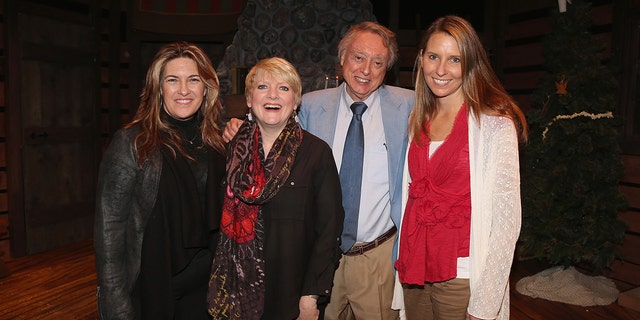 Wendi Lou Lee (right) is still in touch with her former "Little House" castmates. (Loreen Sarkis/Getty Images)
"It's my whole life now," she said. "I hang out with fans and talk about episodes and pray for them, and they pray for me. I have a group where you read through the whole Bible together. It's incredible. I also do a weekly live video with them, and we have tons of events planned for this fall. They're fans, but they're also friends."
According to Lee, the casting director of "Little House" was looking for six-month-old twins with blonde hair and blue eyes to share the role of Baby Grace.
"The [casting director] was really good friends with my grandparents," she explained. "They were having lunch one day, and what do you talk about in the '70s? The latest television show. They're talking about 'Little House' and … my grandmother's like, 'What about my granddaughters?'"
MICHAEL LANDON'S DAUGHTER IS 'YELLOWSTONE' STAR: WHAT TO KNOW ABOUT JENNIFER LANDON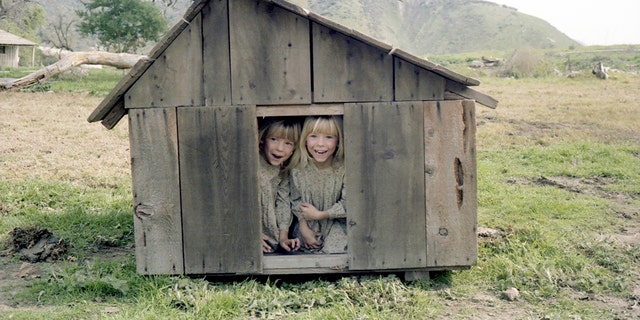 Wendi Lou Lee and her sister led normal lives after their time on "Little House." (Courtesy of Wendi Lou Lee)
"They were desperate, I will say," Lee laughed.
Within three minutes of meeting "Little House" star Michael Landon, Lee and her sister were cast. They started filming at 8 months old. Growing up, Lee's mother shared with her memories of their time on set.
"Michael Landon was amazing," said Lee. "He was so warm, so kind and so patient. [Co-star] Melissa Gilbert was just so fun. She would sneak off set to play with us. … Michael had so much charisma. He loved kids and just lit up around them. [Co-star] Karen [Grassle] was just like the natural mother to everyone. We were so content in her arms. … [The cast] was so much like their characters."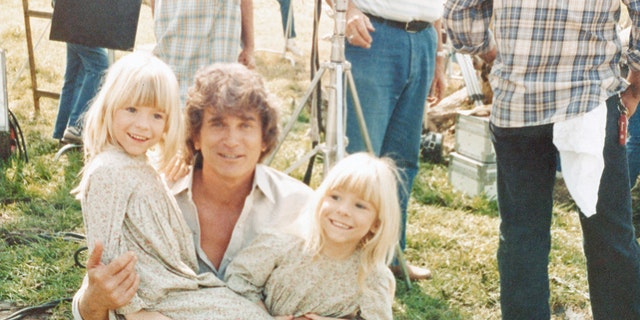 Wendi Lou Lee described Michael Landon as a warm and caring castmate who was attentive and patient. (Courtesy of Wendi Lou Lee)
The twins didn't pursue an acting career after the series ended in 1983.
"Our life was so normal," said Lee. "We were not well off at all. My stepdad was a mailman, and my mom had four kids. So, she was home with the four kids. And we lived on a very small salary. We shared everything, and we didn't go on expensive vacations. We were as normal as you could be, maybe a little below normal. We lived without a lot.
"People think, 'You were on TV. You must be a millionaire and live in a mansion.' Ha, no. I don't know any 'Little House' person, even the top of the top, that lives like that. Maybe that's how it is when you're on TV now. … The pay was so different.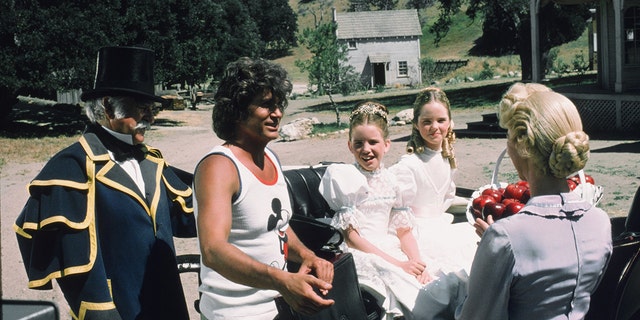 Michael Landon (Mickey Mouse tank top) directing a scene from "Little House on the Prairie." (NBCU Photo Bank)
"Back in the '70s, you didn't have these big contracts with rerun contracts and foreign sales," she explained. "Especially when you are a child who [didn't] even have a contract the first couple of seasons because we were really considered like extras. We got paid daily per diem, even though we were Michael Landon's youngest daughter. My earnings from 'Little House' did not put me through college. I think they paid for a portion of my very first old car if that tells you how much money we really had left."
KATY PERRY'S BACKUP SINGER TURNED DOWN POP MUSIC CAREER TO SERVE GOD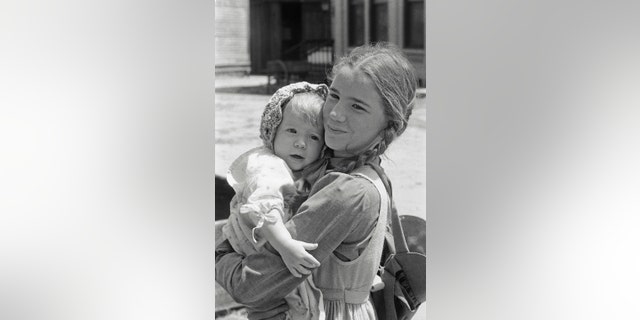 Wendi Lou Lee said Melissa Gilbert (right) happily played with her and her sister. (Gary Null/NBCU Photo Bank/NBCUniversal via Getty Images via Getty Images)
Today, Lee hopes her book will encourage others to "see God" amid their obstacles in life.
"How do you see grace in all of it?" she said. "How do you keep going when the road is tough? I tell [readers] at the end of the book, 'Now you go find some red tail feathers of your own.' The encouragement is to take the time to look through your life and see God in a new way."