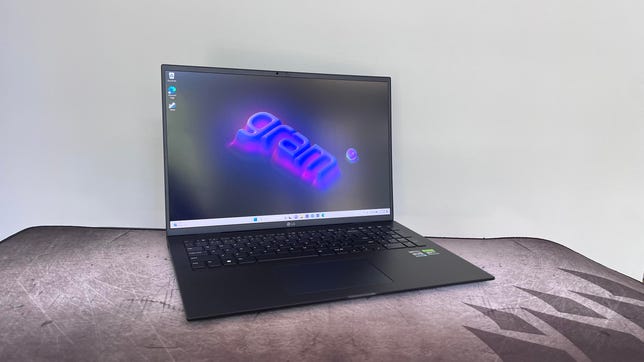 7.8
LG Gram 17 (2023)
$2,300 at LG
Like
Supremely light for a 17-inch model
Ample RAM and SSD capacity
Strong audio output
Don't like
Pricey
Some flex to mag-alloy chassis
Previous-gen RTX graphics
So-so keyboard and touchpad
The LG Gram 17 line has always been about combining productivity and portability, delivering a roomy 17-inch display that provides ample room to work in a trim, three-pound package. This year's version adds the option for dedicated GeForce RTX 3050 graphics, which makes the Gram 17 a good fit for content-creation basics. The graphics boost adds some weight to the Gram 17 and somewhat shortens battery life, but the Gram 17 remains impossibly thin and light — and long-running.
Our gripes of past Gram models remain, though: The magnesium-alloy chassis feels a bit flimsy, and the price is a bit steep. The Gram 17's thin enclosure certainly makes it a lightweight travel companion, but it's not nearly as luxuriously solid-feeling as the aluminum chassis of an Apple MacBook Pro 16 or Dell XPS 17. The keyboard and touchpad are also negatively affected by the Gram 17's extreme thinness. Priced at $2,300, our test model offers competitive processor performance for the price, but I'm of the opinion that any laptop north of $2,000 should offer a GPU from Nvidia's current 40-series generation and not previous-gen RTX 3050 graphics. Given the tradeoffs it forces you to make, the Gram 17 is best suited for extremely mobile power users who desire a large-screen laptop in the lightest possible package.
Configuration as tested
| | |
| --- | --- |
| Price as reviewed | $2,300 |
| Display size/resolution | 17-inch WQXGA 2,560×1,600 antiglare IPS |
| CPU | 2.2GHz Intel Core i7-1360P |
| Memory | 32GB DDR5 6,000MHz |
| Graphics | 4GB Nvidia RTX 3050 |
| Storage | 2TB PCIe NVMe SSD |
| Networking | Intel Wireless-AX211 802.11ax, Bluetooth |
| Connections | USB-A 3.2 Gen2x1 (x2), USB-C Gen3x2 (x2), headset combo jack, microSD card slot, HDMI out |
| Operating system | Window 11 Home 22H2 |
The LG Gram 17 line starts at $2,000 for a system that features an Intel Core i7-1360P CPU, RTX 3050 graphics, 16GB of RAM and a 1TB SSD. Our $2,300 test system doubles the RAM to 32GB and the SSD to 2TB. Both models feature the same CPU/GPU combo powering a 17-inch nontouch display with a 2,560×1,600-pixel resolution, a tall 16:10 aspect ratio and a variable 144Hz refresh rate. The LG Gram 17 starts at £1,600 in the UK for a model with the same Core i7-1360P processor but integrated Intel graphics. An RTX 3050-based model is available in Australia for AU$3,599.
The Intel Core i7-1360P processor is a member of Intel's 28-watt P series that sits between the more efficient 15-watt U series and more performance-oriented 45-watt H series. It features Intel's hybrid architecture with performance and efficiency cores; it has four performance cores, eight efficiency cores and a total of 16 processing threads. Combined with the RTX 3050 GPU and a generous 32GB of RAM, the Gram 17 offers balanced performance. When matched up against other content-creation laptops, its performance fell in between laptops — namely the Dell XPS 17 9730 and Samsung Galaxy Book 3 Ultra — that feature power-oriented Core i7 H-series processors and newer and more powerful RTX 4050 or 4070 graphics, and the 16-inch Lenovo Yoga 7i that features a Core i7 U-series chip and integrated Intel graphics.
The M2 Pro-based, 16-inch MacBook Pro also proved itself faster on the cross-platform Geekbench 5 and 3DMark tests while also lasting longer on our battery drain test. The Gram 17 lasted longer than 11 hours in battery testing, which ought to get you through the longest of workdays (and it charges quickly, too). That said, the previous LG Gram 17 we reviewed in 2020 lasted nearly two hours longer. And even the Dell XPS 17 9730 and its high-powered Intel H-series CPU outlasted the Gram 17 on our battery test.
A 17-inch ultraportable
The matte-black Gram 17 offers a look that's akin to the minimalist beauty of a Razer Blade laptop. Absent chrome accents and with minimal branding, the Gram 17's design is decidedly understated. It's also very thin and light at only 0.7-inch thick and 3.2 pounds. While the 2020 LG Gram 17 weighed just under 3 pounds, the 2023 version remains very lightweight for a 17-inch laptop. We consider the Samsung Galaxy Book 3 Ultra to be light for its class, and it has a smaller 16-inch display and weighs 4 pounds. The 16-inch MacBook Pro weighs even more at 4.7 pounds.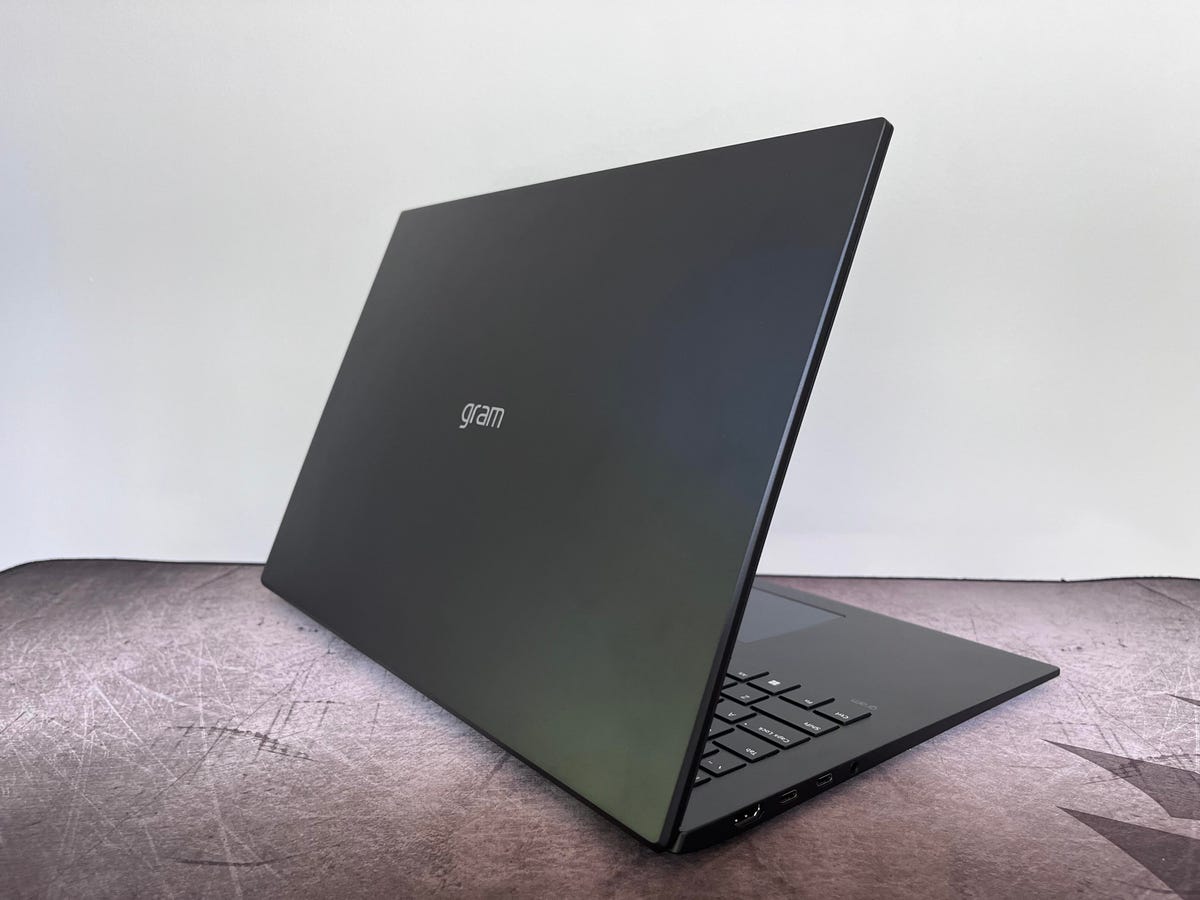 Matt Elliott/CNET
The tradeoff for getting such a lightweight package is living with some flex of the magnesium-alloy enclosure. It's just not as rigid as an aluminum body. The keyboard deck feels fairly solid, and most of the flex is in the thin lid behind the display. The thinness of the keyboard deck has more to do with the so-so typing experience than the slight amount of flex it has. The keys offer shallow travel with firm feedback. With a bit more travel, the keys would feel more tactile with a snappier response. The keyboard is roomy, though, and no keys are shortened or squished to accommodate the number pad.
The touchpad is wider than previous models and offers smooth gliding with its matte finish. As opposed to the keys, the touchpad offers too deep travel when clicking to the point of feeling mushy in the front corners.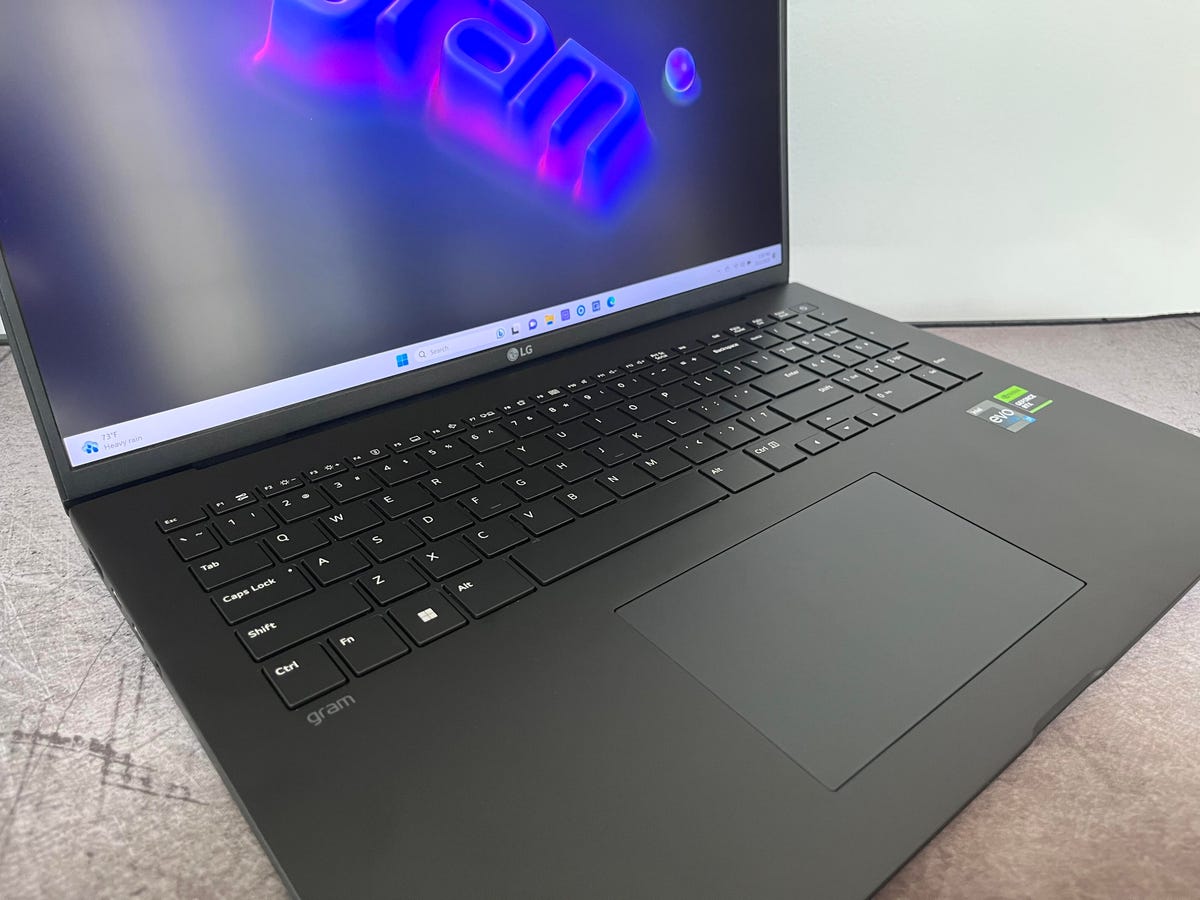 Matt Elliott/CNET
The matte finish on the touchpad and elsewhere on the Gram 17 means the laptop is a magnet for fingerprints and smudges. Keep a cleaning cloth handy to keep the laptop looking pristine.
The 17-inch, 16:10 display is delightfully enormous. It's taller than a traditional 16:9 widescreen display and is also an inch wider than 16-inch, 16:10 laptops that are growing in popularity. The 2,560×1,600-pixel resolution results in crisp text and images. And while the RTX 3050 doesn't make it a gaming monster, its display is faster than the typical 60Hz panel with a variable 144Hz refresh rate that smooths out the appearance of fast-moving video and will keep up with you during Fortnite and other casual shooters.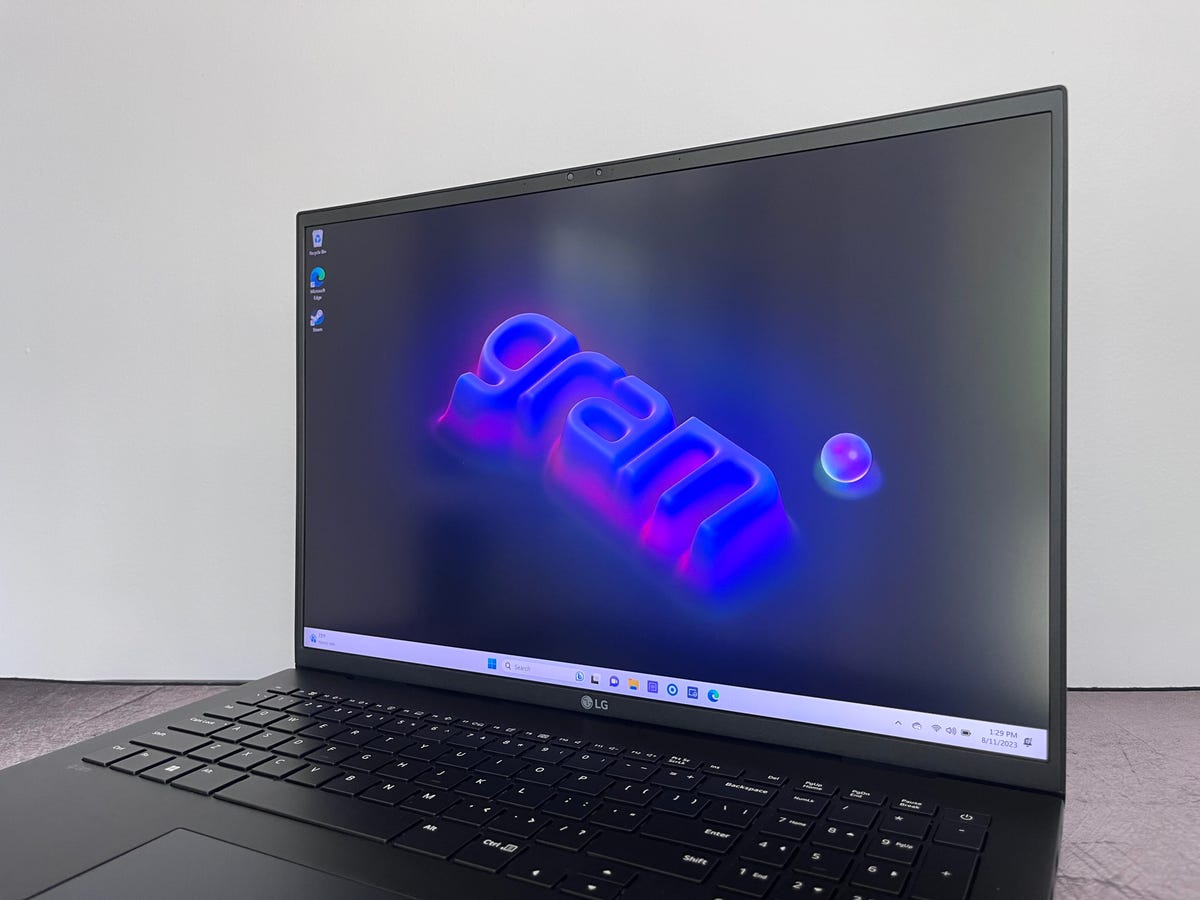 The panel is rated for 350 nits of brightness, and my testing showed it's even a bit brighter than that with a maximum of 390 nits. It offers more than enough brightness for most indoor environments, and I even found myself using it with the display brightness set to around 70% in my sunny breakfast nook.
The 1080p webcam produces a crisp, well-balanced image with accurate colors and skin tones. I experienced some graininess in low-light situations but nothing to the degree you'd get with a lower-res 720 camera. The webcam also has an IR sensor so you can use facial recognition for easy, secure logins. The laptop lacks a fingerprint reader, so the IR camera is appreciated.
The Gram 17 features a pair of bottom-firing speakers, which is usually strike one and strike two when it comes to laptop speakers. On larger models, in particular, manufacturers often find room for a quad array for fuller sound. And on many laptops, the speakers are positioned to fire forward from the front edge or upward from the top, which usually results in better audio. To my surprise, the Gram 17's speakers produced well-rounded sound that filled my small office. They are definitely powerful enough for watching movies and shows and can even be used for some music playback as long as you keep your bass expectations in check.
Geekbench 5 (multicore)
MacBook Pro (16-inch, 2023) 15,009Samsung Galaxy Book 3 Ultra 12,558Dell XPS 17 9730 12,355LG Gram 17 (2023) 9,983Lenovo Yoga 7i (82YN-16IRL8) 8,809 Note: Longer bars indicate better performance
The laptop offers a spare but useful selection of ports. There's a pair of USB-C ports with Thunderbolt 4 support on the left and a pair of USB-A ports on the right. You also get an HDMI port, a headphone jack and — in a nod to content creators — a miniSD card slot. Since the laptop charges via the USB-C ports, it would've been nice if LG split the two of them up between the left and right.
A buyer shopping for a 17-inch laptop is usually looking for a system for the home or office where it'll stay and not make the trek back and forth between those two locations with any great frequency. The LG Gram 17 is unique in that it weighs just over 3 pounds — light enough for daily commutes without giving its owner a sore shoulder. And with an Nvidia RTX GPU, it holds some appeal to on-the-go content creators. Or students who might want to engage in some casual gaming. Just know you sacrifice some of the solid feel you would get with an admittedly heavier aluminum chassis for the increased portability.
How we test computers
The review process for laptops, desktops, tablets and other computer-like devices consists of two parts: performance testing under controlled conditions in the CNET Labs and extensive hands-on use by our expert reviewers. This includes evaluating a device's aesthetics, ergonomics and features. A final review verdict is a combination of both objective and subjective judgments.
The list of benchmarking software we use changes over time as the devices we test evolve. The most important core tests we're currently running on every compatible computer include: Primate Labs Geekbench 5, Cinebench R23, PCMark 10 and 3DMark Fire Strike Ultra.
A more detailed description of each benchmark and how we use it can be found in our How We Test Computers page.
Geekbench 5 (multicore)
MacBook Pro (16-inch, 2023) 15,009Samsung Galaxy Book 3 Ultra 12,558Dell XPS 17 9730 12,355LG Gram 17 (2023) 9,983Lenovo Yoga 7i (82YN-16IRL8) 8,809 Note: Longer bars indicate better performance
Geekbench 6 (multicore)
Dell XPS 17 9730 13,266Samsung Galaxy Book 3 Ultra 12,717LG Gram 17 (2023) 9,366Lenovo Yoga 7i (82YN-16IRL8) 9,303 Note: Longer bars indicate better performance
3DMark Wild Life Extreme
Dell XPS 17 9730 17,740MacBook Pro (16-inch, 2023) 12,989Samsung Galaxy Book 3 Ultra 12,853Lenovo Yoga 7i (82YN-16IRL8) 3,736LG Gram 17 (2023) 3,663 Note: Longer bars indicate better performance
PCMark 10 Pro
Samsung Galaxy Book 3 Ultra 7,545Dell XPS 17 9730 7,114LG Gram 17 (2023) 6,708Lenovo Yoga 7i (82YN-16IRL8) 5,988 Note: Longer bars indicate better performance
Guardians of the Galaxy (High @1920 x 1080)
Samsung Galaxy Book 3 Ultra 131Dell XPS 17 9730 122LG Gram 17 (2023) 60 Note: Longer bars indicate better performance
Online streaming battery drain test
MacBook Pro (16-inch, 2023) 1,474Lenovo Yoga 7i (82YN-16IRL8) 820Dell XPS 17 9730 714LG Gram 17 (2023) 664Samsung Galaxy Book 3 Ultra 634 Note: Longer bars indicate better performance
System Configurations
| | |
| --- | --- |
| LG Gram 17 (2023) | Microsoft Windows 11 Home; 2.2GHz Intel Core i7-1360P; 32GB DDR5 6,000MHz RAM; 4GB Nvidia GeForce RTX 3050 graphics; (2) 1TB SSD |
| Dell XPS 17 9730 | Microsoft Windows 11 Home; 2.4GHz Intel Core i7-13700H; 32GB DDR5 4,800MHz RAM; 16GB Nvidia GeForce RTX 4070 graphics; 1TB SSD |
| Lenovo Yoga 7i (82YN-16IRL8) | Microsoft Windows 11 Home; 1.7GHz Intel Core i7-1355U; 16GB DDR5 6,400MHz RAM; 128MB Intel Iris Xe graphics; 512GB SSD |
| Samsung Galaxy Book 3 Ultra | Microsoft Windows 11 Home; 2.4GHz Intel Core i7-13700H; 16GB DDR5 6,000MHz RAM; 6GB Nvidia GeForce RTX 4050 graphics; 1TB SSD |
| MacBook Pro (16-inch, 2023) | MacOS Ventura 13.2; 3.3GHz Apple M2 Pro (8P/4E) 12 CPU cores, 19 GPU intergrated cores; 32GB LPDDR5 RAM; 2TB SSD |