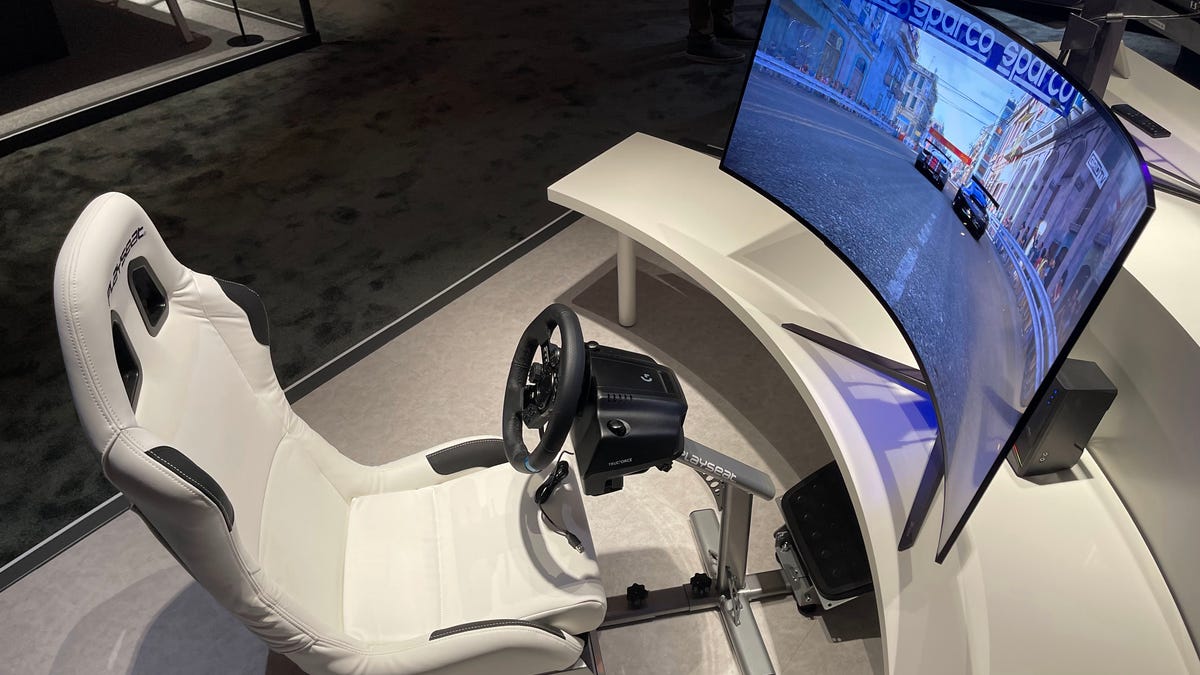 David Katzmaier
The TVs of CES come in two flavors: normal screens you can look forward to seeing in stores later this year, and weird concepts that show what's possible and make a good photo and video opp. When I toured the private booth of LG Display, a company that makes OLED screens for not only LG but other brands, I was immediately drawn to its weird concepts. 
The tour began with a lineup of standard OLED screens that use the company's new high-brightness panels, launching later this year, but then it got fun. First up was an elaborate gaming rig designed for racers, complete with floor pedals and a swooped-back chair. The display in question was a 45-inch Ultra Wide gaming monitor with an 800R curvature that felt super-immersive when I took the wheel. 
Preorder the LG UltraGear OLED 45GR95QE-B
$1,700 at LG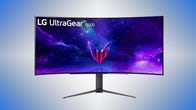 That monitor is actually shipping soon (without the chair, pedals and steering wheel), but the other two concepts I liked are strictly for show, for now. One is a 42-inch OLED TV with a pair of huge circular speakers on either side. They actually obscure the screen, until a motor on the stand activates and they move farther out to the side.
The other was relatively small, a 27-inch OLED concept that LG Display calls LG Glow. The charming setup started with the display in vertical, portrait mode showing a crackling fire. I was able to raise the display up on the stand arm and swing it out into horizontal landscape orientation, while the screen switched to a more standard display showing a music player. I'm not sure how useful it is, but it sure looked cool. Er, warm.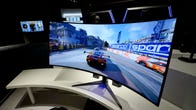 Now playing:
Watch this:

LG Display Shows Sweet Racing Setup with 45-inch Curved…
2:23