close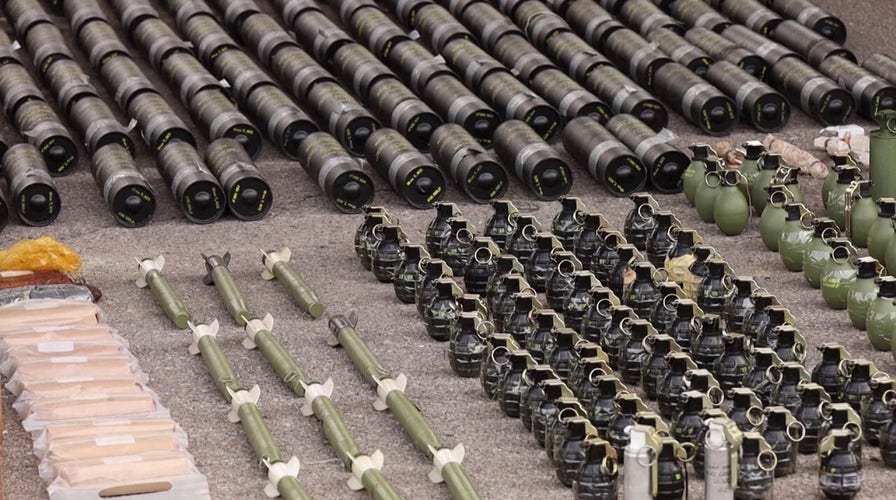 Video
Kosovo show weapons seized after recent siege
Kosovo called on Serbia on Monday (September 25) to hand over all those involved in a shootout between Kosovar police and ethnic Serb gunmen that killed four people in the restive north of the country. (Reuters)
Explosive new evidence from Kosovo alleging Serbia's president knew about a premeditated attack that killed one police officer last week has inflamed tensions between the two Balkan countries.
At least 30 armed gunmen opened fire on police in the ethnically Serb-dominated village of Banjska in northern Kosovo, and then stormed an Orthodox monastery, killing one police officer and wounding two others. Kosovo police confiscated 24 SUV vehicles, 29 anti-tank rocket-propelled grenade launchers, 150 explosive dynamites, 142 mortar shells, 75 hand grenades, seven rocket-propelled grenade launchers and eight anti-tank mines.
"These were not merely small arms that fell off a truck in the 1990s or purchased from the Balkan version of Walmart. It is evident that these weapons must have originated from a state source, and the most obvious origin appears to be Belgrade," Leon Hartwell, non-resident senior fellow at the Center for European Policy Analysis, told Fox News Digital.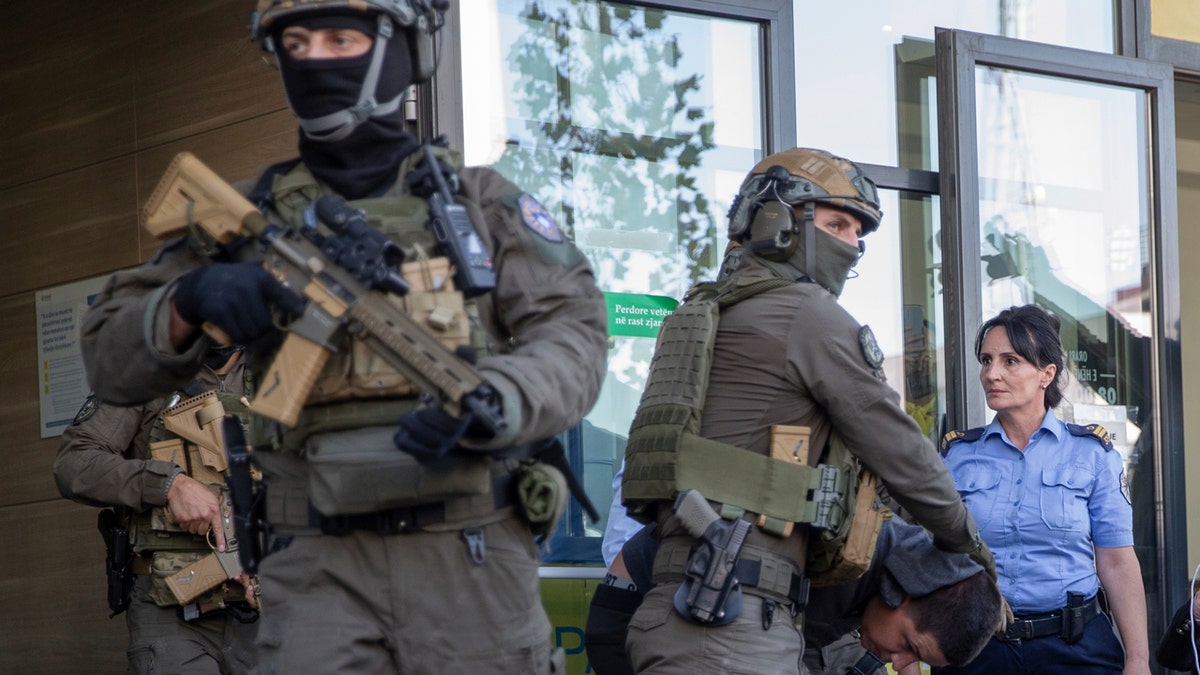 Members of Kosovo's Special Intervention Unit escort the apprehended Serb gunmen from the court in the capital city of Pristina on Sept. 26, 2023. (AP Photo/Visar Kryeziu)
Diplomatic sources in the region tell Fox News Digital that the attack was part of a larger and deliberate plan by Serbia, with help from Russia, to instigate a rebellion in the restive north of Kosovo. The rebellion would serve as a pretext for the Serbian army to enter northern Kosovo and justify the move as "protection of Serbian minorities" and that Serbia's cultural and orthodox religious heritage were in danger.
US ACCUSED OF RETREATING FROM NATO ALLY ALBANIA AS RUSSIA LOOKS TO GROW REGIONAL INFLUENCE
Serbia's ambassador to the U.S. rejected claims that Belgrade had any prior knowledge of the attack. "There was absolutely no knowledge, this event is a major political and human blow for Serbia and the Serbs, and the perpetrators are being brought to justice in Serbia," Ambassador Marko Djuric told Fox News Digital.
Milan Radoicic, vice president of the leading Serbian political party in Kosovo and under U.S. sanctions for criminal activity, was arrested on Tuesday and took full responsibility for planning and participating in the attack but said he acted without direction of the Serbian government.
"I personally made all the logistical preparations for the defense of our people from the occupiers…I didn't inform anyone from the government structures of the Republic of Serbia about this, nor from the local political structures from the north of Kosovo," Radoicic said in the statement. In an interview on Monday, Serbian President Aleksandar Vucic promised that Radoicic and all those responsible for the attack will be held accountable.
There is growing concern in foreign policy circles that a Russian invasion type scenario is happening in Kosovo. Vucic, who recently said that Serbia would protect ethnic Serb minorities in northern Kosovo, is using the same argument Russian President Vladimir Putin offered in February 2022 about protecting Russians in eastern Ukraine prior to the invasion.
"Their modus operandi is analogous with Russia's in several aspects, from Serbian official propaganda about purported violations of the rights of Serbs in Kosovo as an excuse for military incursion in Kosovo, to striving to delegitimize, intimidate, and eliminate any Kosovo Serb who is critical of Vucic's policies, to using Wagner-like structures to pursue their territorial goals," Kosovo's ambassador to the U.S., Ilir Dugolli, told Fox News Digital.
The Biden administration has expressed concerns over Serbia's recent behavior, and many observers in the region share the belief that the plan was too elaborate and too important for the Serbian president or anyone in the Serbian government not to have known about the attack.
"That attack was well coordinated and planned," National Security Council Spokesperson John Kirby said on Friday.
"This is not the kind of an attack that's carried out randomly or ad hoc or by some small group," Kirby added.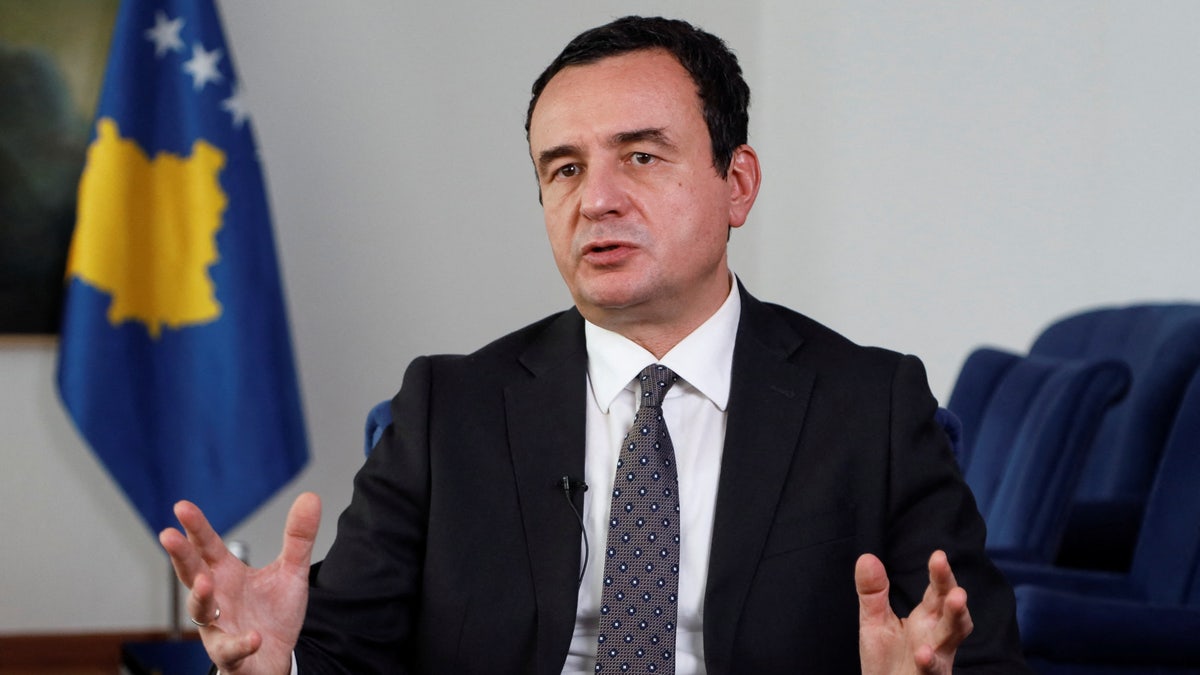 Kosovo's Prime Minister Albin Kurti speaks during an interview with Reuters at his office in Pristina, Kosovo, Aug. 10, 2022. (REUTERS/Fedja Grulovic)
Kosovo's government said in a statement that the Serbian armed forces have been moved in three different directions along the northern border with Serbia. The Serbian ambassador to the U.S. told Fox News Digital that his country is not moving on the northern border and is in fact drawing down its forces.
President Vucic once again condemned the attack that took place in the village of Banjska but forcefully denied claims that the Serbian military is amassing forces on the border, calling the accusations a "campaign of lies" against Serbia.
KOSOVO PRIME MINISTER ASKS WEST NOT TO PRESSURE NATION ON SERBIAN TERRITORIAL TREATY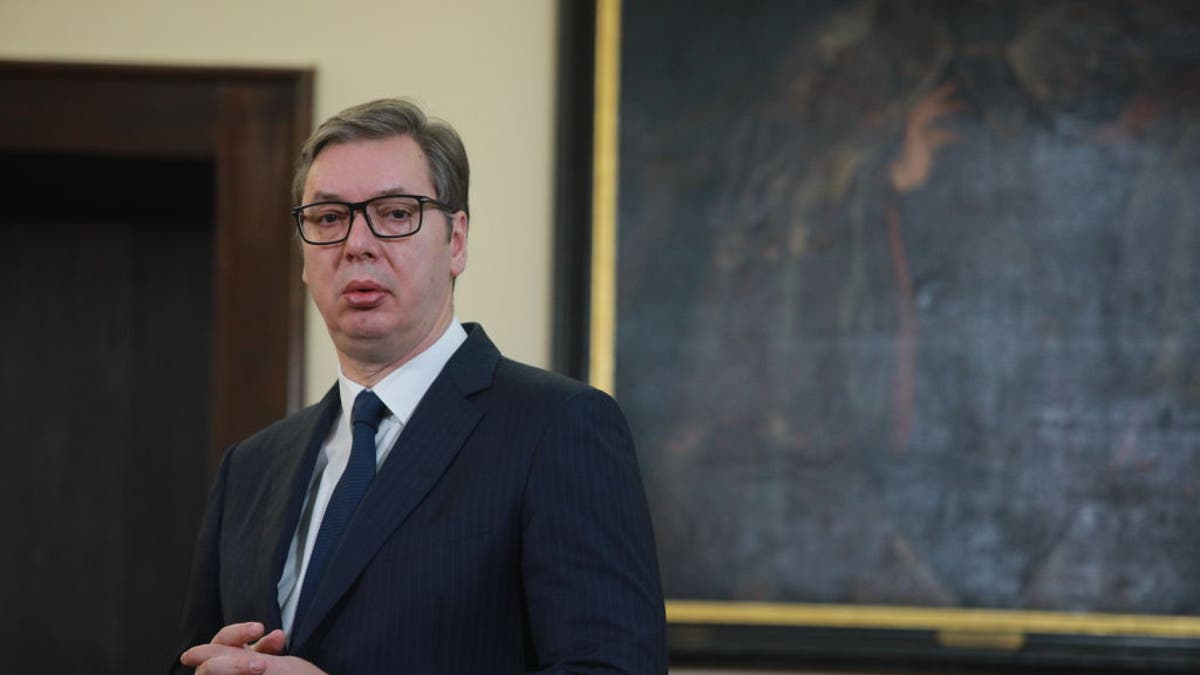 Serbian President Aleksandar Vucic and Serbian Patriarch Porfirije make statements to the press after their meeting in Belgrade, Serbia, on Dec. 27, 2022.  (Photo by Milos Miskov/Anadolu Agency via Getty Images)
Analysts say the violence and heated rhetoric has created the most turbulent period in Serb-Kosovo relations since Kosovo declared independence in 2008, but other experts are skeptical about an impending war.
LONGTIME FOES SERBIA AND KOSOVO NEARING NORMALIZATION OF RELATIONS
"While the latest round of escalations between Kosovo and Serbia are very concerning, an all-out war or Russia-like invasion remains very unlikely in this region," Helena Ivanov, associate fellow at the Henry Jackson Society, told Fox News Digital. Ivanov said this is primarily due to NATO's international peacekeeping force presence in the region, which acts as a strong deterrence to both Kosovo and Serbia.
Vucic has always tried to balance his relations with Belgrade's traditional patron Russia while attempting to remain in the good graces of Europe, according to analysts. Vucic has been able to maintain the balance, even as pressure coming from the West has mounted since Russia's invasion of Ukraine. Serbia officially applied for EU membership in 2009, and the ongoing dispute with Kosovo and the recent bloodshed that implicates Belgrade is the biggest obstacle to EU membership.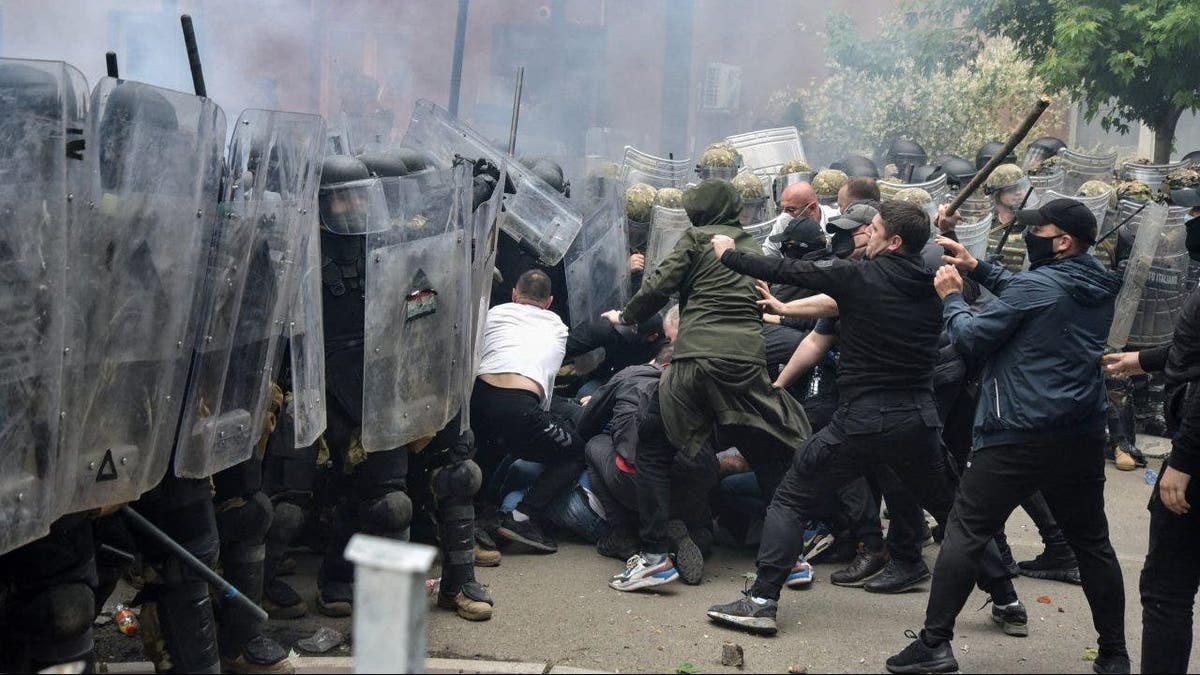 NATO Kosovo Force soldiers clash with local Kosovo Serb protesters at the entrance of the municipality office, in the town of Zvecan, Kosovo, May 29, 2023. (REUTERS/Laura Hasani)
"It is crucial not to underestimate Vucic's potential to engage in actions that could destabilize the entire Balkan region. He is 100 percent willing to utilize spoilers, such as Kosovo Serb terrorist organizations, to sow instability within Kosovo. This, in turn, could lead to significant repercussions throughout the region and beyond. Remember, what happens in the Balkans doesn't stay in the Balkans," CEPA's Hartwell warned.
CLICK HERE TO GET THE FOX NEWS APP
The territorial dispute between Serbia and Kosovo following the 1999 war is unresolved and is a roadblock to further European integration. Kosovo was a former province of Serbia and was once integrated within the nation of Yugoslavia. NATO led a bombing campaign against Yugoslavia in 1999, which comprised Serbia and Montenegro, to defend Kosovo's ethnic Albanians against violence from Belgrade. Nearly a decade later, Kosovo declared independence from Serbia in 2008. Serbia and Russia have thus far refused to recognize their independence.