close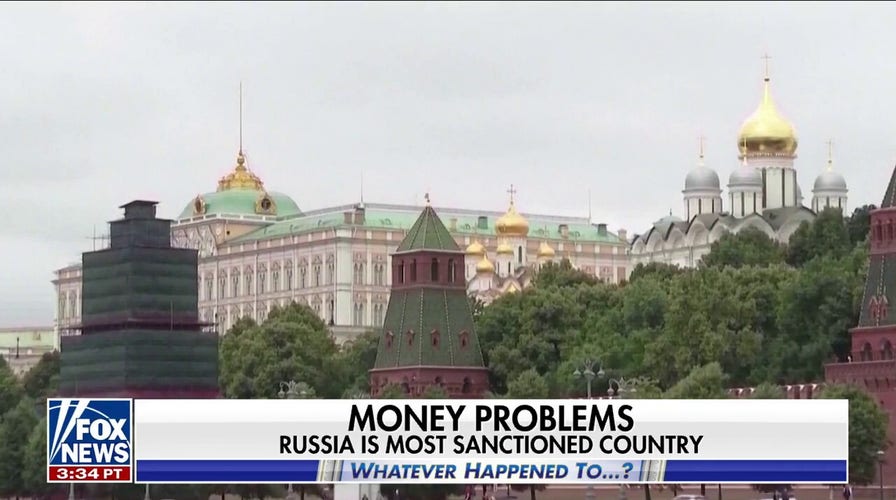 Video
Russia feeling impact of sanctions from Western countries amid Ukraine war
Senior foreign affairs correspondent Greg Palkot reports the latest. 
Russia on Tuesday is claiming that so far this year, more than 335,000 people have signed up to fight in its military and volunteer units, although a further deployment to Ukraine is not coming, a report says.
Reuters, citing Russian state television, quoted Defense Minister Sergei Shoigu telling top generals that there are "no plans for an additional mobilization" and that "the armed forces have the necessary number of military personnel to conduct the special military operation" in Ukraine.
"Since the start of the year, more than 335,000 people have entered military service under contract and in volunteer formations," Shoigu reportedly added. "In September alone, more than 50,000 citizens signed contracts."
Russian President Vladimir Putin had ordered a partial mobilization of 300,000 military reservists last September, but the move prompted young Russians to flee the country to avoid being sent to the front lines, according to Reuters.
RUSSIA CHARGES TOP UKRAINIAN MILITARY LEADERS WITH 'TERRORISM' OVER DRONE STRIKES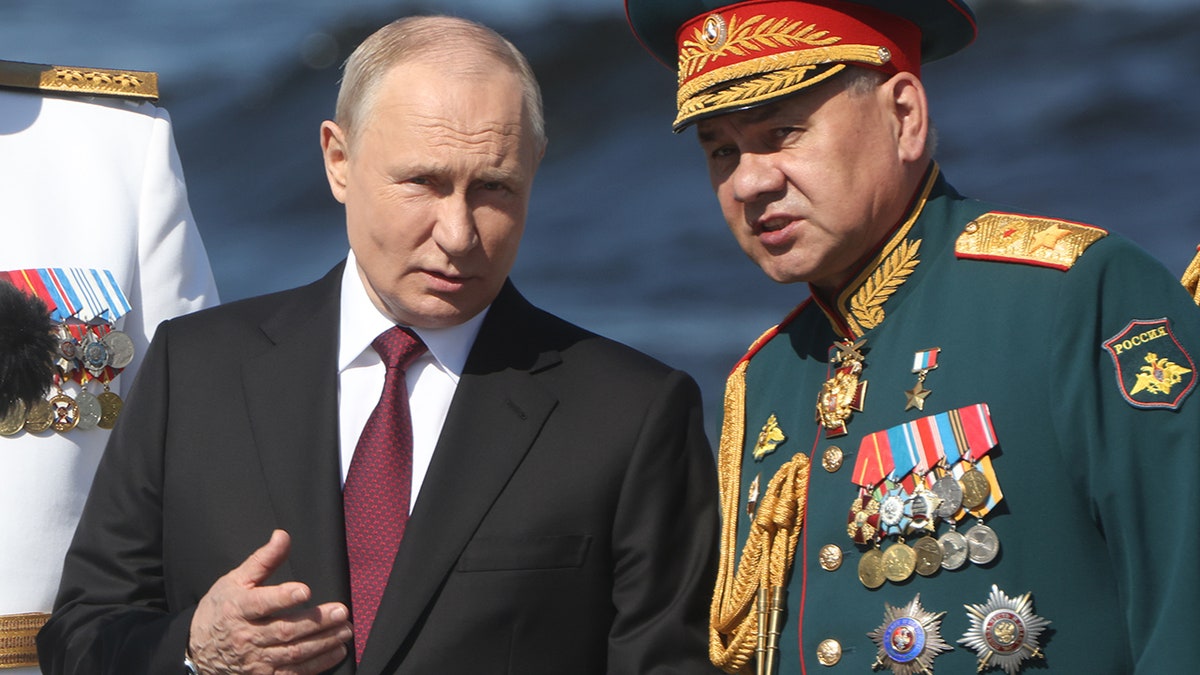 Russian President Vladimir Putin, left, talks to Defense Minister Sergei Shoigu, right, during the annual Navy Day Parade on July 30, 2023, in Saint Petersburg, Russia. Shoigu said Tuesday that more than 335,000 people have signed up for Russia's military and volunteer units, according to Reuters. (Getty Images)
The comments come as the Russian government said Tuesday it will be pursuing charges against high-ranking members of the Ukrainian military for "terrorist attacks."
The country's Investigative Committee accused four individuals of terrorism in connection to drone strikes on Russian territory and regions of Ukraine currently being held by Russian invading forces.
Russia's official statement named the following officials — Main Directorate of Intelligence Chief Kyrylo Budanov, Ukrainian Air Force Commander Mykola Oleshchuk, Ukrainian Naval Forces Commander Oleksiy Neizhpapa and 383rd Unmanned Aviation Brigade Commander Serhiy Burdenyuk.
NATO TESTING UNDERWATER DRONES OFF THE COAST OF EUROPE TO DETER RUSSIA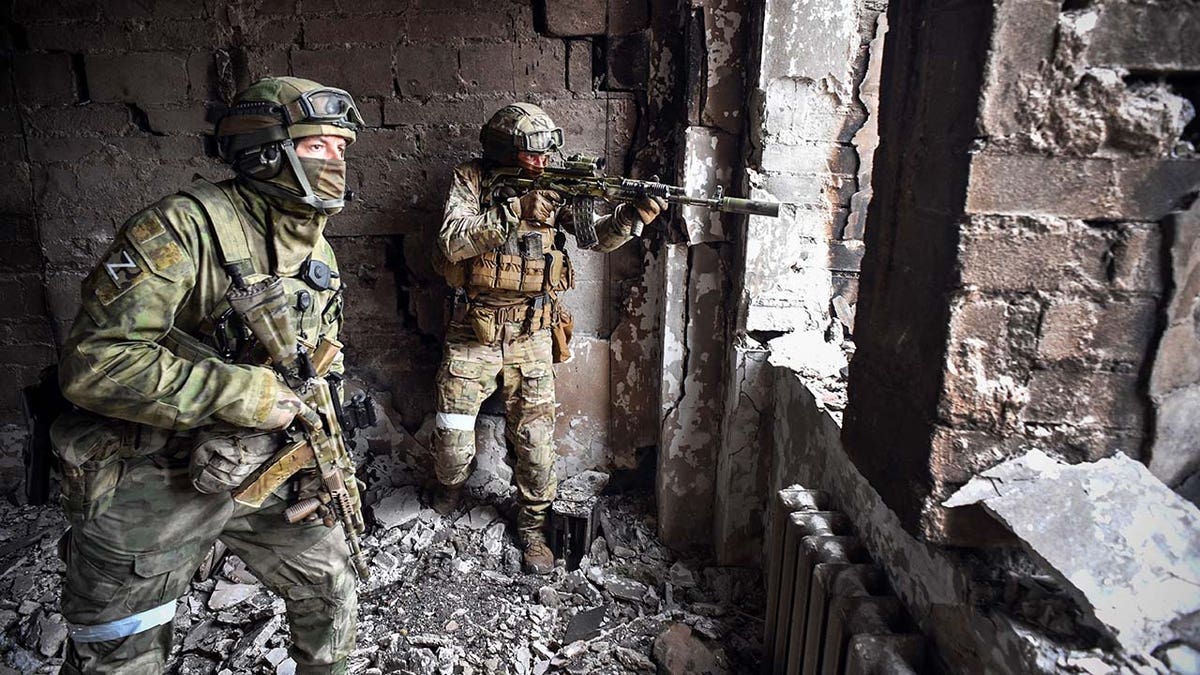 Russian soldiers patrol at a theater in Mariupol, Ukraine, in April 2022. Defense Minister Sergei Shoigu said Tuesday that there is "no plans for an additional mobilization" to Ukraine, Reuters reports. (Photo by ALEXANDER NEMENOV/AFP via Getty Images)
The announcement — released via Telegram — shows Russia's deep concern regarding the growing effectiveness of Ukrainian drone technology since the invasion commenced.
Ukrainian military forces have used unmanned aerial vehicles to make strikes inside Russian territory, expanding the scope of the conflict outside the frontline.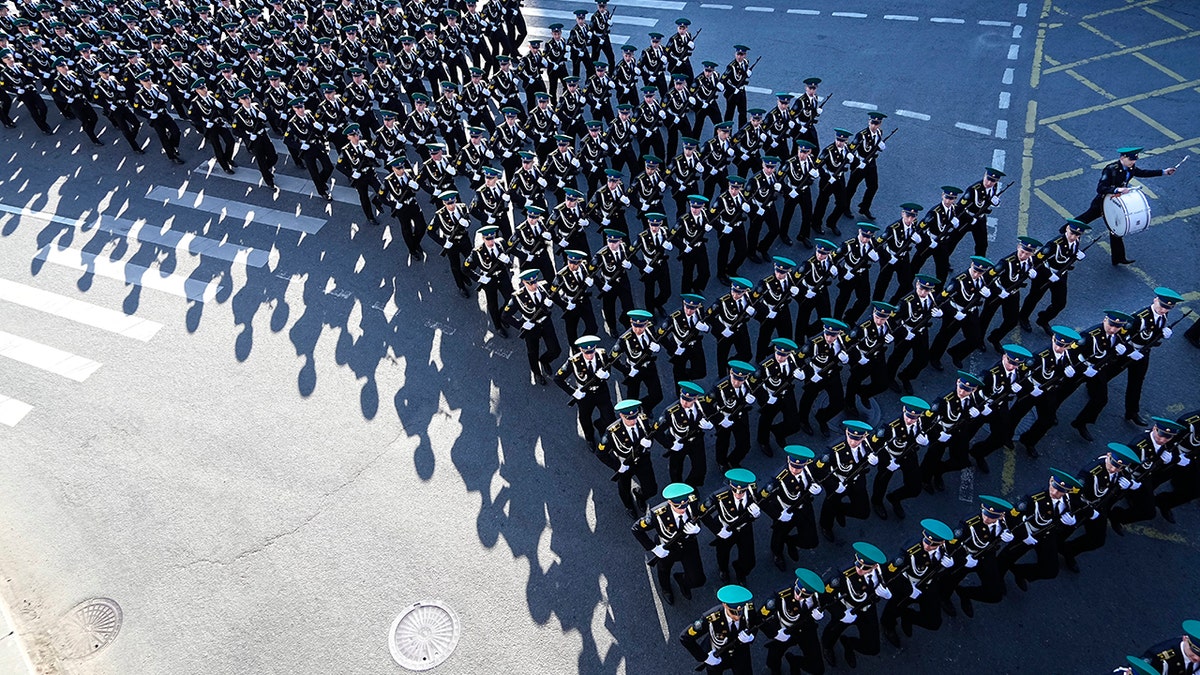 Russian soldiers march toward Red Square to attend a dress rehearsal for the Victory Day military parade in Moscow on May 7, 2023. (AP Photo)
CLICK HERE TO GET THE FOX NEWS APP
On Monday, the U.K. Ministry of Defense said in Russia's Pskov Oblast, close to its border with Estonia, "civilians are being asked to volunteer for security patrols to tackle further uncrewed aerial vehicle (UAV) attacks against Kresty air base."
Fox News' Timothy H.J. Nerozzi contributed to this report.
Greg Norman is a reporter at Fox News Digital.