Kate Middleton was spotted for the first time since Prince Harry's explosive memoir "Spare" hit bookshelves.
On Wednesday, the Princess of Wales attempted to keep a poker face as she was snapped by photographers while driving to Windsor Castle. The wife of Prince William was among the several members of the British royal family who found themselves at the center of controversy after the book went on sale around the world on Tuesday.
In the ghostwritten memoir, the Duke of Sussex detailed his grief following the death of his mother, Princess Diana, as well as his strained relationship with the Prince of Wales. He also expressed his frustration at the role of royal "spare" in the shadow of his older brother William, who is heir to the British throne.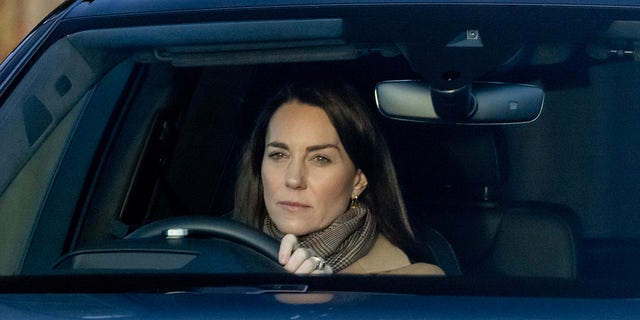 Catherine, Princess Of Wales, seen here for the first time since the release of "Spare" as she returns to Windsor Castle.
(TheImageDirect.com)
Harry slammed the U.K.'s tabloid press for coverage he considered prurient, intrusive and sometimes plain wrong. The 38-year-old claimed his relatives were unwelcoming to his wife Meghan Markle and even accused members of the royal family, including his stepmother Camilla, of leaking stories to the media to burnish their own reputations.
PRINCE HARRY SLAMS BRITISH PRESS, 'SALACIOUS HEADLINES' ON 'THE LATE SHOW,' CLAIMS HIS WORDS HAVE BEEN SPUN
So far, it has been business as usual for the royals. Harry's aunt, Princess Anne, carried on with her duties on Wednesday by visiting British soldiers serving with a United Nations peacekeeping force in ethnically divided Cyprus.
Queen Elizabeth II's only daughter met with Cypriot President Nicos Anastasiades. They discussed climate change-related issues, the energy crisis spurred by Russia's war in Ukraine, and efforts to restart stalled talks to reunify Cyprus, a government statement said.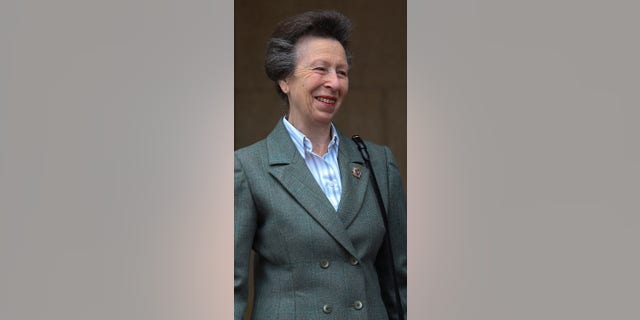 Britain's Princess Anne leaves the presidential palace after a meeting with President Nicos Anastasiades, in Nicosia. Cyprus on Wednesday, Jan. 11, 2023.
(Photo by Danil Shamkin/NurPhoto via Getty Images)
Media access during her visit was limited. The 72-year-old did not make any public remarks.
Buckingham Palace officials have declined to comment on any of the allegations made in Harry's book. A spokesperson for King Charles III didn't immediately respond to Fox News Digital's request for comment. A spokesperson for Kensington Palace, which represents the Prince and Princess of Wales, told Fox News Digital they don't have a comment. Allies of the royal family have pushed back on Harry's claims, largely anonymously.
CLICK HERE TO SIGN UP FOR THE ENTERTAINMENT NEWSLETTER
Harry's exposure of bitter divides inside the House of Windsor – alongside details of his mental health struggles, experiences with sex and drugs and decade-long military career – has generated reams of media coverage. The father of two has embarked on a press tour to promote the book, making appearances on ITV, CBS' "60 Minutes," "Good Morning America," and most recently, "The Late Show with Stephen Colbert." He is also on the cover of People magazine.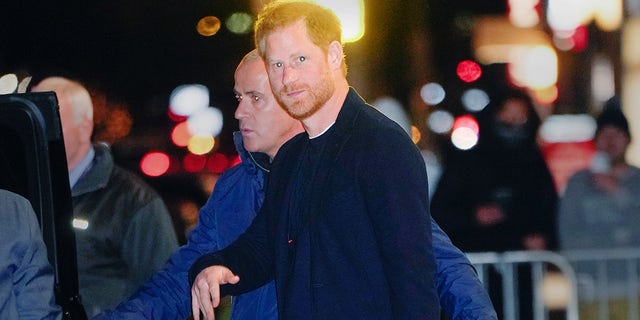 Prince Harry is seen leaving "The Late Show with Stephen Colbert" on Jan. 9, 2023, in New York City.
(Gotham/GC Images)
In the book, Harry recounted the infamous fallout between Middleton and Markle, both 41, which allegedly left the former American actress "sobbing on the floor." The tense exchange allegedly took place days before the Duke and Duchess of Sussex tied the knot in 2018. In an excerpt, Harry claimed that his sister-in-law made the former "Suits" star cry after she demanded that "all the dresses" for the flower girls be remade.
"Charlotte's dress is too big, too long, too baggy," Middleton allegedly texted Markle, as quoted by Harper's Bazaar. She was referring to her daughter's flower girl dress. According to Harry, the dresses were made from measurements obtained at a previous fitting.
"She cried when she tried it on at home," Middleton allegedly texted.
KATE MIDDLETON'S BIRTHDAY GETS OVERSHADOWED BY PRINCE HARRY'S 'SPARE' AS ROYALS MAINTAIN WALL OF SILENCE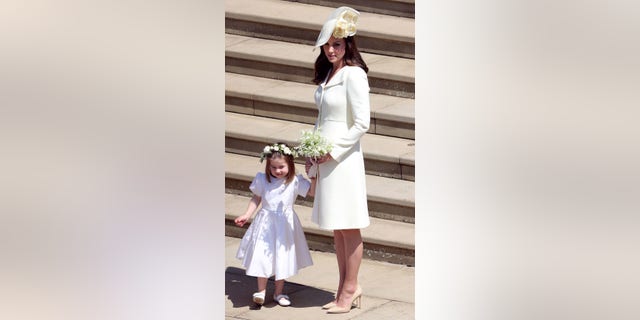 Catherine, Duchess of Cambridge leaves with her daughter Princess Charlotte after attending the wedding ceremony of Prince Harry and Meghan Markle at St George's Chapel, Windsor Castle, on May 19, 2018.
(Andrew Matthews/AFP via Getty Images)
According to Harry, Markle reminded Middleton that a tailor who could perform alterations was already at Kensington Palace.
"Right, and I told you the tailor has been standing by since 8am," Markle allegedly replied. "Here. At KP. Can you take Charlotte to have it altered, as the other mums are doing?"
The book alleged that Middleton demanded that "all the dresses be remade," noting that her own wedding dress designer agreed with her. Markle then reminded Middleton that she was stressed following the drama involving her father Thomas Markle. The former Hollywood lighting director famously didn't attend the royal wedding.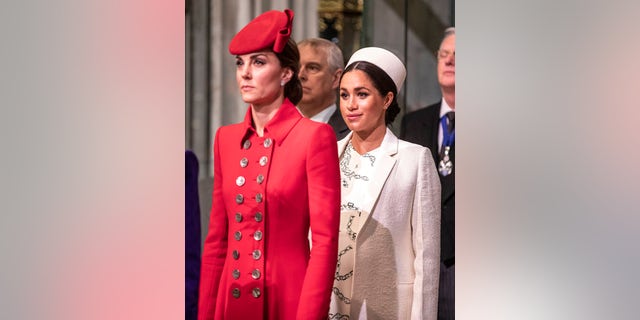 The alleged royal row between the Princess of Wales and the Duchess of Sussex has been well-documented by the British press.
(Richard Pohle – WPA Pool/Getty Images)
"Kate said she was well aware, but the dresses. And the wedding is in four days!" claimed the book. It also alleged that Middleton had "problems with the way Meg was planning her wedding… it went back and forth." Harry wrote that when he came home, his wife-to-be was "sobbing."
PRINCE HARRY'S TOP 5 '60 MINUTES' BOMBSHELLS
British outlets reported that it was Markle who made Middleton cry. In "Spare," Harry suggested that his father's press office likely leaked the story to tabloids. The Duchess of Sussex spoke about the incident during a 2021 interview with Oprah Winfrey.
"I don't think it's fair to her to get into the details of [the fight], because she apologized," said Markle at the time. "And I've forgiven her. What was hard to get over was being blamed for something that not only I didn't do, but that happened to me. And the people who were part of our wedding going to our comms team and saying, 'I know this didn't happen.'"
The alleged incident wasn't the only moment Middleton's name was brought up in "Spare." In 2005, Harry notoriously wore a Nazi uniform to a costume party. He claimed in the book that it was William and Middleton who encouraged the choice of outfit and "howled" with laughter when they saw it.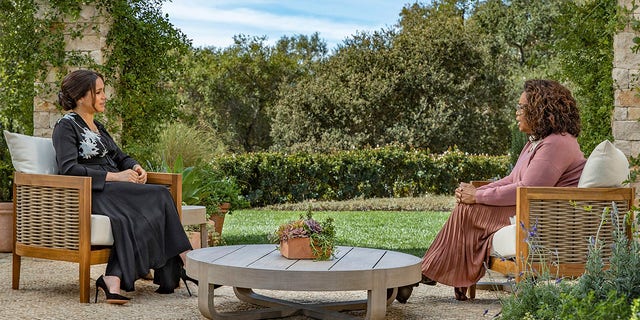 Meghan Markle was interviewed by Oprah Winfrey in 2021. The televised sit-down was viewed by nearly 50 million people globally.
(AP)
The book's publisher said "Spare" sold 400,000 copies in the U.K. in all formats – hardback, e-book and audio – on its first day. It is the top-selling book on Amazon's U.K. site and Amazon.com in the U.S. and is already one of the year's biggest sellers.
PRINCE HARRY FEARS 'TABLOID MEDIA' WILL RADICALIZE ITS READERS INTO CAUSING 'HARM' TO HIS WIFE AND CHILDREN
"As far as we know, the only books to have sold more in their first day are those starring the other Harry (Potter)," said Larry Finlay, managing director of Transworld Penguin Random House. The final Potter book, "Harry Potter and the Deathly Hallows," sold more than 2.5 million copies on its first day of release, in 2007.
A few stores in Britain opened at midnight to sell copies to diehard royal devotees and the merely curious. Many said they wanted to form their own opinion of the book after days of snippets and debate on news sites and television.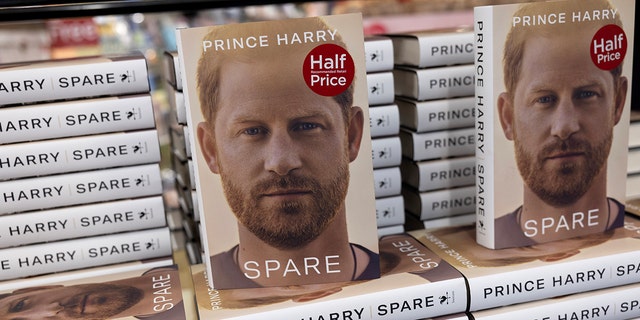 Prince Harry's "Spare" hit bookstores on Tuesday.
(Dan Kitwood/Getty Images)
"Spare" is the latest in a string of public pronouncements by the Duke and Duchess of Sussex since they quit royal life in 2020. At the time, they cited what they saw as the media's racist treatment of the duchess and a lack of support from the palace.
The Duke and Duchess of Sussex reside in Montecito, California, with their two children.
The Associated Press contributed to this report.