White House Press Secretary Karine Jean Pierre said that Florida Governor Ron DeSantis wants to "block" the study of Black Americans after his administration rejected the College Board's Advanced Placement African American Studies course.
Jean Pierre made the comments during a White House Press briefing on Friday, calling the move by the DeSantis administration "incomprehensible."
"If you think about the study of Black Americans, that is what he wants to block," Jean Pierre said. "These types of actions aren't new. They are not new from what we're seeing, especially from Florida. Sadly, Florida currently bans teachers from talking about who they are and who they love."
"They didn't block AP European history. They didn't block our music history. They didn't block our art history. But the state chooses to block a course that is meant for high achieving high school students to learn about their history of arts and culture. It is incomprehensible," she added.
DESANTIS ALLY WARNS AGAINST DONATING TO 'READY FOR RON' AS PAC PLANS TO SPEND $3.3M ON ADS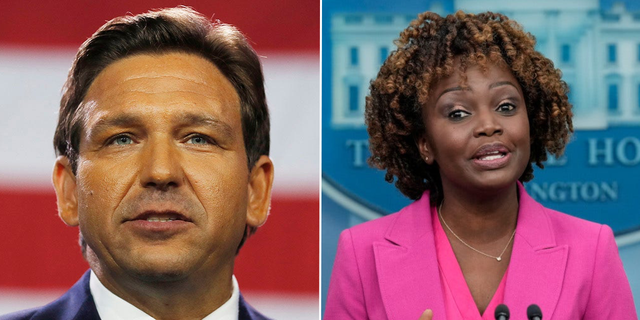 White House Press Secretary Karine Jean Pierre and Florida Governor Ron DeSantis
Bryan Griffin, DeSantis' press secretary, said in a statement that the Florida Department of Education rejected the course because it "lacks educational value and historical accuracy."
"As submitted, the course is a vehicle for a political agenda and leaves large, ambiguous gaps that can be filled with additional ideological material, which we will not allow. As Governor DeSantis has stated, our classrooms will be a place for education, not indoctrination," the spokesperson said.
Griffin told Fox News Digital that Jean Pierre's comments are "demonstrably incorrect."
"The study of African American history is not only permitted in Florida under Governor Ron DeSantis but required by law. In fact, the teaching of African American History has been expanded in Florida since Governor Ron DeSantis took office.," Griffin said.
Griffin pointed to a Florida statute which requires the teaching of African American history K-12 education throughout the state. He also provided a list of concerns that the state's department of education found within the course, which includes the "Reparations Movement," "Movements for Black Lives," and "Black Queer Studies."
In a letter to the College Board, the Florida Department of Education's Office of Articulation states that the course is "inexplicably contrary to Florida law and significantly lacks educational value. In the future, should College Board be willing to come back to the table with lawful, historically accurate content, FDOE will always be willing to reopen the discussion."
PRESS SEC BLASTED FOR CLAIMING TO BE 'FORTHCOMING' ON BIDEN CLASSIFIED DOCS: 'A LIAR OF THE FIRST ORDER'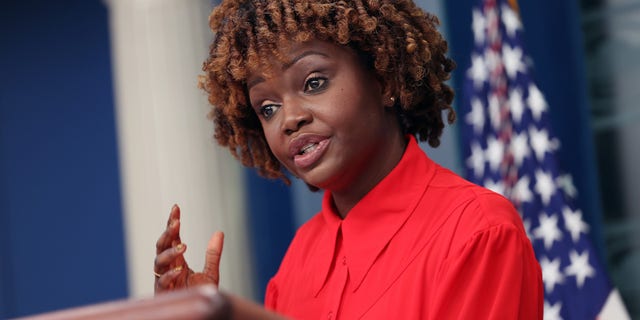 WASHINGTON, DC – JANUARY 12: White House Press Secretary Karine Jean-Pierre speaks during a press briefing at the White House on January 12, 2023 in Washington, DC. Jean-Pierre spoke on the classified documents found at President Biden's home in Wilmington, Delaware.
(Kevin Dietsch/Getty Images)
According to the College Board website, the AP African American studies course is in a pilot phase and will be available to all high schools in the 2024-2025 academic year.
The College Board states that the course is "designed to offer high school students an evidence-based introduction to African American studies."
A spokesperson for the College Board told Fox News Digital that the course is "is undergoing a rigorous, multi-year pilot phase, collecting feedback from teachers, students, scholars and policymakers."
CLICK HERE TO GET THE FOX NEWS APP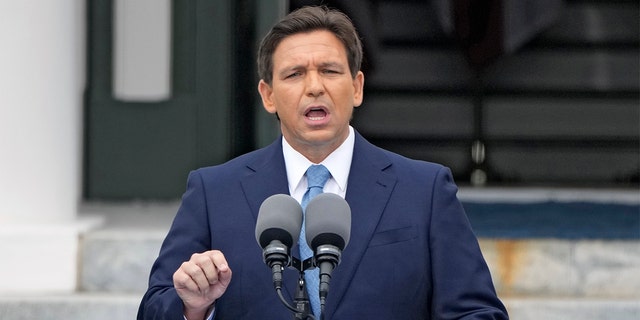 Florida Gov. Ron DeSantis speaks after being sworn in to begin his second term during an inauguration ceremony outside the Old Capitol on Jan. 3, 2023, in Tallahassee, Florida.
(AP Photo/Lynne Sladky, File)
"The process of piloting and revising course frameworks is a standard part of any new AP course, and frameworks often change significantly as a result. We will publicly release the updated course framework when it is completed and well before this class is widely available in American high schools. We look forward to bringing this rich and inspiring exploration of African-American history and culture to students across the country," the spokesperson said.