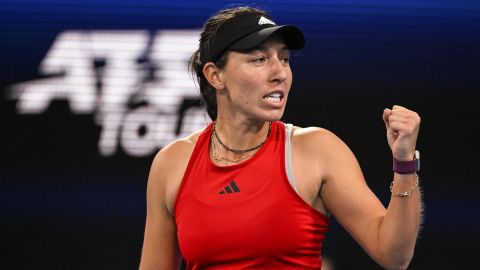 Jessica Pegula celebrates her victory over Poland's Iga Świątek.
SAEED KHAN/AFP/AFP via Getty Images

CNN
—
Jessica Pegula, the daughter of Buffalo Bills owner Terry Pegula, secured her first career victory over a world No. 1 on Friday, beating Poland's Iga Świątek 6-2 6-2 in the opening match of the United Cup semifinal in Sydney.
The 28-year-old American lost all four of her matches against Świątek last season, but came through on Friday in just 71 minutes to secure her second career win over the Pole – the last coming in San Diego in 2019 – and earn Team USA's first point over Poland.
Frances Tiafoe then swept past Kacper Żuk 6-3 6-3 to give the USA a 2-0 lead, giving Taylor Fritz the chance to clinch the matchup with victory over Hubert Hurkacz on Saturday.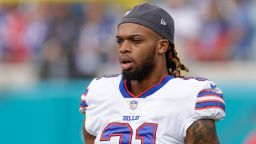 Buffalo Bills safety Damar Hamlin (31) during the game between the Buffalo Bills and the Jacksonville Jaguars on November 7, 2021 at TIAA Bank Field in Jacksonville, FL.
David Rosenblum/Icon Sportswire/Getty Images
Damar Hamlin has made 'substantial improvement' following in-game cardiac arrest, medical team says, but his road to recovery could be long
"[The] conditions are totally different than anywhere else I've played her," world No. 3 Pegula told the WTA. "Obviously maybe I had a little bit of an advantage, they just flew in yesterday.
"Definitely the fastest conditions I have played her. Every other place I've played her has been pretty slow.
"I think that favored me a lot, and I was able to use that to my advantage and play a really super clean match. I think I just was able to execute my game plan probably better than I have previous times."
Pegula, a huge Bills fan, told the WTA she had been watching the game between the Cincinnati Bengals and the Bills during Tiafoe's match against Germany's Oscar Otte when Damar Hamlin collapsed.
Hamlin suffered a cardiac arrest and fell onto his back moments after tackling Bengals wide receiver Tee Higgins during Monday's NFL game.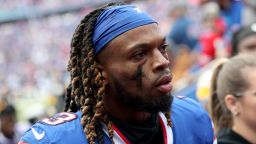 ORCHARD PARK, NEW YORK – OCTOBER 09: Damar Hamlin #3 of the Buffalo Bills walks to the tunnel during halftime against the Pittsburgh Steelers at Highmark Stadium on October 09, 2022 in Orchard Park, New York.
Bryan Bennett/Getty Images
NFL says Bills-Bengals game will not be completed as doctors outline, players cheer Damar Hamlin's improvement
The Bills safety has since made "substantial improvement" in the hospital following the cardiac arrest, doctors said, and is now awake and moving his hands and feet.
Hamlin is able to communicate by shaking his head, nodding or writing brief notes, said Dr. Timothy Pritts, part of the player's medical team. Upon awakening, Pritts said, Hamlin's mind was still on the game as he scribbled his first question on a clipboard: "Did we win?"
Pegula called the incident "terrible."
"There's really no words," she told reporters, per Reuters, earliet this week. "I'm glad they stopped the game. It brings you back to there's a lot of bigger things that are more important than sports and games. It was pretty scary."
She later tweeted: "In moments like this we are reminded of perspective. It's just a game and in the end it does not matter after what happened tonight. My prayers go out to Damar and his family. This team is family, football is family, sports bring us together like family."