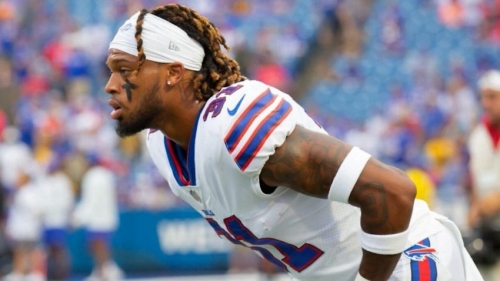 Video Ad Feedback
Doctor reports Damar Hamlin has shown 'substantial improvement'

01:22

– Source:
CNN


CNN
—
Buffalo Bills safety Damar Hamlin has made "substantial improvement" in the hospital following his mid-game cardiac arrest on Monday, doctors said, and is now awake and moving his hands and feet.
Hamlin is able to communicate by shaking his head, nodding or writing brief notes, said Dr. Timothy Pritts, part of the player's medical team. Upon awakening, Pritts said, Hamlin's mind was still on the game as he scribbled his first question on a clipboard: "Did we win?"
"So, we know that it's not only that the lights are on, we know that he's home. And that it appears all cylinders are firing within his brain," said Pritts, who is vice chair for clinical operations at University of Cincinnati Health where Hamlin is being treated.
Read more

Who is Damar Hamlin?
Live updates
A timeline of the NFL's response
What to do if someone is in cardiac arrest
Sports world sends messages of support
Hamlin's toy drive raises millions
Hamlin's collapse sent ESPN scrambling

Yet the medical team cautioned that many phases of Hamlin's recovery lie ahead. Hamlin – who had to be sedated and intubated following his collapse – is still critically ill and remains on a ventilator, Pritts said. Physicians did not say precisely when he started waking up.

The 24-year-old player collapsed Monday during the first quarter of the Bills game against the Cincinnati Bengals and was rushed from the field in an ambulance, stunning a packed stadium and leaving his teammates visibly emotional, crying and embracing one another.

The NFL announced Thursday that the game – which was initially postponed Monday night – has been canceled. The league is working on plans to honor Hamlin ahead of every matchup scheduled for this upcoming weekend, two people familiar with the matter told CNN's Oliver Darcy.

NFL commissioner Roger Goodell informed all clubs of his decision Thursday after contacting the Bills, Bengals and NFL Players Association leadership, according to a release from the league.

"This has been a very difficult week," Goodell said. "We continue to focus on the recovery of Damar Hamlin and are encouraged by the improvements in his condition as well as the tremendous outpouring of support and care for Damar and his family from across the country. We are also incredibly appreciative of the amazing work of the medical personnel and commend each and every one of them."

Here are the latest developments:
Hamlin has made "a fairly remarkable recovery," medical team says: Though Hamlin remains in intensive care, he is demonstrating "good neurologic recovery" and is awake and holding hands with family in the hospital, Pritts said Thursday.
Tests to determine cause are ongoing: "This marks a really good turning point in his ongoing care," Pritts said, but "there are many, many steps still ahead of him." Hamlin's next big milestone will be breathing on his own without a ventilator, said Dr. William Knight, director of emergency medicine. Tests are still underway to determine the cause of his cardiac arrest, Knight said.
Hamlin lost pulse on the field: While surrounded by medical teams on the field, Hamlin lost his pulse and had to be administered CPR and defibrillation as fans and teammates looked on, Knight said. He was then intubated in the ambulance and arrived at the hospital about 30 to 45 minutes after he collapsed, the doctor added.
Bills are back to work: The team met Wednesday and held their first full practice of the week Thursday in preparation for hosting the New England Patriots on Sunday. The team has been receiving "incremental updates" from medical staff as well as from Bills general manager Brandon Beane and head athletic trainer Nate Breske who stayed behind in Cincinnati, head coach Sean McDermott said. "I think the fact that we just keep hearing good news about Damar, it just keeps pushing us forward," quarterback Josh Allen told reporters Thursday.
"People are going to be changed forever": Allen said the players have had "some very open and honest and deep talks" since their teammate was hospitalized Monday. "I think putting that helmet back on was a really good thing for our team," he said of returning to practice, adding, "But I would be lying to you if I didn't say, some people are going to be changed forever after being on the field and witnessing that and feeling those emotions."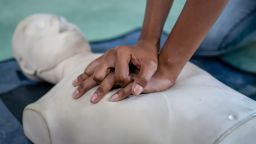 Closeup hands practicing chest compressions on a CPR training dummy.
athima tongloom/Moment RF/Getty Images
What to do if someone is in cardiac arrest
News of Hamlin awakening was met with a rush of messages of support and relief from players across the NFL. Since his collapse, supporters have honored the player, donating more than $7 million to his charity fundraiser and making his jersey the most purchased athletes' jersey at the sports apparel store Fanatics, a company spokesperson said.
Hamlin's family and Allen have also dismissed online criticisms of Cincinnati Bengals receiver Tee Higgins, who had collided with Hamlin just moments before his collapse. The family's spokesperson has said Higgins has reached out and "has been supportive."
"I hope that he got some relief today," Allen said of Higgins while speaking to reporters Thursday. He added, "That's a football play, and I hope that he doesn't hold that upon himself, because there is nothing else that he could have done in that situation."
Medical staff praised for quick response

Doctors and Bills team members have repeatedly applauded the immediate action of medical personnel who rushed to Hamlin just seconds after his collapse.
Bills offensive lineman Dion Dawkins tweeted Thursday that assistant athletic trainer Denny Kellington performed CPR on Hamlin as he lay on the field. Coach McDermott also praised the trainer Thursday, saying he saved Hamlin's life.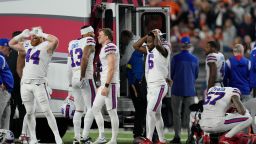 Buffalo Bills players react as teammate Damar Hamlin is examined during the first half of an NFL football game against the Cincinnati Bengals, Monday, Jan. 2, 2023, in Cincinnati. (AP Photo/Jeff Dean)
Jeff Dean/AP
Damar Hamlin and pro football's troubled history of on-field medical emergencies
"As they say, practice pays off and it did in this case," McDermott said at a post-practice news conference devoted to Hamlin. "But again, the context of it, for an assistant to find himself at that position and needing to take the action that he did and step up and take charge like he did – and there were others on the field as well – is nothing short of amazing and (the) courage that took, you talk about a real leader, a real hero, in saving Damar's life."
In audio obtained by CNN of medical personnel that were working on the sidelines when Hamlin collapsed, personnel can be heard calling for all hands to assist, saying, "I don't like how he went down" and "We're going to need everybody."
NFL chief medical officer Dr. Allen Sills attributed the rapid medical response to a "60-minute meeting" that is held among medical teams and NFL officials before every game to identify the location of medical equipment and nearby medical centers, and establish a chain of command in case of an emergency, among other things.
NFL explains factors considered in canceling game

In its announcement of the official cancellation of the Bills-Bengals game that was suspended after Hamlin's collapse, the NFL detailed parts of its decision-making, including that the outcome of the game would have no impact on teams qualifying for the playoffs.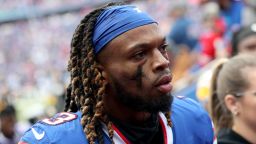 ORCHARD PARK, NEW YORK – OCTOBER 09: Damar Hamlin #3 of the Buffalo Bills walks to the tunnel during halftime against the Pittsburgh Steelers at Highmark Stadium on October 09, 2022 in Orchard Park, New York.
Bryan Bennett/Getty Images
NFL says Bills-Bengals game will not be completed as doctors outline, players cheer Damar Hamlin's improvement
The Bills and Bengals have already clinched playoff spots but are jockeying for higher seeds in the American Football Conference postseason.
Deciding to play the game would also have forced the league to postpone the start of the playoffs by one week, the NFL release explained, a move that would affect all 14 clubs that qualify.
Lastly, the league said making the decision before Week 18 still allows all clubs to know the playoff possibilities before their final game of the regular season.
CNN's David Close, Joe Sutton, Stephen Priest, Sara Smart, Sharif Paget, Jamiel Lynch, Jacob Lev, Homero De la Fuente, Jason Hanna, Jacqueline Howard and Amanda Watts contributed to this report.