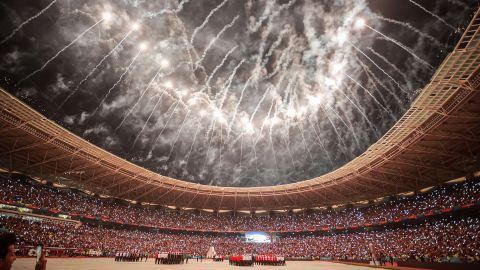 Fireworks light up the sky over the Basra International Stadium during the opening ceremony ahead of the 25th Arabian Gulf Cup's first match between Iraq and Oman in Basra, Iraq on January 06.
Ayman Yaqoob/Anadolu Agency/Getty Images
Editor's Note: A version of this story appears in today's Meanwhile in the Middle East newsletter, CNN's three-times-a-week look inside the region's biggest stories. Sign up here.
Baghdad and Abu Dhabi
CNN
—
Iraq is holding its first international soccer tournament in more than four decades, hosting its Gulf Arab neighbors for a two-week competition as it emerges from its worst and longest political deadlock in years.
The tournament, analysts say, is a glimmer of hope for a struggling population, but also holds a political message – Iraq is signaling to its neighbors and the world that it is ready to move past decades of turmoil.
After more than 30 years of global isolation due to wars and sanctions, for many Iraqis the Arabian Gulf Cup – the tournament started on Friday and will run until January 19 – is something of a tonic.
"Iraq is a football-mad country that has been lobbying for years for the right to host competitive international games," said Patrick Osgood, associate director of Control Risks consultancy firm in Dubai.
This is the first time Iraq has hosted the Gulf Cup since 1979, when it was held in the capital Baghdad. This time, the tournament is being held in the southern port city of Basra, with teams from Saudi Arabia, Oman, UAE, Kuwait, Qatar, Bahrain and Yemen also competing.
Since it last hosted the Gulf Cup, the nation has faced two devastating wars, a regime change, an occupation and a militant insurgency that impacted the once thriving Basra as it did the rest of the country. Of late, the city's residents have encountered severe energy and food shortages that have led to unrest.
"The practical effect in a city in dire need of investment is likely to be small," Osgood told CNN. "But Iraqis deserve nice things, to participate with others, to be able to exercise hospitality."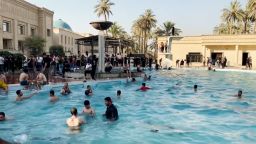 Reuters
video
Video shows protesters taking over Iraqi palace, swimming in pool
There is excitement and fervor in Basra about the tournament. Murals adorn the city's walls and fans were seen joining long queues for tickets. Flags flutter from every participating nation in streets and there are welcoming posters reading, "Basra welcomes you" and "Basra is your home."
"We've been waiting for this moment for 40 years," said 29-year-old Mohammed Ali, a taxi driver in Basra, adding that the city feels very secure and its residents are filled with joy for the occasion.
"We have experienced problems, but we always say that sport unites people," he told CNN. "We are seeing many people from the Gulf, and we can tell that they too have missed Basra."
The last Gulf Cup was held in Qatar in 2019, with Bahrain emerging as the winner.
Gulf Arabs rarely travel to Iraq for tourism. Of all the Gulf states, only the travel hubs of Doha and Dubai have direct flights to the country, catering largely to connecting passengers and Shiite Muslim pilgrims. Gulf states' ties with the Iraqi government have warmed over the past few years, but that hasn't trickled down to the public level. In Saudi Arabia, government permission is required for travel to Iraq, which is only given to men above 40.
Major General Saad Maan, spokesman for the Iraqi Joint Operations Command which is tasked with securing the tournament, told CNN that he expects "tens of thousands of fans to arrive in Basra" and that all security measures have been taken to assure the safety of both residents and fans.
"Iraq is saying that there is great political stability," said Ihsan Al-Shammari, a politics professor at Baghdad University and head of the Iraqi Centre for Political Thought. "It also speaks to the security situation, especially if the tournament is successfully completed without any security incidents."
Iraq also hopes that the event will bolster its image to investors and political partners, said Al-Shammari, as well as bring it closer to its Gulf Arab neighbors with whom it has had frosty relations since Saddam Hussein's invasion of Kuwait in 1990.
The opening ceremony on Friday started with a spectacular fireworks display and a theatrical performance chronicling the nation's 5,000-year history, though the showpiece occasion wasn't without controversy.
The Iraqi Football Association apologized to Kuwait for a brawl that took place in the Basra International Stadium's VIP section that prevented the Kuwaiti ruler's representative from entering. That prompted the rest of the delegation to leave the event. The Kuwait FA said it will continue participation in the tournament after being given security guarantees from Iraq.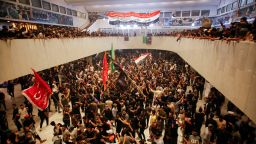 Supporters of populist leader Moqtada al-Sadr gather during a sit-in at Iraq's parliament in Baghdad on July 31.
Saba Kareem/Reuters
What's behind Iraq's explosive political crisis?
Iraq drifted into chaos after a 2003 US-led invasion toppled longtime ruler Saddam Hussein, and around the end of 2021 fell into its longest political stalemate as the country's various political factions – divided mainly between Shiite blocs and their Iran-backed rivals – failed to form a government.
The deadlock was only broken last October with the election of a new president and premier, but experts remain skeptical about whether the new government can prevent further stability and instill serious reforms.
The country's economy is still in crisis, much of its infrastructure is in ruins and its ties with neighboring states are strained as Iran continues to support prominent political factions and their armed militias.
While not the center of most violence, Basra has its own issues.
"Basra city experiences security issues around crime and protest activity," said Osgood, "but neither issue is prohibitive, and the government has surged security provision to mitigate threats."
"On balance, there's unlikely to be major security disruption during the tournament," he said, adding that "there are significant socio-economic issues in Basra that drive unrest, but there's also significant goodwill around the tournament – no one wants to spoil it."
The tournament is not on the international soccer radar but it is a heated topic in the Gulf region and has often been reflective of the region's geopolitical scene.
Iraq last hosted the Gulf Cup 44 years, when it won the tournament. The nation was banned from it for about a decade after Saddam Hussein's invasion of Kuwait and was prevented from hosting it since due to security reasons.
Despite the hiccups, residents of Basra are optimistic about the tournament in their city.
"The whole of Basra is joyous, opening its doors to the Gulf and other provinces (of Iraq)," said 46-year-old Ali Salman of Basra.
"We want to say to visitors from the Gulf and other provinces of Iraq: don't rent hotels, the doors of our homes are open."
The digest

Iran executes two more men amid crackdown on protests
Iran executed two men – one a karate champion, the other a volunteer children's coach – in connection with nationwide protests, sparking outrage around the world. The European Union said in a statement Saturday that it was "appalled" by the executions, calling it "yet another sign of the Iranian authorities' violent repression of civilian demonstrations."
Background: The pair were alleged to have participated in anti-regime protests and were convicted of killing a member of the country's Basij paramilitary force, were hanged early Saturday morning, according to state-affiliated media.

Why it matters: The total number of people now known to have been executed in connection with the protests has reached four. As many as 41 more protesters have received death sentences in recent months, according to statements from both Iranian officials and in Iranian media reviewed by CNN and 1500Tasvir, but the number could be much higher.
Sweden says it can't meet all of Turkey's NATO demands
Sweden is confident that Turkey will approve its application to join the NATO military alliance, but will not meet all the conditions Ankara has set for its support, Reuters cited Sweden's prime minister as saying on Sunday. "Turkey both confirms that we have done what we said we would do, but they also say that they want things that we cannot or do not want to give them," Prime Minister Ulf Kristersson told a defence think-tank conference in Sweden.
Background: Finland and Sweden signed a three-way agreement with Turkey in 2022 aimed at overcoming Ankara's objections to their membership of the alliance. They applied to join NATO in response to Russia's invasion of Ukraine, but Turkey objected and accused the countries of harboring militants. New entrants require the consensus of all existing members.

Why it matters: It is unclear if the steps taken by the two candidates will satisfy Turkey, which has delayed the accession of the two countries to extract concessions from them. The move has been seen as benefiting President Recep Tayyip Erdogan ahead of elections this year.
Israel arrests two teens over Jerusalem Christian cemetery vandalism
Israel Police arrested two teenagers suspected of vandalizing at least 28 tombstones and damaging a Protestant cemetery near Jerusalem's Mount Zion, they announced on Friday. The suspects, aged 18 and 14, from central Israel, will be brought before a judge to decide on an extension of their detention following their arrest late on Thursday. "The investigation continues with the aim of bringing them to justice," a statement from Israel's police spokesperson in Jerusalem said.
Background: The Episcopal Church in Jerusalem and the Middle East said in a statement earlier last week that "vandals" had "purposely and relentlessly smashed more than thirty gravestones, many of them historic," in the cemetery. The church said there was clear indication that "these criminal acts were motivated by religious bigotry and hatred against Christians." Israel Police said the vandalism took place on Sunday, January 1.

Why it matters: The attack on the cemetery and Israel's handling of it is likely to be in the spotlight after the country swore in the most right-wing government in its history last month. Police did not name the suspects or comment on a possible motive, but Chief Superintendent Assaf Harel said: "Any damage to religious institutions and sites is serious and damages the unique and delicate fabric of life that exists in the city for members of all religions and denominations."
Around the region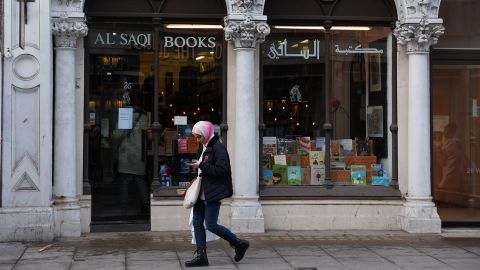 Al Saqi Books, in Bayswater, west London.
Isabel Infantes/AFP/Getty Images
London's first Arabic bookstore bid farewell as it closed its doors in 2023, marking the end of a 44-year-old era for Arabic literature in Europe.
Citing economic difficulties, the advent of electronic reading and logistical challenges brought on by Brexit, the founders of Al Saqi Bookstore found the burden of keeping its doors open too heavy.
Regarded as Europe's leading Arabic bookstore, Al Saqi, which means water seller in Arabic, was founded in 1978 by lifelong friends André Gaspard and Mai Ghoussoub. They opened the store after fleeing the Lebanese Civil War that started in 1975 and lasted until 1990.
The shop at first only carried books in Arabic, later expanding its collection to English, for Europeans who wanted to learn about Arabic culture. It also runs a publishing house in London and Beirut, which will continue to operate.
"It was home for us misfits" the founder's daughter and publisher Lynn Gaspard told the BBC in an interview.
London is home to a large Arab diaspora. For decades, the city has been a refuge for Arabs fleeing war, economic turmoil and political persecution. But it is also a major hub for tourists, with many Gulf Arabs keeping summer homes in the city.
For many, Al Saqi was the place to find books banned in the Middle East, with Arab travelers to Europe often making a stop in London to stock up.
But as Al Saqi's door closes, another one may open as the store's legacy has inspired one of its own employees to carry the torch.
Mohammad Masoud, a bookseller at the store, is now crowdfunding for a new initiative called "Maqam" that aims to open a similar shop.
"This is what Maqam is about. It exists for people who are in need of Arabic content and are searching for belonging," he told Al Jazeera.
By Mohammed Abdelbary
Photo of the day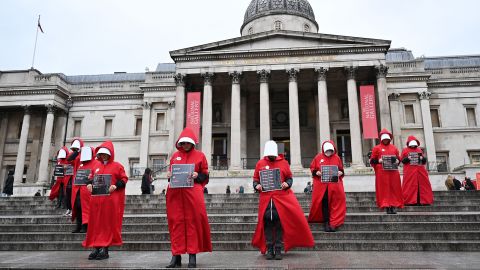 Protesters wearing 'Handmaid's Tale' costumes hold placards as they hold a silent march through central London on January 7 to raise awareness about the recent women-led uprising in Iran.
Justin Tallas/AFP/Getty Images