House Democrats intend on fully participating in the new select committees established by the Republican majority to investigate the Biden administration, including a new judiciary subcommittee on the alleged "weaponization" of the FBI and other arms of the government against American citizens.
"We call that the tinfoil hat committee in our caucus," House Democratic Caucus Chairman Rep. Pete Aguilar, D-Calif., said Tuesday. Speaking at a news conference, Aguilar said Democrats will not boycott any of the new GOP-led committees, as Republicans did with the Jan. 6 Committee in the last Congress.
"It is our intent to seat members on every subcommittee, every select committee, every subcommittee that the leadership on the majority side advances," he told reporters at a news conference. "It's in our best interests to make sure we are representing the will of the caucus and the American public, and that Republicans don't have an opportunity behind closed doors to shape and to add to these conspiracy theories that is not in the interest of the American public."
The House of Representatives voted 221-211 Tuesday to establish a new judiciary select subcommittee on the Weaponization of the Federal Government. The committee will be led by incoming House Judiciary Committee Chairman Rep. Jim Jordan, R-Ohio, and will consist of 13 members.
JIM JORDAN-LED SUBCOMMITTEE CHARGED WITH OVERSIGHT OF BIDEN ADMIN 'WEAPONIZATION' PASSES HOUSE
Chair of the House Democratic Caucus Pete Aguilar, D-Calif., speaks during a press conference following a caucus meeting in Washington D.C., Jan. 10, 2023.
(Nathan Posner/Anadolu Agency via Getty Images)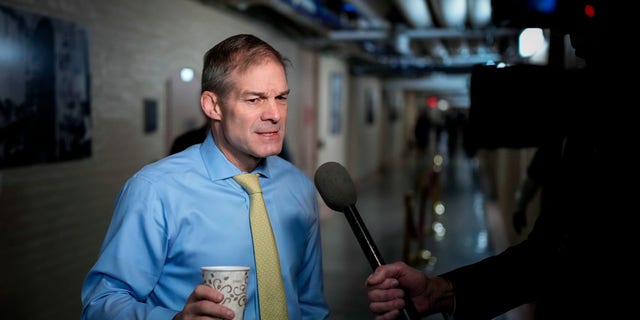 Chairman of the House Judiciary Committee Rep. Jim Jordan, R-Ohio, speaks to reporters on his way to a closed-door GOP caucus meeting at the U.S. Capitol Jan. 10, 2023, in Washington, D.C. 
(Drew Angerer/Getty Images)
JORDAN SEEKS TESTIMONY FROM GARLAND, WRAY, OTHERS IN HOUSE JUDICIARY PROBES OF DOJ, FBI
The panel is expected to investigate not only how the executive branch has gathered information on citizens, but how it has worked with other bodies – including private sector companies – to "facilitate action against American citizens."
Democrats have rejected accusations from Republicans that the federal government has worked with social media companies to censor conservatives, referring to such claims as conspiracy theories.
MCCARTHY, GOP, DEMS UNITE BEHIND NEW CHINA COMMITTEE: 'THE ERA OF TRUSTING COMMUNIST CHINA IS OVER'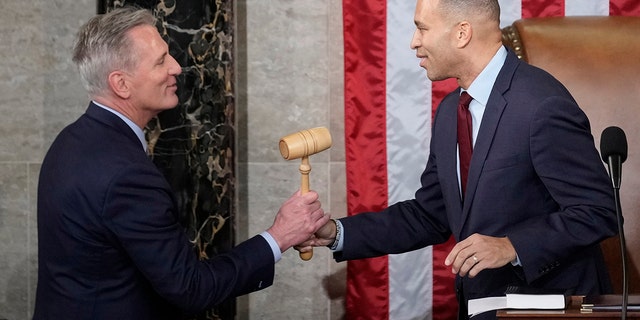 Incoming House Speaker Kevin McCarthy of Calif., receives the gavel from House Minority Leader Hakeem Jeffries of N.Y., on the House floor at the U.S. Capitol in Washington, early Saturday, Jan. 7, 2023. 
(AP Photo/Andrew Harnik)
House Speaker Kevin McCarthy, R-Calif., also held a vote on the creation of the Select Committee on China Competition, which received bipartisan support and passed 365-65. The committee will "investigate and submit policy recommendations on the status of the Chinese Communist Party's economic, technological, and security progress and its competition with the United States."
While the China committee had bipartisan support, Democrats have criticized GOP plans to form a probe into the origins of COVID-19 and a renewed Jan. 6 investigation.
CLICK HERE TO GET THE FOX NEWS APP
"None of these issues that they are advancing have anything to do with lowering costs that Americans are facing," Aguilar said. "This is all about campaign promises and a secret three-page document that none of us have seen. That was the path for Kevin McCarthy to become speaker. And so we're going to continue to do the business of the people each and every step of the way."
Fox News' Brooke Singman and Peter Kasperowicz contributed to this report.