Mexican President Andres Manuel Lopez Obrador on Tuesday praised President Biden for being the first U.S. leader "in a very long time" that has not built any additional wall at the U.S.-Mexico border, while also pushing for an amnesty for Mexican illegal immigrants — just as the Biden administration is scrambling to put the brakes on a two-year long migrant crisis.
"You are the first president of the United States in a very long time that has not built even one meter of wall," Lopez Obrador told Biden at the North American Leaders' Summit in Mexico City. . "And we thank you for that, sir, although some might not like it, although the conservatives don't like it."
The Biden administration halted the Trump-era project to build construction of a wall along the southern border — of which over 400 miles were built during the prior administration.
Biden, who campaigned against the wall, put a halt to it immediately after coming into office — with materials initially being left alongside unfinished segments of border wall.
BIDEN HAS SUMMIT WITH MEXICAN PRESIDENT LOPEZ OBRADOR AFTER 'EL CHAPO' SON'S FENTANYL TRAFFICKING ARREST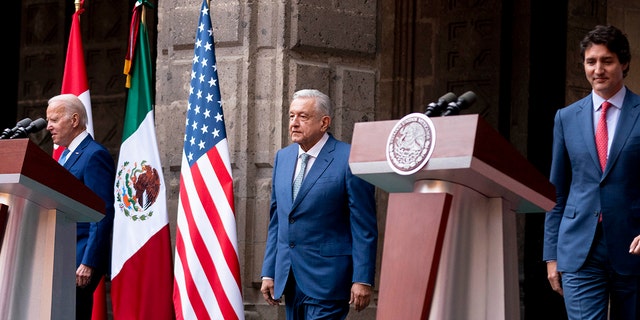 President Joe Biden, Mexican President Andres Manuel Lopez Obrador, and Canadian Prime Minister Justin Trudeau arrive for a news conference at the 10th North American Leaders' Summit at the National Palace in Mexico City, Tuesday, Jan. 10, 2023. 
(AP Photo/Andrew Harnik)
The Biden administration and congressional Democrats called the wall costly and ineffective, as well as a sign of xenophobia. However, with a migrant crisis that exploded shortly after Biden entered office, critics say that the ending of wall construction was one of a number of policy moves that fueled the crisis.
There were more than 1.7 million migrant encounters in FY 2021, and that number increased to more than 2.3 million in FY 2022. The first months of FY 2023 have so far outpaced the same time period of the last fiscal year.
The Biden administration softened its stance somewhat on the wall in 2021, announcing that it would fill a number of gaps in the wall in Yuma, Arizona. Construction on that project began this week and is expected to be completed this summer.
The administration has emphasized cooperation with Western Hemisphere countries including Mexico as one of the keys to ending the crisis – particularly in tackling the "root causes" of the crisis, such as poverty and corruption in Central America.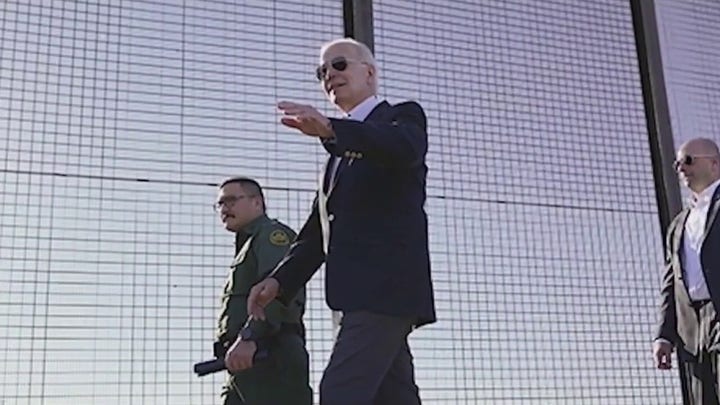 Video
Biden announced last week that Mexico had agreed to accept returns of Cuban, Haitian and Nicaraguan migrants under the Title 42 public health order. At the same time, the U.S. will expand a humanitarian parole program to allow 30,000 of those nationals as well as Venezuelans, into the U.S. as long as they have not crossed illegally and have a sponsor.
Biden then visited the border on Sunday, his first trip to the border as president.
"On my way here, I stopped in El Paso, Texas, to see the situation with my own eyes and to meet with U.S. border security officials," Biden said Tuesday. "It's putting real strain on the communities in both Mexico and the United States."
BIDEN SAYS US CAN'T 'WALL OURSELVES OFF' AS HIS DELAWARE BEACH HOUSE ADDS NEW BARRIER
Biden has also renewed calls for Congress to pass a sweeping immigration reform bill that has so far failed to pick up any Republican support due to the inclusion of a fast-track amnesty for millions of illegal immigrants.
Lopez Obrador on Tuesday also urged Biden to push Congress to regularize the immigration status of millions of Mexicans living illegally in the U.S.
"I've asked President Biden to insist before the U.S. Congress to regularize the migration situations of millions of Mexicans who have been in the states working, living in the United States, and contributing to the development of that great nation, which is the United States of America," he said.
Fox News' Paul Best contributed to this report.