Embattled Rep. George Santos, R-N.Y., refused to resign from Congress on Wednesday after Nassau County Republican leaders called on him to resign over revelations that he lied about his qualifications.
Santos has faced growing calls for his resignation since his resume was proven to be false after winning the midterm elections. The Nassau GOP, which operates within Santo's congressional district, is the first major Republican group to call for Santos' resignation.
When contacted by Fox News Digital on Wednesday morning, Santos said he had no comment. He later told reporters on Capitol Hill that he "will not" resign.
Santos is embroiled in multiple local, federal, and international investigations regarding allegations of fraud and fabricating his past. Nevertheless, he was present on the House floor during last week's battle over the speakership and could be seen sitting alone toward the back of the chamber busying himself on his phone.
EMBATTLED GOP REP.-ELECT GEORGE SANTOS FIRES BACK AT NEW YORK TIMES AFTER BIOGRAPHY QUESTIONED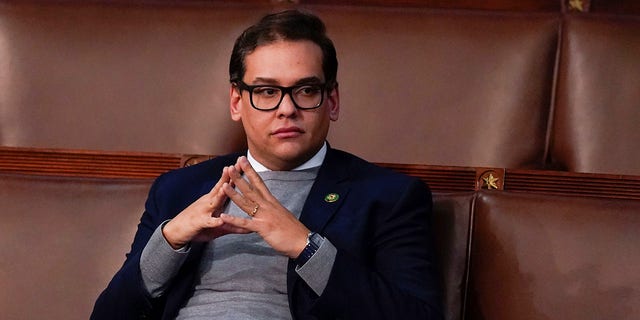 Rep. George Santos, R-N.Y., waits for the start of a session in the House chamber as the House meets for the fourth day to elect a speaker and convene the 118th Congress in Washington, Friday, Jan. 6, 2023.
(AP Photo/Alex Brandon)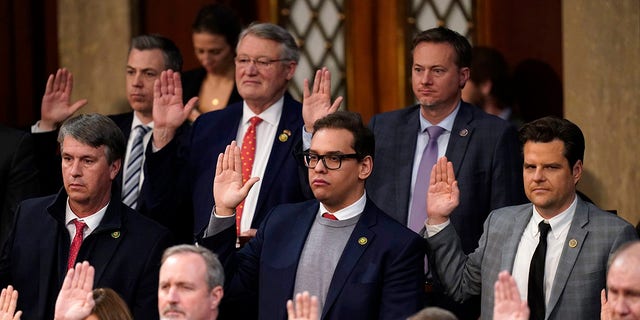 Rep. George Santos, R-N.Y., and Rep. Matt Gaetz, R-Fla., are sworn in by Speaker of the House Kevin McCarthy of Calif., as members of the 118th Congress in Washington, early Saturday, Jan. 7, 2023. 
(AP Photo/Alex Brandon)
During his congressional campaign, he falsely claimed he graduated from college with degrees in finance and worked for Goldman Sachs and Citibank. Nassau County District Attorney Anne Donnelly opened an investigation into Santos in late December.
"The numerous fabrications and inconsistencies associated with Congressman-Elect Santos are nothing short of stunning," Donnelly said in a statement. "The residents of Nassau County and other parts of the third district must have an honest and accountable representative in Congress. No one is above the law and if a crime was committed in this county, we will prosecute it."
Multiple House Democrats have called on Santos to resign over the revelations, and his midterm opponent Robert Zimmerman has demanded a rematch. Some Republicans have even said Santos should "consider" resigning.
GEORGE SANTOS WATCHDOG FEDERAL COMPLAINT ALLEGES HE HID SOURCE OF CAMPAIGN FUNDING USING 'STRAW DONOR' SCHEME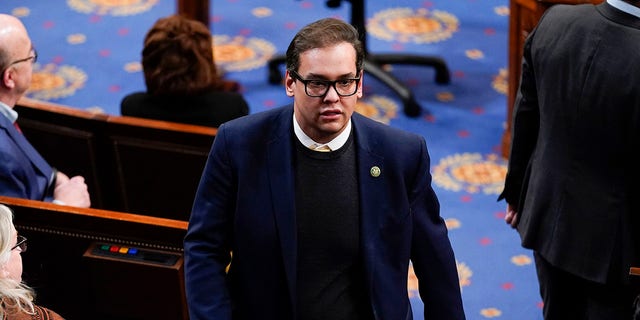 Rep.-elect George Santos, R-N.Y., walks in the House chamber as the House meets for the third day to elect a speaker and convene the 118th Congress in Washington, Thursday, Jan. 5, 2023. 
(AP Photo/Andrew Harnik)
Santos' legal troubles have recently expanded beyond the borders of the U.S. Brazilian prosecutors announced plans to revive fraud charges against him last week. The charges related to allegations of a stolen checkbook.
Prosecutors say the case had been dead for nearly a decade due to Brazilian authorities being unable to locate Santos.
CLICK HERE TO GET THE FOX NEWS APP
Brazilian prosecutors are reportedly working with the U.S. Justice Department to inform Santos of the charges. Santos did not respond to requests for comment from Fox News Digital.
Fox News' Chad Pergram and Andrew Murray contributed to this report.
This is a developing story. Check back soon for updates.