Republican Senators are coming to the defense of Florida Governor Ron DeSantis after former President Donald Trump's most recent comments targeting his potential 2024 rival.
Trump took aim at the Florida Governor Saturday, saying it would be a "great act of disloyalty" if he decided to run in 2024 and claiming he mishandled the COVID-19 lockdown in his state.
"Ron would have not been governor if it wasn't for me. So, when I hear he might run, I consider that very disloyal," Trump said on the campaign trial.
"There are Republican governors that did not close their states. Florida was closed for a long period of time," Trump told reporters. "They're trying to rewrite history."
DESANTIS RESPONDS TO TRUMP CRITICISM, SAYS 'VERDICT HAS BEEN RENDERED BY' FLORIDA VOTERS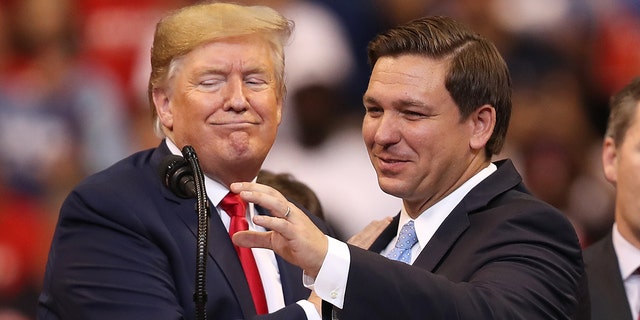 Trump and DeSantis are the top 2024 contenders for the 2024 presidential election, despite the Florida Governor not yet entering into the race.
(Joe Raedle)
"I don't see it as an act of disloyalty to run for president, even people on the president's cabinet may get in this race," Sen. Cynthia Lummis, R-Wyo., said of Trump's comments, The Hill reported.
Sen. John Cornyn, R-Texas, also asserted that it would not be disloyal of DeSantis to take on Trump in the GOP primary.
"He ran an impressive re-election campaign for governor from an important state. It looks to me like he's polling well. I think we need some new blood and I think he'd probably qualify," he stated.
TRUMP 'DOES HAVE CHALLENGES' AS DESANTIS ADVISERS PREP FOR POSSIBLE 2024 RUN: KARL ROVE
Recently re-elected Republican National Committee (RNC) Chair Ronna McDaniel downplayed the GOP infighting when asked about Trump's recent comments.
"This is gonna happen. There will be a little back and forth over the next year, we'll get over it," the chairwoman said during an appearance on Fox Business.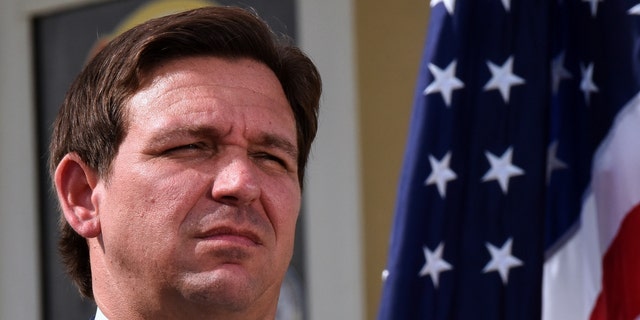 Florida Gov. Ron DeSantis has not yet announced if he will run for president in 2024.
(Paul Hennessy/)
DeSantis responded to the comment Tuesday, saying the 2022 midterm election results speak for themselves.
"I roll out of bed, I have people attacking me from all angles," the governor said. "The good thing about it is when you're an elected executive, you have to make all kinds of decisions. You got to steer that ship."
"And the good thing is that the people are able to render a judgment on that, whether they re-elect you or not. And I'm happy to say, you know, in my case, not only did we win re-election, we won with the highest percentage of the vote that any Republican governor candidate has in the history of the state of Florida," DeSantis said.
Trump ramped up the attacks on DeSantis again on Wednesday, publicly blasting him on his Truth Social account.
"The real Ron is a RINO GLOBALIST, who closed quickly down Florida and even its beaches. Loved the Vaccines and wasted big money on 'Testing.' How quickly people forget!," Trump claimed in a recent post.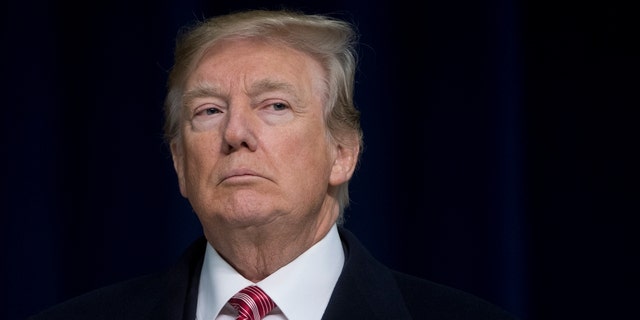 Former President Donald Trump announced in November that he would be seeking another term in the White House.
( Saul Loeb)
The former president also previously called DeSantis "Ron DeSanctimonious," but the governor remains unfazed by the comments.
Although his recent comments suggest a brewing rivalry with DeSantis, Trump previously said that he did a great job as governor during the pandemic. "I have a lot of faith in Ron DeSantis to make the right decision, he's doing a great job as Governor" Trump said on the podium of the White House press room when asked about DeSantis' handling of the COVI-19 pandemic.
CLICK HERE TO GET THE FOX NEWS APP
Trump is currently the only declared contender in the 2024 presidential election, making his official announcement in November 2022. The Florida Governor has not yet entered into the race, but is considered a leading contender for the GOP nomination.
Fox News' Timothy H.J. Nerozzi and Paul Steinhauser contributed to this report.